Dillard's Inc. (NYSE:DDS) reported a 7% increase in same-store sales for the five weeks ended January 1, 2011. Results for the reported month compare favorably with a same-store sales decline of 7% for the five weeks ended January 2, 2010.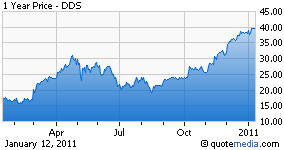 Merchandise sales for the period increased 6% to $1.1 billion. On a regional basis, sales trend was above average in the East, in line with trend in the Central region but below average in the West.
While sales in the shoes category shone, trends for cosmetics sales were substantially below par.
Year-to-date sales were $5.6 billion, up 2% over the year-ago period. Comparable stores sales edged up 3% for the 48-week period.
During the third quarter 2010, Dillard's reported earnings of 22 cents a share outpaced the Zacks Consensus Estimate of 6 cents and prior-year quarter loss of 3 cents a share. Net sales in the quarter were $1.34 billion, down 1% year over year. However, comparable-store sales inched up 1%.
Kohl's Corporation (NYSE:KSS), in competition with Dillard's, reported December same-store sales increase of 3.9%, with total sales climbing 5.9%. Macy's Inc. (NYSE:M) also reported December same-store sales increase of 3.9% while total sales jumped 4.5%. Same-store sales of another peer, J. C. Penney Company Inc. (NYSE:JCP), for the month of December, increased 3.7% with total sales improving 2.3%. The sales speak of a rosy retail scenario during December.
The Zacks Consensus Estimate for fourth-quarter 2010 is $1.25 per share. For full years 2010 and 2011, the Zacks Consensus Estimates are, respectively, $2.24 per share and $2.59 per share.
We maintain our "Outperform" recommendation on Dillard's Inc. over the long term. The quantitative Zacks #1 Rank (short term Strong-Buy rating) on the stock indicates an upward pressure on the stock over the near term.
Based in Little Rock, Arkansas, Dillard's Inc. is a large departmental store chain, featuring fashion apparel and home furnishings in the United States.