Nielsen's Scantrack published its food sales industry data for the period ended on August 2nd and I track the top five major food stocks, namely Smucker (NYSE:SJM), Kellogg (NYSE:K), Hershey (NYSE:HSY), Kraft (KRFT) and Campbell (NYSE:CPB). Campbell and Hershey both showed +1% sales growth for the trailing 12-weeks while Kraft (-0.4%) and Smucker (-1.4%) continue to see weak topline demand. Kellogg is the weakest of the group with sales down -6% over the 12 weeks. On a 4-week basis, the pecking order is Hershey (+3.8%), Campbell (+2.2%), Kraft (+1%), Smucker (-1.4%) and Kellogg (-6.6%).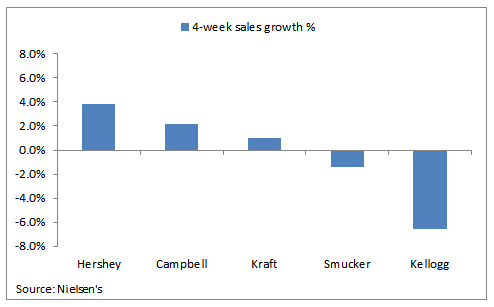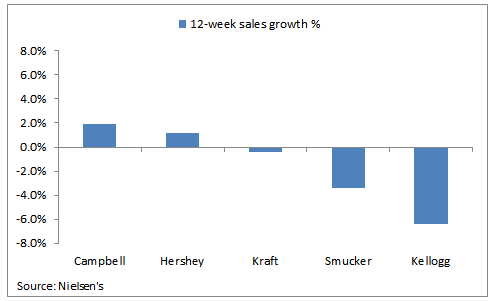 CPB, SJM, HSY riding on healthy volume
CPB's 4-week sale +2.2% was a function of +3.4% volume increase and -1.2% price decline. Despite a seasonally weak time of the year, condensed soup has shown some signs of volume recovery (-3.3% vs. -4.3% in the trailing 12 weeks) while price decline seems to have stabilized (-2.5% vs. -2.6% trailing 12 weeks). Crackers and cookies continue to gain popularity with volume +27% and +13%, respectively, plus an average 7% price increase for both segments.
Hershey's +3.8% four week sales increase was driven by a healthy balance of price (+1.6%) and volume (+2.2%). Chocolate candy sale was healthy (+2.7%) followed by non-chocolate candy (+1.8%).
SJM saw sales -1.1% over the past four weeks, driven by what seems to be promotional activities (-2.5% in price). However, the +1.1% in volume was not enough to offset the price decline. Oil saw the biggest price decline of the group (-10%) with volume (+14%), followed by peanut butter (-4.5% in volume/+1.6% in price). Coffee price has improved (-1.2% vs. -2.2% trailing 12 weeks) while the volume decline seems to have bottomed (flat percentage growth).
KRFT holding up the pricing power
KRFT sale +1% over the past four weeks with price +1.4% and volume -0.4%. Cheese paced the overall gain (+5.8%) with a balanced price hike (+4.8%) and volume growth (+1%) while juice and coffee also fared well with +4-6% sales increase. Powdered soft drinks and coffee soluble were the laggards among the group with -5-10% sales decline due to weaker than expected volume decline while pricing remained flat. Canned meat saw -11.5% decline that was entirely on pricing.
K still in the doghouse
Kellogg total sales -6.6% on -1% in price and -5.6% on volume, suggesting that sales have deteriorated further when compared with the 12 weeks trailing sale of -6.4%. While the overall pricing trend recovered slightly, volume continues to be a drag. In particular, fruit snacks (-20%) and toaster pastries (-10%) and snack bars (-12%) were the biggest drag on volume. The only positive product categories for volume were granola (+4.7%) and salty snacks (+2.4%)
Conclusion: Hershey and Campbell both saw decent growth and the trend is encouraging overall. SJM is still recovering from an extended sales stagnation and next month's data will provide us with more clarity on how the company did in the first month of the Q2. K's sales read-through is disappointing to say the least. If the trend remains, we could see downside risk to sales estimate heading into next quarter.
Disclosure: The author has no positions in any stocks mentioned, and no plans to initiate any positions within the next 72 hours.
The author wrote this article themselves, and it expresses their own opinions. The author is not receiving compensation for it (other than from Seeking Alpha). The author has no business relationship with any company whose stock is mentioned in this article.