I have been a bear on Zynga (NASDAQ:ZNGA) for quite a long time now. More specifically, ever since the company decided to stop pursuing real money online gaming. While I had been bullish on Zynga since October 2012 (please consider: Zynga: From Social Gaming To Gambling?), it wasn't because of the company's social gaming business, but because of the potential of real money online gaming.
So when current management stopped pursuing real money online gaming, I turned bearish on Zynga and never looked back (please consider: Zynga: Good Night And Good Luck). On the one hand, I never thought the social gaming model was worth my while, and on the other, I thought the new management made a terrible blunder and is likely to do more blunders in the future.
As a result, and because investors don't have much to discount about Zynga (since revenue has been decreasing steadily), the stock has been slowly dying over the past several quarters, hitting new lows and not being able to rally.
See, the name of the game in this market is revenue growth. In many cases, it does not matter if you make money or not (the market works in strange ways), just as long as you register increasing revenue quarter-over quarter.
And as you can see from the chart below, Zynga's revenue has been going south, even with the recent acquisition of NaturalMotion.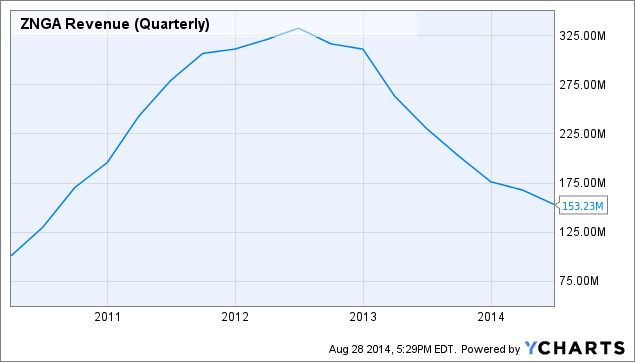 ZNGA Revenue (Quarterly) data by YCharts
However, when it comes to our speculation scenario, revenue growth has nothing to do with it.
See, while Zynga's revenue is declining steadily, the company is still worth something. Let me put it in another way. Even if Zynga's revenue fell to $20 million per quarter, but it managed not to lose money (as it is currently not), there are limits to how low this stock can go.
And if we look at the chart below, I think that limit is alongside the slope of the book value of the company.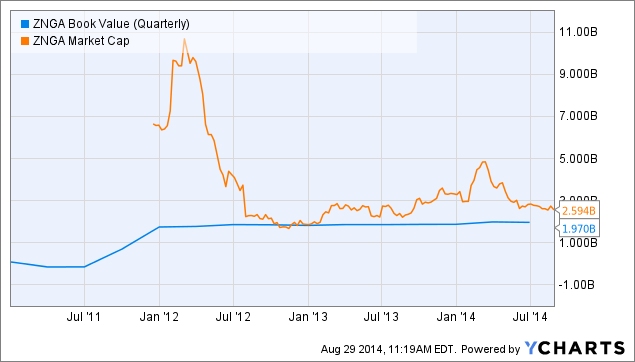 ZNGA Book Value (Quarterly) data by YCharts
So taking the above chart as a basis for our speculation scenario, if Zynga's stock were to fall another 20% (give or take), then it would be a great speculation candidate for many reasons.
On the one hand the stock is worth it and you really don't have much to lose, and on the other, usually after such a drop, management always comes up with some kind of a new idea that the investment public things might turn the stock around and the stock might rally, but for the wrong reasons.
The stock can rally for no reason whatsoever even from these levels, but if it does fall another 20%, then even if nothing happens, the downside is extremely limited.
Bottom line
Until I see proof that Zynga's revenue has stopped declining, I continue to think that the social gaming model is a dying business. As such, I cannot think of any reason (yet) to buy Zynga even at these depressed levels.
However, if the stock falls another 20%, then it will be a perfect speculation candidate, because even if Zynga's revenue continues to decline, there are limits to how low the stock can go based on its current book value.
Disclosure: The author has no positions in any stocks mentioned, and no plans to initiate any positions within the next 72 hours.
The author wrote this article themselves, and it expresses their own opinions. The author is not receiving compensation for it (other than from Seeking Alpha). The author has no business relationship with any company whose stock is mentioned in this article.