It has been a rough summer for the crude oil bulls. Way back in June as Middle East violence began to flare and reports of Russian meddling in Ukraine took center stage, the price of oil peaked at over $107. For a while, it looked like the August 2013 high of $112.24 was the next stop, but fortunes quickly changed.
As prices rallied from $100 at the beginning of June open interest, the total number of open positions in oil futures exploded higher. That open interest moved from 1.654 million contracts on June 1 to 1.76 million by the end of the month, an increase of 6.4%. Much of that increase was speculative long positions jumping on what they thought was the next big bullish move in crude oil, but they were wrong. By the end of June, the price of crude oil began moving lower.
A very bearish summer for crude...
As news kept coming fast and furiously from the Middle East and Ukraine, something appeared wrong to the oil bulls.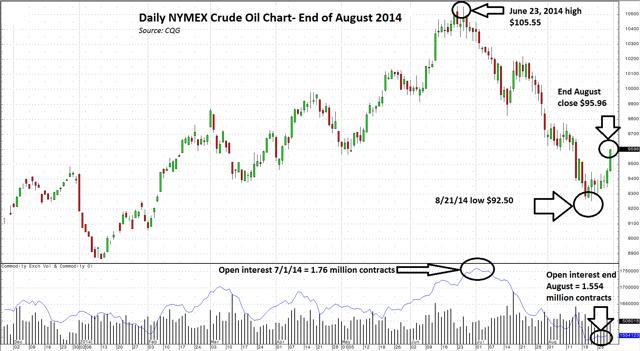 The price fell throughout July, picking up speed in August. As crude oil moved lower, those buyers threw in the towel and open interest fell to 1.554 million contracts by end of August. From high to low, open interest fell 11.7% in eight weeks to the lowest level since January 2013. The price of crude oil fell 9.1% during the same period. The longs lost money during the summer of 2014, but that is only a small part of the oil story.
Contango versus Backwardation
Commodity traders have a language of their own. The structure of a market is simply the price differentials between delivery months of futures contracts. When a market is tight nearby supplies are limited. A tight market can result in a backwardation. This is a market condition where deferred prices are lower than nearby prices. Other terms for backwardation include, negative carry, tightness or a premium market. Many times backwardation in a commodity market means that there are not enough current supplies or a fear that current supplies may not be able to satisfy current demand.
A normal market is the converse. Commodity traders refer to this condition as contango. While this may bring about thoughts of some new dance contango is a market condition where deferred prices are higher than nearby prices. Other terms for contango include positive carry, normal or a discount market. Market structure, contango or backwardation in commodity markets is often one of the most important clues when it comes to underlying supply and demand fundamentals.
In many circumstances, a market moving from contango to backwardation or vice versa is more important than price moves in the active month contracts themselves. During those eight weeks when the crude oil price dropped, that price correction was only a part of the story, actually a very small indicator of the overall health of the fundamental picture for crude.
The price fell, the spreads tanked...
A 9.1% drop in eight weeks is a big price move for a commodity, but during the same time, and with very little media coverage, the market structure for crude underwent dramatic change. Since August 2012, the crude oil market was in backwardation. Nearby prices were higher than deferred prices. The highest price for crude was the active month contract price and all future delivery months out to ten years became progressively lower.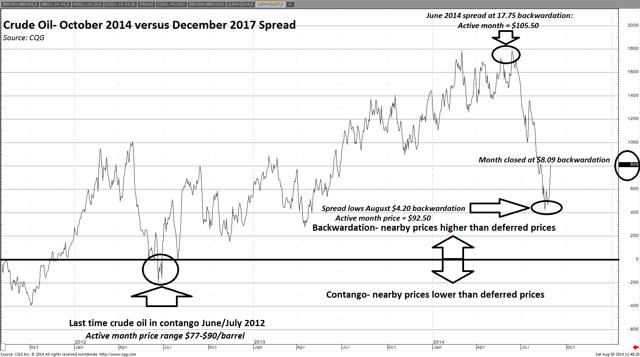 The backwardation increased through 2012 and 2013, peaking in June 2014. As the chart illustrates, the backwardation became so wide that in June 2014 the differential between the futures contracts for crude oil for delivery in October 2014 and crude oil for delivery in December 2017 moved to $17.75 per barrel. That amounts to almost a 17% premium for nearby crude on the futures exchange over crude oil for delivery in late 2017.
As the active month price of crude oil dropped, that differential spread plunged an eye-popping 76%. From high to low, the differential moved from $17.75 to just over $4 in only eight weeks. There was a recovery in the spread during the last few days of the month. It closed at $8.09 on Friday, August 29, down almost 55% from the beginning of July. The crude oil market, given the current trend, appears to be steamrolling on a course from big backwardation to contango. This is a significant change in the structure of the market.
There are fundamental issues at play...
When news that traditionally has been bullish does not affect price, one must take notice. Geopolitical turbulence has not caused the price of oil to rally. Throughout 2014, Russia and the Middle East have been hardly stable. Brent is the benchmark price for crude oil from these regions.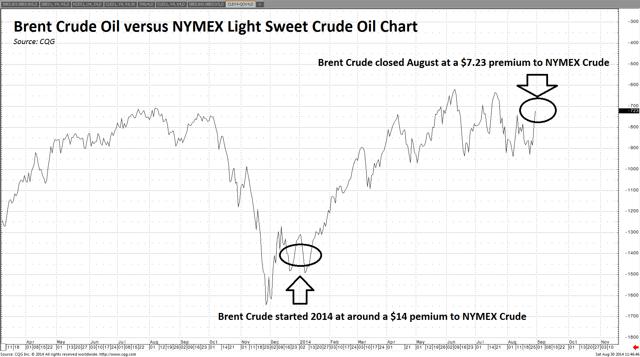 Brent crude traded from a $14 premium to NYMEX light sweet crude oil at the beginning of 2014 down to a premium of $7.23 as of Friday 8/29, a decrease of almost 50%. Russian and Middle Eastern instability has had no effect on the premium of Brent crude; in fact, the premium has decreased as tensions have risen. During the same period, as illustrated by the narrowing of the backwardation, the oil market has decided that there is no potential for any supply issues or tightness in crude given the current state of supply and demand fundamentals.
There are many reasons for lower crude prices. Active month crude oil never traded above $41.15 per barrel until 2004. Higher prices have brought higher-priced production from areas like The Permian Basin, The Bakken Region and Canadian tar sands. At lower prices, this production will become uneconomic. More production in the US and Canada has resulted in oil independence for the countries, but it has also resulted in increasing supplies and reserves of the commodity.
Global economic growth has been tepid. While the US is showing some signs of growth, European growth has been weak. Growth in the world's largest commodity consumer, China, has been below estimates all year. Lower growth equals lower demand for energies such as crude oil. Over recent weeks, we have seen the price of oil products -- gasoline and heating oil -- move lower with crude. The only fuel price that has remained strong is jet fuel.
What is market structure saying about crude oil today?
The last time crude oil was in a contango, the active month price traded in a range from $77-$90 per barrel. The recent quick and decisive destruction of a backwardation that lasted over two years may well be a sign that crude oil has not yet found a bottom. In markets, the trend is your friend. The trend in crude oil and crude oil spreads could be flashing an important signal -- crude oil is heading lower.
With the bulls washed out of the market and open interest at the lowest levels of the year, perhaps it is time to wait for the shorts to come back. If crude oil drops to a level where new production is not economic, prices should find a bottom. In that case, crude oil might once again be more responsive to traditionally bullish geopolitical events. In the meantime, keep your eyes on the entire crude oil picture -- the price of active month crude oil, product prices and the deferred spreads. If crude oil spreads move into a contango, lower prices are ahead and consumers will be dancing all the way to the bank.
Disclosure: The author has no positions in any stocks mentioned, and no plans to initiate any positions within the next 72 hours.
The author wrote this article themselves, and it expresses their own opinions. The author is not receiving compensation for it (other than from Seeking Alpha). The author has no business relationship with any company whose stock is mentioned in this article.