Recently I decided to add additional semiconductor exposure to my investment portfolio. I narrowed the choices down to Intel (NASDAQ:INTC) and Taiwan Semiconductor (NYSE:TSM). They are the two largest semiconductor companies that trade on the U.S. exchanges, both companies are profitable, and both companies pay a dividend - however the similarities end there. In the end, Intel was the most compelling choice which is remarkable given Intel shares are up nearly 35% in 2014 and I already have Intel in the portfolio. So much for diversification. Below are three reasons I found Intel to be a more compelling investment than Taiwan Semiconductor.
1. R&D And Gross Margins - Advantage Intel
As shown in the graphic below - Intel's R&D spending is nearly 7x that of Taiwan Semiconductor on an annual basis while its quarterly gross margins are 23% higher. This allows Intel to maintain its node lead (14nm compared to 20nm) and more advanced manufacturing process (FinFET compared to planar). Intel processors at 14nm have a higher transistor density which equates to a smaller size and better all around performance metrics than Taiwan Semiconductor's 20nm process. The fact that Intel is able to significantly outspend Taiwan Semiconductor on R&D while maintaining significantly higher gross margins means Intel won't be relinquishing its technology lead anytime soon and will in all likelihood stretch its lead. In fact, Morris Chang, Taiwan Semiconductor's Chairman, recently conceded that TSMC may lose 16nm and 14nm market share to competitors in 2015. Finally, Intel indicated during its Q2 earnings call that it expects even higher gross margins in Q3 (~66%) and it will maintain its R&D spending pace.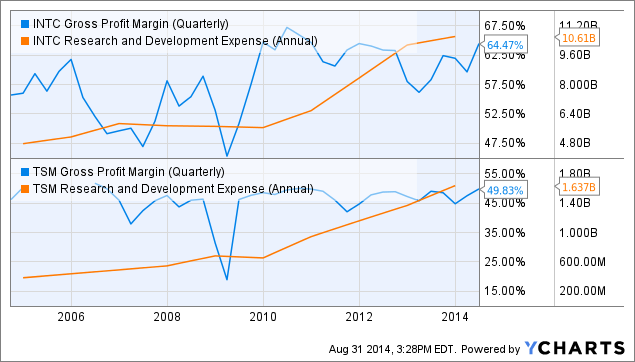 2. Dividends - Advantage Intel
Intel sports a higher dividend payout with a history of increases and a higher dividend yield. As the graphic below illustrates, Taiwan Semiconductor's payout has been flat-lined for the last 7 years as Intel's has increased. Since dividend yield is a function of share price and since Intel's shares are up nearly 35% YTD, Intel's yield has come down to 2.58% but still compares favorably to Taiwan Semiconductor's 1.92% yield. The bottom line is Intel shareholders receive a higher payout than Taiwan Semiconductor and can expect those dividends to increase over time.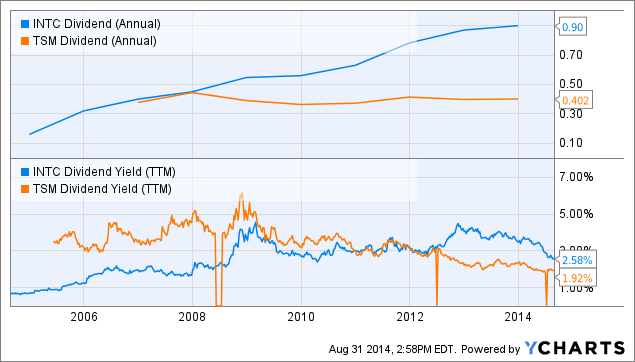 3. Share Repurchase Program - Advantage Intel
Intel announced in Q2 that it was expanding its share repurchase program to $20B and would be repurchasing approximately $4B in shares in Q3 and Q4. That $20B number corresponds to over 570M shares at the current $35 share price. This program effectively puts a floor on the stock and should juice EPS in upcoming quarters. This is in addition to the $2.1B in shares Intel retired in Q2. Taiwan Semiconductor does not have a share buyback program in place.
Conclusion
Taiwan Semiconductor is a fine company that is profitable, pays a dividend and is certainly worthy of investment. However, in looking for additional exposure to the semiconductor sector and when compared to Intel, I find Intel to be a more compelling investment opportunity for the reasons listed above. Lastly, Intel will be holding its annual Intel Developer Forum September 9-11th, showcasing new and exciting products and technologies, which according to SA contributor Russ Fischer's recent article could add a buck or two Intel shares. I have added Intel shares in addition to my Intel 2016 $40c LEAPS.
Disclosure: The author is long INTC.
The author wrote this article themselves, and it expresses their own opinions. The author is not receiving compensation for it (other than from Seeking Alpha). The author has no business relationship with any company whose stock is mentioned in this article.
Additional disclosure: This article is informational and intended to spur thought and discussion. This article is not a substitute for your own extensive due diligence and does not qualify as investment advice. Do not buy or sell stocks based on this article.