In my article Robotics, A Sector To Watch Going Forward I already mentioned iRobot (NASDAQ:IRBT) as a worthy investment. iRobot is a company investors love or hate. It leaves so much fantasy in investor's minds that you just don't know where to start. The company has so many opportunities to excel that it's hard to believe that they can manage it alone. That's why I think the best way to capitalize their fortunes is to look for a strategic buyer.
The company is well known for its vacuum cleaning robots but started their journey in the defense industry. The PackBot, see picture below, has served the army for years now and is helping soldiers to find and safely neutralize or destroy roadside bombs.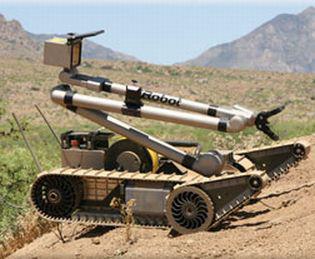 The current ISIS threat in Iraq could lead to new contracts with the Iraqi government in the near future.
The product with the most potential, as already proofed, is iRobot's Roomba. Last year the company introduced the Roomba 800 Series.
According to iRobot the new Roomba removes up to 50% more dirt, dust, hair and debris than previous Roomba models.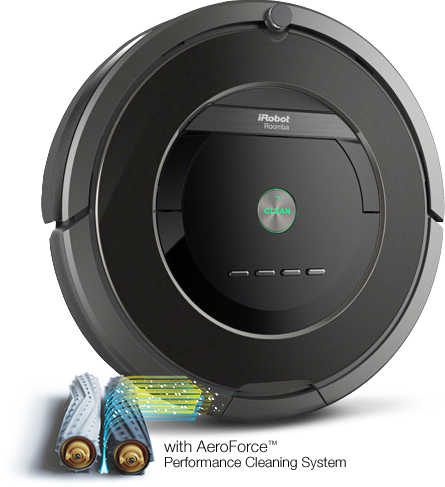 Robotic vacuum cleaners have been there for more than ten years. The market share continues to grow as manufacturers add more cleaning power and new features to their products.
In the meantime, leading makers of standard vacuum cleaners continue to defend their turf by also focusing on cleaning performance. In early 2014, for example, British company Dyson launched the DC65, which the company claims has twice the absorption of any other vacuum cleaner.
Robotic vacuum cleaners continue to capture market share but still stay a small portion of the total vacuum cleaner market.
The latest wave of features from leading robotic brands should guarantee that robotics will continue to gain market share, especially in the top tier segment of the vacuum cleaner market.
While these new models have price tags as much as $700, they're better positioned to show the potential of robotics than more basic (stripped-down) models that have price tags of $300 or more. Those stripped-down models are still expensive compared to the majority of the conventional vacuum cleaners on the market.
For manufacturers of conventional vacuums, the increasing market penetration of improved robotics definitely changes the competitive landscape. Ultimately this could lead to M&A activity in the vacuum cleaning market sector.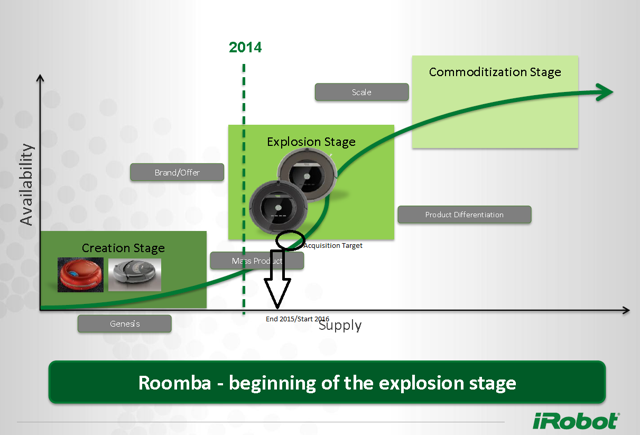 Click to enlarge
The end of next year or the beginning of 2016 could be the a tipping point and it wouldn't surprise me at all if iRobot will be an acquisition target for bigger companies such as Dyson, Samsung (OTC:SSNLF) or some other player.
Consumer robotics
This year will be a breakout year for consumer robotics, especially because the iRobot's Roomba 800 Series sales are performing better than expected. Consumers are starting to recognize the benefits and are willing to purchase practical robotic devices for their home.
LG, Samsung and Google (NASDAQ:GOOG) (NASDAQ:GOOGL) are some of the major brands that have entered the robotics market. Their entrance is a sign that robotic devices are being accepted and is not just a concept with an uncertain future.
An aging population, demand for healthcare but also the current war zones in Iraq and other places could fuel iRobot's revenues in more years to come.
Robotic vacuum cleaners have been leading the way in robotics. The consumers' willingness to pay a premium for robotic vacuum cleaners have encouraged brands such as Dyson, LG and Samsung to actively invest in developing a robotic cleaning product range. Greater consumer awareness in the medium term will drive demand for intelligent vacuum cleaners, acting as a launch pad for robotics in the home.
10-Year Financial Summary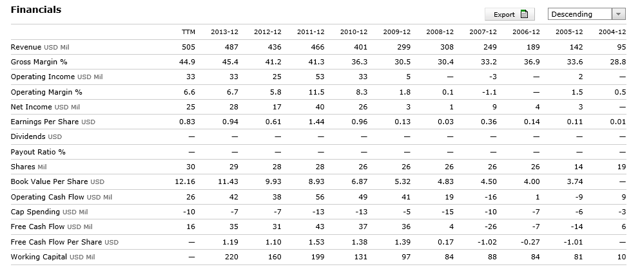 Click to enlarge

Click to enlarge
Looking back to the 10-year performance we can conclude that iRobot has seen its revenues increase from $95 million in 2004 to more than $500 million in 2014. Earnings per share have grown from $0.01 to an expected $1.11 this year.
Also the improvement of operating margin from 0.47 in 2004 to more than 6 in the current fiscal year bodes well for the future.
The revenues from iRobot's defense and security business was weaker than analysts anticipated, but I think this will pick up over the long run.
iRobot continued to enjoy strong home robot segment revenue growth through the first half of 2014, stemming from both U.S. and international sources. Further marketing efforts will support continued near-term double-digit gains.
Because the company has a scalable business model, operating margins could improve going forward.
Final Note
For now, robotics is largely a segment that is affordable to a minority of consumers. Despite that, the access of robotics into everyday lives of consumers is approaching. Google is certainly placing a big bet on the complete robotics industry, following a major acquisition spree in 2013 of robotic specialists.
The big question remains:
Will iRobot be the next in line to be taken over?
Sources:
Disclosure: The author has no positions in any stocks mentioned, and no plans to initiate any positions within the next 72 hours. The author wrote this article themselves, and it expresses their own opinions. The author is not receiving compensation for it (other than from Seeking Alpha). The author has no business relationship with any company whose stock is mentioned in this article.
Editor's Note: This article discusses one or more securities that do not trade on a major U.S. exchange. Please be aware of the risks associated with these stocks.