Although it's quite clear Consolidated Edison (NYSE:ED) continues to trade at a premium of its supposed fair value, closer to $50 a share, investors will not dump this core position for a variety of reasons. For this fiscal year management has guided that earnings will marginally slip due to an increase in operating expenses, although this will be offset by a latter cash flow increase from top-line growth. But regardless, strong utilities are a no-brainer pick given their regional monopoly characteristic. In a way, it's guaranteed fixed income over time.
Dividends
The company has never cut its dividend since inception of 1987. It has also grown more than 70% over the last 27 years. Given even dispersion, this should run at a typical growth rate of 2.6%, which I think is pretty fair. With a payout ratio of 59%, it still has plenty of room to grind higher over the years. Typically when trading or holding Con Ed, however, we usually seek a yield greater than 4.5%, as of right now, it's below that at 4.35%.
Return Metrics
Utilities are a sector that possesses extremely slow annualized growth. In recent years a mature company is lucky to achieve above 2%-3%. With that said, it is very important that one of these given businesses makes the highest return on every penny invested. While return on invested capital is low overall, Con Ed tends to outpace the rest of the leaders: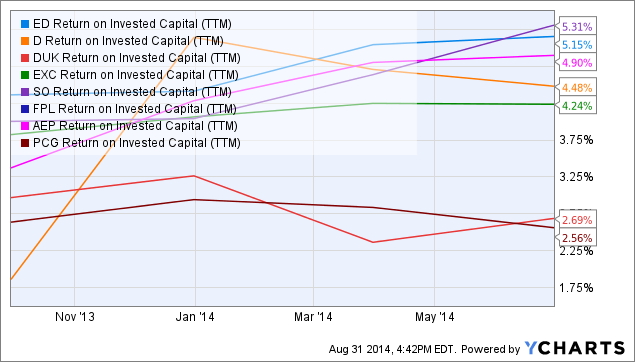 ED Return on Invested Capital (TTM) data by YCharts
As you can see, Southern Company (NYSE:SO) is the only large enterprise that manages to marginally beat Con Ed. Duke Energy (NYSE:DUK), although a high-EPS growth company at 4% annualized, has barely managed to achieve 3% in ROIC.
Earnings
In 2014 Q2 earnings, the company went above analyst expectations by $0.15 against the 50-cent target, turning a 21% beat. On the top line, we saw an estimation of $2.6 billion where it came in closer to a $2.9 billion dollar figure. This was another beat, and the company clocked a 4% YoY growth for revenue. For the next quarter, analysts appear to have a wide range between $3.4 billion and $4.1 billion; the consensus seems to be on the lower end of $3.6 billion. Since this earnings announcement on August 7th, shares have traded higher by roughly 5%.
Technicals
The stock has been caught in a sideways channel for almost three years now. Is it finally time for a breakout, or will it continue to move somewhat flat? Frankly, it's difficult to predict that here, given institutions can pretty much estimate this company's growth out for the several years. In this case, it's simply better to view the current opportunity. That would either fall under the category of buying the dips for a long-term position or trading the whipsaw.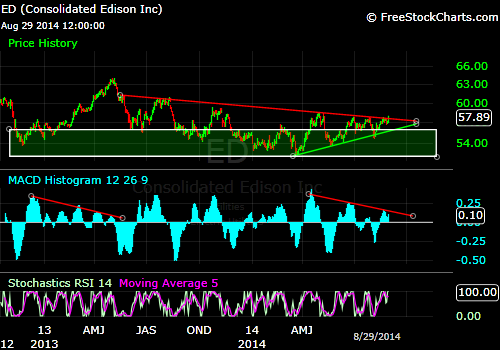 In the chart above, it looks like 1-year descending resistance has just barely broken. I would not be surprised if we first saw a retracement back below that resistance line. We also have short-term support rising coming in at about $56 pps. In terms of indicators, we have a confirmed bearish divergence on the MACD and extremely overbought prices represented in the Stochastics RSI. Despite the sentiment boost from earnings, I think traders should wait for a small pullback even to the $56.50 level. The green box (technical buy area) ranges between $56 and $52.
Sidenote: I personally have only been interested when it has moved below $55.
Bottom Line
Consolidated Edison is a great company and remains a core position for many large investors interested in fixed income. When involving a dividend reinvesting program into a dividend growth business, prospective investors will see solid returns over the long term. I've heard of multiple stories where people bought this stock decades ago and this company played a key role behind said individual's current wealth.
Disclosure: The author has no positions in any stocks mentioned, and no plans to initiate any positions within the next 72 hours.
The author wrote this article themselves, and it expresses their own opinions. The author is not receiving compensation for it (other than from Seeking Alpha). The author has no business relationship with any company whose stock is mentioned in this article.