Introduction
In today's article I'll be discussing the highlights of the 1H 2014 release of EVS Broadcasting Equipment (EVSBY), "My Favorite Pick Of 2014". Which is becoming a very brutal disappointment.
The company reported its first half-year figures for 2014 on the 28th of August, which were unfortunately again disappointing after a weak first quarter. Management also slightly cut its 2014 revenue forecast and is now expecting a small revenue growth that lies in the low single digits while it was first aiming at a growth around 10%.
The figures for the first half of 2014 vs. 2013 look like this: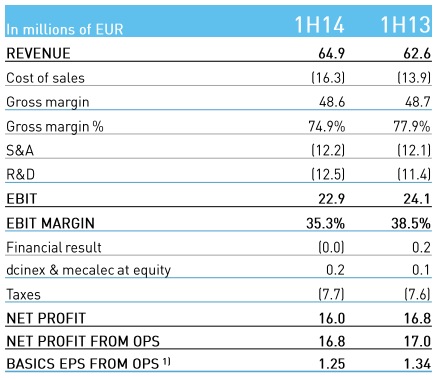 In short (on a comparable basis):
-Revenue rose 3.67%
-Gross Margin declined 3 percentage points
-R&D expenditures were up 9.6%
-Net earnings per share declined 6.7%
Keeping in mind that this year is supposed to be another champagne-year for EVS (as it is an EVEN year), investors had no choice other than to sell to these figures. The stock took a dive of -14% after being traded at a volume that lied at least 2 times higher than its normal average volume and EVS is now quoting against a 52-week low of €32.86 compared to a 52-week high of €52.87. Indicating a current loss of 36% on a year-over-year basis.
While I know that it is unseen that EVS - a company known for its splendid even years like 2012 and 2010 - is reporting bad figures now during 2014 as it should've been able to profit from big sports events like the World Championship Soccer and the Sochi Olympics, I believe (you can call me a fanboy if you want) that the 2014 figures are overall not that bad.
First of all it seems that it is not EVS' sports broadcasting division that is causing troubles; its sports broadcasting division reported 20% higher revenue, mounting to €23.2 million or $30.3 million (so it was indeed a nice year for this division, exactly as expected), but it was the Entertainment, News and Media (ENM) division that dropped 18% of its revenue and came in at a small €8.3 million or $10.87 million.
Which is quite remarkable and questionable as the Dutch CEO Joop Janssen is trying to lower EVS' presence in the volatile Sports Broadcasting world and is trying to increase its presence in the ENM division that is performing so poorly.
The 2-year new CEO of EVS responded to this by saying that the ENM division is performing so poorly due to geopolitical factors and one-time events; the continuous tension between Russia and the Ukraine is causing delays (investments are being put off to next year) and there have been some cancellation/put offs of some contracts in Asia.
Further, a big broadcasting station delayed its investments as it has been waiting to receive subsidies longer than expected, and a big order has now been spread over multiple years, as a large clients isn't able to purchase everything at once.
In response to some critics who have been arguing that EVS might have lost market share to its rivals like Sony (NYSE:SNE), Grass Valley and Evertz (OTC:EVTZF), CEO Joop responded with utter denial and self-confidence that EVS didn't lost any market share to any of its competitors, as all of its previous customers/clients have renewed their contracts with the company - including the National Football League. He also stated that its competitors have only been able to "innovate" by doing takeovers and acquisitions and that despite the many marketing attacks, EVS will continue to overcome them.
Following the Q2 report, EVS is also accelerating its investments in new technologies like IP and Cloud-Based solutions, which will increase OPEX in the short term but will in my opinion again broaden their competitive moat in the long run. EVS is hoping to hook the big broadcasters who are open for new technologies and are having plenty of cash. So the extra expenditures now, could have a long-term positive effect on its earnings in the near future.
In response to a journalist asking if EVS is making these extra investments because it is running behind its competitors, Joop answered that its competitors are not on their level yet because the company otherwise would have start losing market share, which is not the case.
So overall, I believe that CEO Joop Janssen has been firmly defending its business from outside attacks and it seems that he knows what he's doing. And if it wasn't for those one-time events (tensions with Russia), the first half of 2014 could have been more colorful.
Growing revenue, declining share price
Another important fact that caught my eye was that while EVS is reporting higher revenues (represented by the thin black floating average trend line), EVS' average annual share price has been declining and is now quoting at a 5-year low.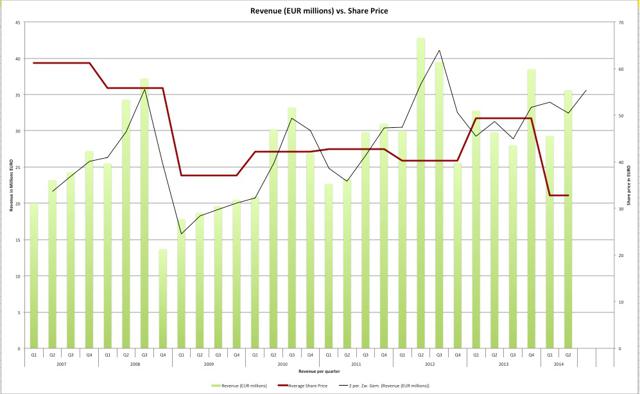 Click to enlarge
The thin black line on the graph is a 2-period floating average of the revenue / the thick red-brown line is the average annual share price / the green bars are the actual revenue per quarter.
In fact, when taking a really good look at the graph above, one should notice that this quarter has been EVS' 5th best quarter out of its 30 previous quarters (revenue wise).
Still strong balance sheet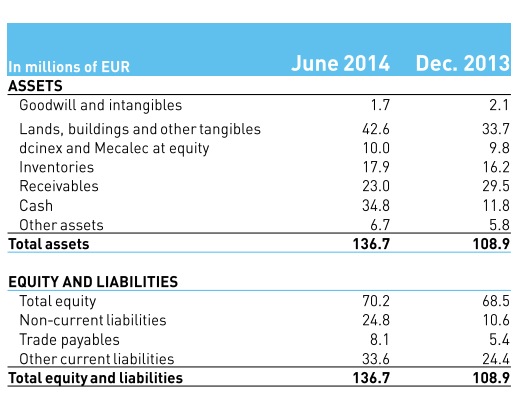 Furthermore, it is noticeable how low the company's goodwill and intangible assets are despite of having a clear competitive advantage in its area of operations.
Another positive for investors is that EVS' cash position of €34.8 million or $46 million plus its equity of €70.2 million or $91.7 million largely cover the total liabilities and payables of only €66.5 million or $87 million combined.
Looking forward
For the rest of 2014, the company's backlog is filled with €40.9 million or $53 million worth of orders (in line with expectations). For 2015 and beyond, the company is seeing a backlog of +€13 million or $17 million versus €19.6 million or $25.6 million last year, as 2015 will be an uneven year with less big events.
My conclusion for now
The company reported its 5th strongest quarter of the last 6 years, and if we'd exclude the extra expenditures made in new technologies like IP and cloud services (that we'll assume have a positive long-term effect) and the ongoing delay of contracts caused by geopolitical uncertainties (who are one-time events and will start to kick in next year or later this year), EVS' first half of 2014 results most likely would have been much better.
The company's balance sheet is still really strong and its revenue is still rising.
With a backlog of €40 million or $52,4 million for the rest of 2014, I assume the company to report full-year earnings per share of around €2.30 or +- $3, which indicates a current P/E ratio of 14.26. Which is cheap compared to its 7 year average of 16.7.
Assuming a 70% payout ratio, the stock should give you a 4.9% gross dividend yield at current price levels. Which is definitely not bad.
And you should ask yourself; if a company is able to report EPS of €2.3 or $3.0 while operating in such difficult market conditions, then how will this company perform during boom times? Keep in mind that Europe's economy is still lagging America's and that EVS has been seeing an 108% increase in revenue of its American division on a y-o-y basis. This gives us some perspective of what EVS is able to achieve in Europe once real significant growth figures start to kick-in.
As 2015 will most likely not be a too significant year for EVS I hope the share price will present us with even lower buying opportunities. I'm already tempted to take a first position at current prices, but once the stock goes below €30, oh-boy, you'll see me buying.
Disclosure: The author has no positions in any stocks mentioned, and no plans to initiate any positions within the next 72 hours.
The author wrote this article themselves, and it expresses their own opinions. The author is not receiving compensation for it (other than from Seeking Alpha). The author has no business relationship with any company whose stock is mentioned in this article.