When it comes to cigarette giant Philip Morris (NYSE:PM), the month of September will be an important one for investors. On or about September 10th, the company will declare its quarterly dividend. After four straight payments of $0.94 a share, this declaration will hopefully be a raise. The company is in a transitional year as it looks to launch new reduced risk products. As a result, revenues and earnings have been hit a bit, and the company has taken some charges to close extra production facilities. Earlier this year, I detailed why this year's dividend raise might be a little lighter than most expect. Today, I'm here to provide a last minute check on where things stand and how it will impact the potential dividend raise.
Balance sheet information:
When it comes to the dividend, and the buyback in Philip Morris' case, you have to look at the balance sheet first. A company needs cash and financial flexibility if it wants to return capital to shareholders. In the table below, you can see where certain balance sheet numbers stood at the end of the latest reported quarter. Dollar values are in millions.

*Liabilities to assets ratio.
Philip Morris has been very generous to shareholders in recent years, which has resulted in an increasing debt pile. The company has used debt to help buy back stock, which results in the weakening of the balance sheet you can see above. While the balance sheet is not in any trouble at this moment, the added debt pile has worried the company a little in regards to its credit rating. That's why the buyback was slowed down this year, and the company anticipates a further slowdown next year. Interestingly enough, interest rates have taken a dive lately, as seen in the chart below.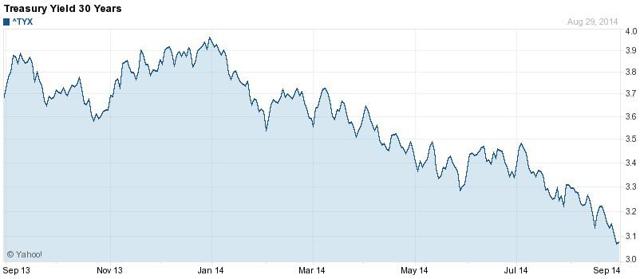 (Source: Yahoo! Finance)
With rates coming down, it might be a good time for the company to refinance some of its higher interest rate debt. You can see a list of debt issues here. Reducing interest rates could save the company hundreds of millions in interest payments, especially on some of the longer-term issues. It will be interesting to see the company's next debt issuance to see what premium is paid thanks to the rising debt load and weakening balance sheet.
Earnings and buyback:
As the company shifts to more reduced risk products, 2014 was going to be a down year. The company was targeting adjusted earnings growth of just 6% to 8%, down from usual growth in the low teens. Additionally, the company mentioned the following issue which could cause earnings to be impacted even more. I've been detailing this issue for a few months, but it is important to repeat:
As previously communicated, down-trading and heavy price discounting at the low end of the market in Australia, in combination with the impact of plain packaging, could place us at the lower end of our guidance for currency-neutral adjusted diluted EPS growth of 6%-8% for the full year.
Unfortunately, we won't get another earnings report until the middle of October, which will be a month or so after the dividend raise. In this case though, the dividend raise might give us clues on how the earnings situation will be. Should the company raise the dividend around 6%, we might conclude the issue noted above is hurting earnings. But if the company raises the dividend say 8%, perhaps the issue isn't that much, or maybe currency issues are improving.
Additionally, the slowdown in the buyback might hurt the raise. In past years, the company was targeting $6 billion in share repurchases per year. This year, the buyback target was reduced to $4 billion, of which $2.25 billion was spent in the first half of 2014. We learned that the company is initially targeting $2 billion or $3 billion next year. A reduced buyback means the share count does not come down that fast, and that negatively impacts dividend raises.
What's a potential raise look like:
In the table below, I'll discuss what the company's 2014 potential dividend raise may look like in terms of the following:
New quarterly dividend.
Raise per quarter, in terms of cents and percentage.
New annual dividend total.
Yield based on Friday's close.
Since the next dividend is expected to be the raise, the yield number below will represent what investors would expect to get over the next 12 months, based on Friday's close. The yellow range represents where I believe the new dividend will land.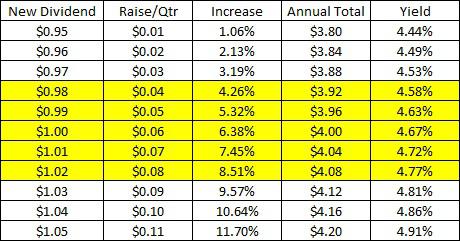 With the company leaving its earnings forecast unchanged, I have not changed my dividend prediction. The only number(s) in the table above that have changed are the yield points, as the stock has obviously moved since my original prediction article. With the company targeting 6% to 8% adjusted earnings growth, I think that is the general range investors should be looking for when it comes to the dividend raise. I still think $1.00 will be the new dividend, but that could change based on business conditions as I mentioned above. Recently, using the adjusted earnings growth was a good way to figure out Altria's (NYSE:MO) dividend raise, which was rather nice. I feel that the above range will be where Philip Morris raises its dividend. What does that mean in terms of peers? I'll discuss that in the next section.
Comparisons to peers:
Those that follow my writing know that I cover Lorillard (NYSE:LO) and Reynolds American (NYSE:RAI) in addition to Philip Morris and Altria. Philip Morris will be the last four of these names to raise its dividend this year, which follows the usual pattern. In the chart below, I'll compare these four names in terms of their annual dividend yields, as of Friday's close. Additionally, I've included a bar that shows what Philip Morris' yield would be if it were to raise the dividend to $1.00 per quarter.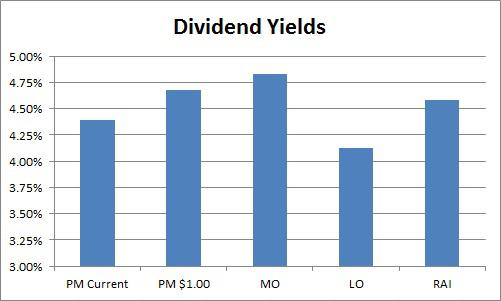 Obviously, the yields above will change based on stock price movements. Should Philip Morris' stock fall before the dividend raise, it could challenge Altria for the top spot. Normally, Lorillard and Reynolds would raise their dividends early in the year, meaning early 2015. However, with those two companies combining, it is unclear at this point how things will change once that buyout is completed. For now, expect Philip Morris to remain in second place in terms of yields once the dividend raise comes, unless it is much lighter than expected. Altria should remain as the overall leader for now.
Final thoughts:
In the next couple of weeks, Philip Morris is expected to raise its dividend. Due to a transitional year with lower-than-expected adjusted earnings growth, the dividend raise might be a little lower than some investors are hoping for. Additionally, the company has scaled back on its buyback as it looks to keep its balance sheet from getting too debt heavy. Philip Morris is not the capital return powerhouse it used to be, but it is still a solid value name. Investors will be happy when we see the dividend raise, which I believe will be to $1.00 per quarter.
Disclosure: The author has no positions in any stocks mentioned, and no plans to initiate any positions within the next 72 hours.
The author wrote this article themselves, and it expresses their own opinions. The author is not receiving compensation for it (other than from Seeking Alpha). The author has no business relationship with any company whose stock is mentioned in this article.
Additional disclosure: Investors are always reminded that before making any investment, you should do your own proper due diligence on any name directly or indirectly mentioned in this article. Investors should also consider seeking advice from a broker or financial adviser before making any investment decisions. Any material in this article should be considered general information, and not relied on as a formal investment recommendation.