Coach (NYSE:COH) has had its fair share of recent scrutiny, and most of it is well deserved. With recent competition coming from Michael Kors (NYSE:KORS) and Kate Spade (NYSE:KATE), the pressure on Coach is inevitable. The luxury retail market is fierce, but Coach still maintains its competitive advantage over its competitors. Over the last 5 to 10 years it has managed to maintain superior margins in all categories against its competitors. Coach's margins have been shrinking over the past year, but recently Kors and Kate Spade have just announced the same issues. This analysis will go into depth on Coach's competitive advantage, Management / Shareholder Interest, Financial Statement Analysis, 7-year projection, margin of safety and, lastly, a summary and recommendation.
Competitive Advantage:
There are many different forms of competitive advantage, but in the luxury retail space Coach still has control. One very important measure is gross profit margin because it shows Coach's dominance in the sector. Coach can buy, make, and sell at a better price point than any competitors. The only problem within fiscal '14 is that Coach has not been realizing gross margins into the bottom line. Most of this is because of restructuring charges and discounting, but this is an opportune time for Coach to clean up its book and unprofitable retail stores. (Margins below are on a GAAP basis and are higher on a Non-GAAP for COH 2014).
Besides Michael Kors there are very few major players in this sector. Kate Spade has been making progress but is still light years away from both. Coach still enjoys a low threat of industry competitors and economies of scale across the world. Its ability to have distribution and retail stores across the globe make it very hard for new entrants. Coach / Kors both have a strong brand and loyal customer base, in which they are more like a Coke / Pepsi rivalry. Overall, it is not every day that you will see a luxury brand come from nothing to billions of dollars overnight. It takes many years, even decades, to build a loyal and strong luxury brand; and that is one of the best competitive advantages a company can have.
Coach has been known around the world for decades for its women's handbags. Today Coach is also slowly transferring their brand to additional categories. Coach has started to transform into a lifestyle brand and expand its operations into men's apparel, shoes, accessories, and women's apparel.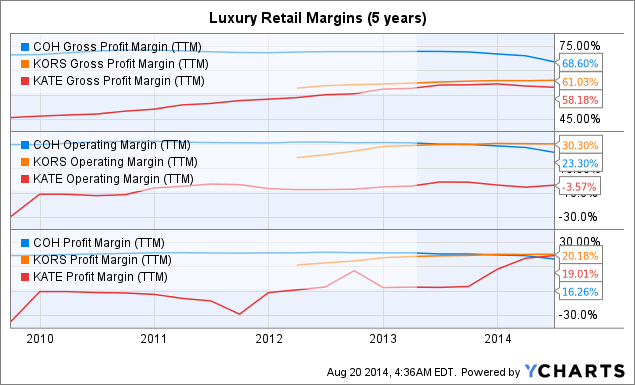 * Kate Spade recorded huge gains from discounted operations (Juicy Couture disposition) which affected net margins. (actual: -10.7%)
Management / Alignment of Shareholder Interest:
Victor Luis, CEO, is still pretty new to Coach but has excellent experience in luxury brands. Coach communicates about its long-term plans and informs its investors on a timely basis. It is very strategic and does not like to make miscalculated acquisitions, which can be detrimental for years to come. Overall, management is rewarded fairly and does not receive excess compensation for a mediocre job. After reviewing its proxy statement from 2013, Coach has a strong corporate governance and sets high hurdle rates for management in order to get vastly compensated. Coach has to have operational excellence, shares have to perform exceptionally well, and outperform its peers in order for management to receive high bonuses. The board is diverse and has a wide variety of experience that rewards shareholders with dividends and share repurchase programs. (Victor Luis has a $25 million max bonus if he can successfully transform Coach and bring shareholders to outperform the S&P 500 from 2013 to 2018.)
Financial Statement Analysis:
Coach has had tremendous growth and success until fiscal 2014. As the margins did decline over the year, note that part of this was because of restructuring charges. If one was to add back the charges, margins were actually 70.3% gross, 26.1% operating, and 18.1% net income. This is a potential opportunity to take advantage of the evolving retail space. Coach is starting to close unprofitable stores, expand its online sales, and implement a more strategic use its retail space. Coach's balance sheet is impeccable and very transparent to the investor. In fiscal 2014 Coach did start to use its revolving line of credit with JPM to help with the restructuring and is on the current debt portion of $140M. ($1B credit line). Overall, Coach's balance sheet is far away from bankruptcy and it has plenty of cash / credit to operate its day-to-day business. Regarding the cash flow statement, Coach produces a high level of CFO and FCF. This business does not require developing a new drug, software, or heavy equipment, and therefore can operate with lower levels of Capex.

Click to enlarge
Source: Coach 10-K
Projection Analysis:
The graphs below show the projected sales growth and income statement for the next 7 fiscal years. These projections are on a Non-GAAP and a constant currency basis. International sales were reported 1644.2 billion, but on a constant currency basis were actually 1749.1 billion for fiscal '14. Fiscal '15 and '16 will incur restructuring charges and affect earnings and margins in those years. However, these are one-time charges and should have limited effect on Coach's long-term success.
International sales are projected to grow 60% over the next 5 years and be approximately ~3.75 B by 2021. North America sales will have a dramatic shift by about negative 22-27% next year. This will include retail hardship, store closures, discounting, and increased competition. North America should experience low to mid single digit growth in the following years. Flagship retail is going through a revolutionary change and unprofitable stores need to be cut for future success. The restructuring charges are expected to save about ~150 million a year and will be very beneficial to Coach's long-term success and margins.
Regarding the Income Statement, Coach should maintain solid gross margins around 69-71%. The pain in the upcoming years is attributed to SG&A. Selling, marketing, administrative, and distribution expenses are going to be significant especially with Coach's declining sales. Over the years SG&A should be around 45% and declining to around ~40% in 2021. Coach has recently enjoyed some tax benefits resulting in a lower effective tax rate, but management has estimated a tax rate of 32% in future years. The EPS is based on the current diluted share count at 280,374,000. Coach is known to be very active in repurchasing shares and, if you want to assume 30M shares are rebought by 2021, EPS would be ~$6.13. The balance sheet for Coach is pretty straightforward, and it is not necessary to make a 7-year projection.
With China's middle class growing each day, Coach has a wonderful opportunity to gain significant market share. Gross margins in the international division are at a stunning 78.8%. There is unlimited potential in Asia, Europe, and even South America. Coach has the proven success and track record to efficiently expand its operations and bring success to the shareholders.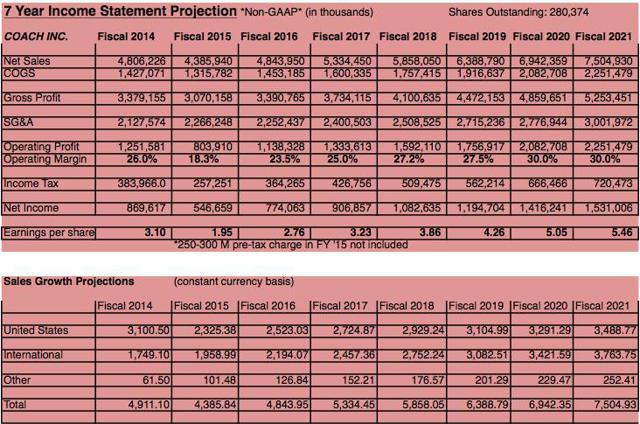 Click to enlarge
Source: Coach 10-K
Margin of safety:
My personal hurdle rate is 12%. If Coach does not achieve a 12% compounded return for 7 years, then we will wait for a more opportune time. One of the biggest mistakes even professional investors make is paying too much in regards to intrinsic value. When discounting for future growth, you have to be very cautious to not overpay for that growth and that is why such a high hurdle rate is set. Using Ben Graham's lesser known growth formula of:
(8.5 + 2G) (growth rate) * EPS
I strongly believe Coach is currently trading off 2015 Non-GAAP EPS which would put it at around 18.5 P/E. Assuming Coach can achieve 8.5% growth from its fiscal '14 numbers of $3.10 it would be reasonable to pay: (8.5 + 8.5(2)) *1.95 = $49.75. This can provide investors a significant comfort level because Coach is currently around the ~$37 range and contains close to a 4% dividend yield.
Using this formula and assuming Coach falls to around 5% growth in 2021, it should have a P/E ratio of ~18.5. Assuming Coach achieves an EPS of 5.46, it should have an intrinsic value of ~$101. This presents the investor a 15.4% compounded growth rate. This meets the mandatory hurdle rate of 12%, and if factoring in the 4% dividend yield, it could offer a 18-20% compounded return over the next 7-years. These are fairly conservative estimates because of the following:
The share count will likely decrease, therefore, increasing EPS
North America sales in 2021 are only 10% above 2014 sales
Margins may improve beyond expectations because of the growth in international sales. (higher margins on international)
It is very important to space out your buying.
Example: If you have a $100,000 portfolio, use $1,500 to establish your first stake and look for new buying opportunities and updates on Coach. If Coach shares drop 10% or growth opportunities vanish, it may be in your best interest to reevaluate . If your analysis is still valid it will be worth it for you to buy another $1,500. I recommend a maximum of 3 to 4 bullets.
Summary and Recommendation:
While most of the struggles have been on Coach's North American operations, it will soon be a diversified international corporation. The restructuring might take a couple of years, but the overall return will be rewarding for everyone. With the retail industry changing dramatically, I am glad to see Coach make these improvements now rather than later. The international growth opportunities offer Coach the potential to return to its glory days. Based on my analysis, I would issue a BUY RATING with a compounded growth return of 15.4% over the next 7 years. Add in the fact that Coach has a strong dividend and healthy margin of safety, it will make you sleep with ease. Look to build your position over time and follow COH on quarterly and yearly calls to stay informed.
Risks: COH is an international company and has exposure to multiple currencies that affect sales / profits. If Coach fails to achieve the desired growth or restructuring plan, the valuation may differ.
I would appreciate any comments or suggestions below. I want to note that I am not for or against Michael Kors or competitors, but believe Coach offers a better return given the current valuations.
Disclosure: The author has no positions in any stocks mentioned, and no plans to initiate any positions within the next 72 hours.
The author wrote this article themselves, and it expresses their own opinions. The author is not receiving compensation for it (other than from Seeking Alpha). The author has no business relationship with any company whose stock is mentioned in this article.