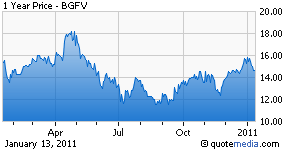 Big 5 Sporting Goods Corporation (NASDAQ:BGFV), a sporting goods retailer, released its fourth quarter and full fiscal 2010 sales results along with earnings guidance. Complete quarterly and full-year results as well as guidance for first quarter of fiscal 2011 are expected to be reported by management in the first week of March 2011.
In the fourth quarter of 2010, the company generated sales of $226.7 million, down slightly from $237.6 million recorded in the comparable period last year. Correspondingly, same store sales declined about 0.7% for the quarter hurt by low business trends in the last 2 weeks of December 2010.
Category-wise, apparel sales grew in the low single-digit range as against sluggish footwear sales and weak hardgoods sales. Big 5 Sporting Goods merchandise margins dipped 20 basis points in the fourth quarter from the prior-year quarter.
In full-year 2010, the company experienced net sales of $896.8 million compared with $895.5 million in fiscal 2009.
In its outlook, Big 5 Sporting Goods guided earnings of 23 cents to 25 cents per diluted share (excluding a net legal charge of 7 cents per diluted share) for fourth quarter 2010. This happens to be lower than the previously issued guidance of 25 cents to 33 cents as well as fourth quarter 2009 results of 32 cents per share.
The company expects earnings per share in the range of 99 cents to $1.01 for 2010 (excluding the net charge of 7 cents per share) compared with $1.04 in 2009.
Inclusive of the net charges, earnings per share will likely be between 16 cents and 18 cents for the fourth quarter and between 92 cents and 94 cents for full-year 2010.
The Zacks Consensus Estimate for the fourth quarter and full-year 2010 are respectively, 23 cents and 99 cents per share.
We believe that Big 5 Sporting's business is seasonal in nature and operates in a highly fragmented specialty retail sector. The company also faces intense competition from national chains, such as Dick's Sporting Goods (NYSE:DKS) and Hibbett Sports (NASDAQ:HIBB).
We are maintaining our long-term Underperform recommendation on the stock. Big 5 Sporting Good currently retains a Zacks #4 Rank, which translates into a short-term Sell rating.
Disclosure: No position