By Bryan McCormick
As we head into the thick of earnings season next week, getting a handle on what sectors have helped--or hurt--the broader market is a good way to prepare. In our chart for today, a one-year comparison of the S&P 500 (teal) and the Consumer Discretionary Select Sector SPDR (NYSEARCA:XLY) (magenta), it's clear to see how important the sector has been.
Although consumer discretionary is just a bit more than 10 percent of the weight of the S&P 500, it has outperformed the broader index by 2 to 1. As can be seen in September, when the sector was at the zero line, the S&P 500 was in negative territory.
In just four months, the sector rose 24 percent from that zero line. The S&P rose by 20 percent from its lows in the same period.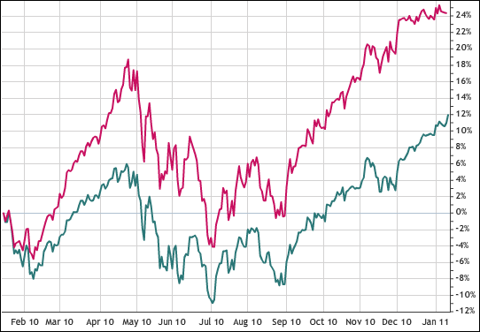 Click to enlarge
Within the consumer discretionary sector, just a few heavily weighted stocks were the biggest contributors to the gains. Two to watch are Ford (NYSE:F), which has risen more than 60 percent since September, and Amazon (NASDAQ:AMZN), which has risen by nearly 50 percent in the same interval.
Ford has a 5.6 percent weight in the sector; Amazon is next, at 5.35 percent. Walt Disney (NYSE:DIS) and McDonald's (NYSE:MCD), which are more heavily weighted, actually underperformed on a relative basis.
The four names together compose 23.5 percent of the sector's weight. So how these four names react to earnings will have a great deal to do with how well the sector does -- and, in turn, the broader index.
Disclosure: No position