Introduction:
In early August I wrote an article detailing why I believed Natural Gas could continue declining from that point forward. I'm writing today to explain why my opinion has changed. There are a few things that have happened since my early August article, and a few additional factors are coming into play soon. I believe Natural Gas could have a 5 to 15% upside over the next several months, and there is an opportunity to double or triple that upside if you are willing to buy a leveraged ETF.
Natural Gas Until Now:
Natural gas hit its recent high price in January of this year around $6.20mmBtu. With Spring around the corner and the US energy boom keeping high production and inventory levels, $6.20 natural gas didn't make sense. After that, it traded range bound between $4.25 and $4.75mmBtu until July when it fell even lower to $3.75. Soon after in early August I took a contrarian view and thought that a cool summer and rising inventories would be bad for prices. I thought natural gas could break its support at $3.75 and go to $3.35 before turning around for the fall/winter season. Don't get me wrong - there are still some bearish fundamentals for natural gas in the long term, like high production levels: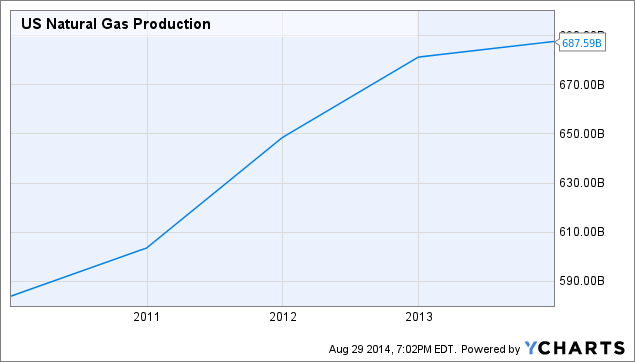 But I believe my bull case is enough to outweigh production levels at this point. Have a look:
The Bull Case:
Inventory levels:
Going back to the end of July, three of four weekly inventory injection numbers came in lower than expected. Recently the amount of natural gas injection into weekly storage has been significantly higher than the yearly average. The August 28 injection of 75bcf is over 20% higher than the five year average of 58bcf for this week. That is probably a combination of high production and lower demand this summer. According to EIA data, even though we've been injecting higher than average levels of natural gas into storage, our total storage levels are still 15% below one year ago and 16% below the five year average. I attribute this to the rough winter in late 2013/early 2014.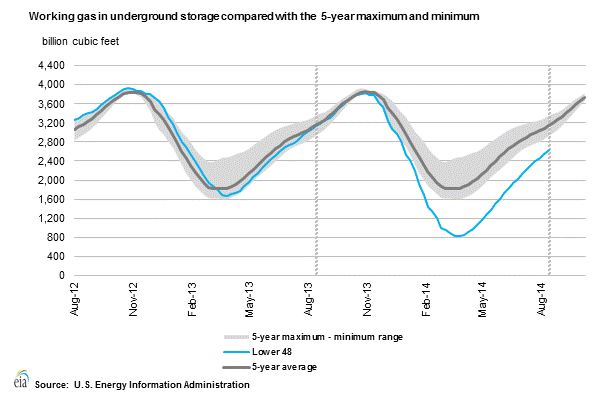 Looking at the storage chart above, you can see the storage levels are still recovering from last winter. If weekly injections remain about 20bcf above average, it would take about 21 weeks to make up the 518bcf deficit we are running over the 5 year average inventory level. Because I see the chance of injecting 20bcf more than the 5 year average for the next 21 weeks as very low - that is a key bullish factor for natural gas right now. Especially since the rough winter predicted for 2014/15 could deplete our inventories even further. I'll talk more about this year's predicted rough winter next.
Seasonality:
Natural gas is a commodity that experiences seasonal price volatility. In the winter, when demand is high, prices tend to spike. Prices have also spiked during above average hot summers and during hurricane season because of the potential for production disruption in the Gulf of Mexico. If you take a look at the charts below, you can see four of the last five winters, natural gas has experienced a large price increase in response to demand.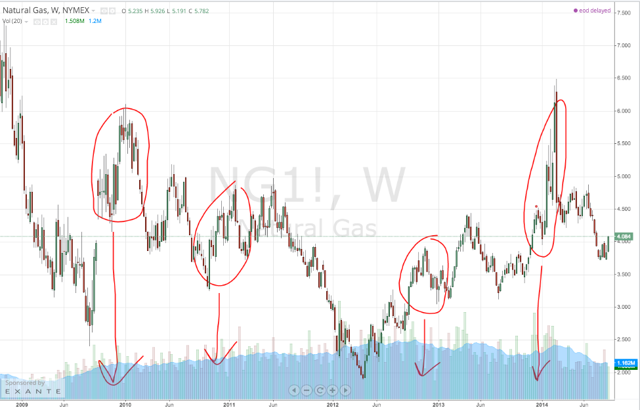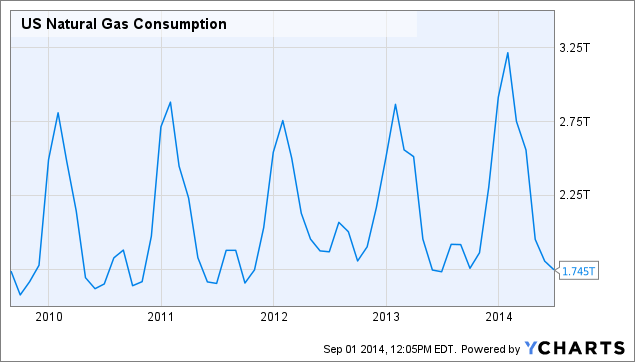 When looking at the seasonality of natural gas, I find that it tends to decline in price going into summer, and then starts to rise sometime in autumn as investors look ahead at winter demand. Considering the price beating natural gas has endured leading up to this point in 2014, I think the time to start a position in anticipation for winter demand could be among us. The 2015 farmer's almanac was released recently and unfortunately it's forecasting another brutal winter this year. With an accuracy rate of 80%, the 2015 Farmer's Almanac is just another reason why I'm ready to start a long position in natural gas in the coming week.
Strong Technicals: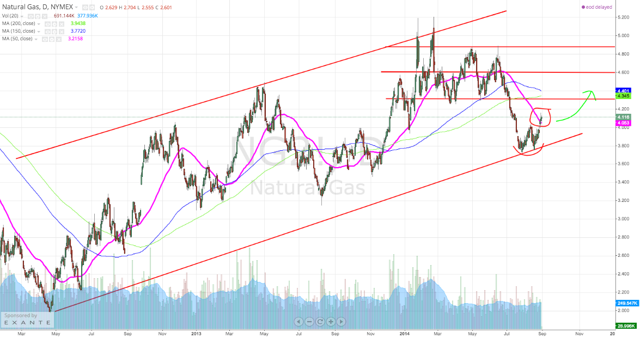 This is a daily natural gas chart that goes back to the 2012 lows near $2.00mmBtu. I want to point out three things: First is the recent double bottom near the bottom of the major trend that goes back to 2012. A double bottom is a strong signal of a change of trend. The double bottom is also aided by the price of natural gas closing above its 50 day moving average for the first time (purple line). For me this is a very strong buy signal that backs up the fundamentals I just discussed. Strong winter demand and inability to replenish the storage numbers back to the 5 year average could put natural gas in the $4.35 to $4.55mmBtu range. Best case scenario would put natural gas in the high $4.80's by the January. These are my price targets.
Conclusion:
Since my last call on natural gas, none of the bullish catalysts I talked about in this article were in play. Taking the inventory injections, the approaching seasonal demand, the Farmer's Almanac, and the very bullish technicals all into account - I'm officially a natural gas bull. At this point in time I see the risk being low and the downside being limited. Even if natural gas doesn't go up in a straight line from here (it won't), by January I think the chances are high that you will make a profit.
How to get long:
You can get long natural gas through (NYSEARCA:UNG), the ETF that aims to follow the natural gas price 1 for 1. If you are open to more volatility, you could buy (NYSEARCA:BOIL) or (NYSEARCA:GASL) - the 2x and 3x leveraged natural gas ETFs. For disclosure, I currently have no position in natural gas but I will be looking to get long the week of September 2nd.
Disclosure: The author has no positions in any stocks mentioned, and no plans to initiate any positions within the next 72 hours.
The author wrote this article themselves, and it expresses their own opinions. The author is not receiving compensation for it (other than from Seeking Alpha). The author has no business relationship with any company whose stock is mentioned in this article.