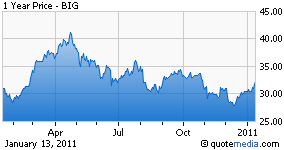 By Brian Sozzi
In the spirit of the Jo-Ann Stores (NYSE:JAS) private equity transaction (purchase of a rather dull retailer at a depressed EV/EBITDA multiple), I have been on the hunt for a comparable investment opportunity from within the sector. I had a few qualifications. First, the stock had to have lagged the broader S&P 500 in 2010. Two, there had to be behind the scene catalysts that the market was failing to appreciate in the stock's valuation. Three, the EV/EBITDA multiple had to be comparable to Jo-Ann Stores prior to the transaction being announced publicly.
Alas, discount retailer Big Lots (NYSE:BIG) came up on my radar screen. So, I secured a call with VP of Strategic Planning and IR Tim Johnson to confirm what I was seeing in the numbers my model was spitting out and the general feel I got when conducting due diligence.
Big Lots' performance in 2010 was a tale of two stories. The first half of the year the company continued to bask in the fortunes of a consumer continuing to be mindful of price on discretionary purchases. From February 2010 to the end of April 2010, Big Lots shares soared some 40%, outpacing the 7% or so gain on the S&P 500. Things went downhill from late April in terms of the fundamental performance of the company and the stock (they often go hand in hand).
Consumers traded back up ever so slightly to the likes of Target (NYSE:TGT) and Macy's (NYSE:M), eschewing the bargain basement buys offered by Big Lots. However, there was an added cracking in the execution of Big Lots, most especially in the consumables department. The company's comparable store sales (comp) trend slowed noticeably, and from May 2010 to mid-November 2010 the stock went from being up on the year to down nearly 10%. The S&P 500 during that time period remained in positive territory.
Talking with Mr. Johnson, the problem in consumables was twofold. One, there were too many "gaps" in the assortment, basically meaning the selection was not regularly satisfying the needs of store patrons (such as the case at Wal-Mart (NYSE:WMT)). Two, execution on the part of the consumables buyers became too "comfortable", suggesting the best possible price was not being received on merchandise and efforts cooled to continuously improve product selection. These fundamental issues have been addressed to my liking, complimenting what I see as the correct approach to managing and growing the store portfolio.
Consumables
Recently, CEO Steve Fishman decided to make a change in the consumables buying department, letting go two of the top buyers and promoting two individuals from within Big Lots. The new merchants are now focusing on the following items to help re-establish Big Lots in consumables:
Expanding into more ethnic food offerings, leveraging pre-existing relationships with European suppliers.
Filling in assortment gaps with high margin private label products, which currently represent a fraction of Big Lots' consumables assortment.
The Store Profile
When the books are officially closed on 2010, Big Lots will have opened 40 new stores. Importantly, Big Lots will have closed a net of 42 stores, which includes 23 relocations. The shuttering of lower productivity stores and the reallocation of capital to better store sites is something I view quite favorably (and is something Barnes & Noble (NYSE:BKS) remains reluctant to do, for example). Big Lots is poised to accelerate new store openings in both 2011 and 2012, so investors will have a company benefiting from an increase in square footage and what I expect to be a healthier comp trend.
Big Lots shares presently trade on P/E and EV/EBITDA multiples of 10.45x and 5.35x consensus earnings for 2011, respectively. That type of valuation is a discount to comparable companies and the average for Big Lots going back five years (about 19x P/E multiple and 7.93x EV/EBITDA multiple). Jo-Ann Stores traded at a P/E multiple of 11.5x and an EV/EBITDA multiple of 5.11x, applying estimated 2011 numbers, before its buyout.
Using estimates for 2011 and 2012 that are modestly ahead of consensus, I think Big Lots is worth $40.00 a share and perhaps higher if you make more aggressive multiple assumptions based on a potential buyout. Underlying that call is a ramp in new store growth, comp acceleration, and margin benefits from better store productivity and tighter product buying.
Risks primarily center on execution of the bounce back strategy in food and inflation eating into the prices the company obtains on closeout and non-closeout merchandise.
Disclosure: No position