This series of articles doesn't aim at predicting where precious metal prices will go, but at showing investors where they can have more metal for their money. However, I sometimes give important clues about where the price may go in the near future. In last issue, I wrote that the C.O.T. chart was bearish for gold and silver. Since then, SLV went down about -6.8% and fell below its 200-day simple moving average, GLD was more stable at -1.4%, very close to its 200-day sma. Palladium price hit a new high after a pullback, which was my preferred scenario for PALL. As expected, the short positions of commercial hedgers have dropped significantly in silver future contracts, but stay much bigger than their 12-month average. The relative decrease in gold short positions by this category of traders was smaller. Last week silver price made two attempts to break out, but it was counteracted by sellers, resulting in two daily candlesticks with long upper shadows.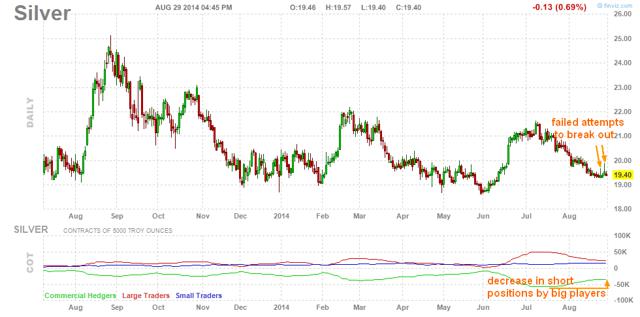 This shows a strong resistance on the upside and is not a very good omen for the near future. On the optimistic side, September is historically the best month of the year for gold and silver (article here).
In summary, the picture for precious metals is quite unclear: big players have not unwound their recent huge short positions, the charts show indecision, but seasonality is supportive. As for a possible geopolitical catalyst, I wouldn't bet too much on it. What I did for myself is to sell a part of my silver holdings in July, and bought it back about 6% lower last week. I did this on a Swiss metal fund by Z.K.B. (read here why), unfortunately it is unavailable for US persons. This is not rocket science trading, I hold some precious metals for the long term and I just took an opportunity to lower my cost, after seeing this obscene level in Commercial Hedgers shorts. This was just like a big sell-off by insiders... But I really don't know where the price will go from here on the short term. All that I know is that some funds are a better alternative than GLD, SLV and PALL. The next table shows discounts, premiums, and real metal allocated for some Canadian funds on 8/29/2014.
Data: 8/29/2014 on close

Tickers

+Premium -Discount

Annual Fees

% of NAV in bullion*

Central Fund of Canada

NYSE: CEF

TSX: CEF.A

-5.0%

-4.9%

0.45%

99.4% (gold 58.9%, silver 40.5%)

Central Gold Trust

NYSE: GTU

TSX: GTU.UN

-5.1%

-5.3%

0.35%

97.9%

Silver Bullion Trust

TSX: SBT.UN

-5.9%

0.4%

98.7%

Sprott Physical Gold Trust

NYSE: PHYS

TSX: PHY.U

-0.28%

0.35%

99.5%

Sprott Physical Silver Trust

NYSE: PSLV

TSX: PHS.U

+4.62%

0.45%

99.6%

Sprott Physical Platinum & Palladium Trust

NYSE: SPPP

TSX: PPT.U

-0.45%

0.5%

99.8%
*complement is in certificates and cash assets.
CEF and GTU discounts are stable since last month, providing a 5% safety margin. SBT has an illiquid OTC proxy in the US market, but it is better to trade it in Toronto in Canadian dollar. Sprott premiums and discounts are less attractive. An arbitrage trade, long GTU and short GLD, is not a so good idea. Borrowing and margin costs will erase expected gains if the trade lasts too long.
Disclosure: The author is long CEF.
The author wrote this article themselves, and it expresses their own opinions. The author is not receiving compensation for it (other than from Seeking Alpha). The author has no business relationship with any company whose stock is mentioned in this article.
Additional disclosure: Also long a foreign silver bullion fund.