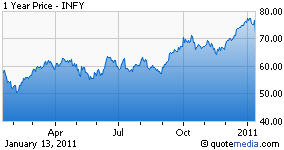 Infosys Technologies Limited (NASDAQ:INFY) reported third quarter 2011 earnings per ADS from continuing operations of 69 cents, which surpassed the Zacks Consensus Estimate of 66 cents. Earnings increased by 6.1% sequentially and 18.9% year over year, led by growth in all areas and across the customer base.
Business Details
Total revenue for the quarter was $1,585 million, representing a year-over-year growth of 28.7%. The company saw growth in retail and manufacturing, and also in banking, insurance and financial services. North America contributed 64.7% of revenues and Europe accounted for 21.8% of the same. The company derived 2.2% of its revenue from India and remaining 11.3% of total revenue was earned from rest of the world. The percentage of fixed price contracts was 41.2% in the quarter, an increase of 130 basis points from the prior quarter.
A total of 40 new clients were added during the quarter, taking the number of active clients to 612. There was a net addition of 5,311 employees, taking the total number of employees to 127,779 globally.
During the quarter, Infosys applied for 17 patent applications in India and the US. So far, Infosys has been granted 18 patents by the United States Patent and Trademark Office and it currently has 270 pending patent applications in India and the U.S.
Both including and excluding trainees, there was a decline in the utilization level of employees in the quarter. Including freshers, utilization was 72.6%, compared with 74.3% in second quarter of fiscal 2011, while excluding freshers, utilization was 80.7%, compared with 81.2% in second quarter of fiscal 2011.
During the quarter, Infosys launched Finacle mobile banking 2.0. It supports multi-host, multilingual, multi-channel and multi-currency banking through mobile phones.
Income
The company recorded an operating profit of $479 million compared with $382 million in the prior-year period. Net income after tax was $397 million, up 18.8% year-over-year.
Balance Sheet
Infosys maintains a strong liquidity position with cash & cash equivalents, including investments in available-for-sale financial assets and certificates of deposits, amounting to $3.5 billion at the end of the quarter.
Outlook
For the quarter ending March 31, 2011, Infosys expects revenues to be in the range of $1,601 million to $1,617 million, up 23.5% to 24.8% year over year. Earnings per ADS are expected to be in the range of 69 cents to 70 cents, up 13.1% to 14.8%.
For fiscal year ending March 31, 2011, revenues are expected to be in the range of $6.04 billion to $6.06 billion, up 25.7% to 26.1%. Earnings per ADS are expected to be in the range of $2.60 to $2.61, up 13.0% to 13.5%.
The Indian offshore IT services market has seen tremendous growth over the past five years, and there are reasons to believe that this growth will continue in the foreseeable future. A vast pool of talented labor, an English-proficient population and a competitive cost structure characterize this market. Additionally, the Indian offshore services market only accounts for a small percentage of worldwide IT services spending, leaving room for Infosys to grow.
The company continues to focus on large transformational engagements, especially through its consulting and enterprise solutions offerings. The clients have been impressed by its engineering services. The pricing environment has stabilized and there is increasing demand for its system integration services due to Mergers & Acquisitions.
However, revenues of Infosys are highly dependent on clients primarily located in the United States and Europe, as well as on clients concentrated in certain industries. The soft economy or factors that impact the economic health of the United States, Europe or these industries may affect its business.
Further, legislation in certain countries, such as the United States and the United Kingdom, may restrict companies in those countries from outsourcing work to INFY. Client contracts can typically be terminated without cause and with little or no notice or penalty, which could negatively impact its revenues and profitability.
Intense competition in the market for technology services could affect Infosys' cost advantages, which might reduce its share of business from clients and decrease its revenues.
Founded in 1981, Infosys Technologies Ltd. is the second-largest IT services company in terms of revenue in India. Headquartered in Bangalore, India, the company enables its clients to leverage its performance by utilizing its proprietary Global Delivery Model (GDM). Major competitors of Infosys are Tata Consultancy Services Limited and Wipro Technologies, the global IT services business division of Wipro Limited (NYSE:WIT)
We currently have a Neutral recommendation on INFY, with a Zacks #3 Rank (short-term Hold recommendation) over the next one-to-three months.
Disclosure: No position