With gold stocks looking like they are trying to break out of a long 3 year bear market, many investors are going to want to get in on the upside action. The senior gold producers are the most popular way to play this, given their large market caps, less overall risk, and the fact that these are very liquid in terms of buying and selling.
The Usual Suspects
When you read articles on the internet or see analyst/commentators on TV, the most popular picks for gold stocks are Goldcorp (NYSE:GG), Barrick (NYSE:ABX), and Newmont (NYSE:NEM). All three of these get lumped in together all the time. Which one should investors actually pick though if they don't want to buy all three? In this article I will show that Goldcorp is the best choice out of the bunch.
I could have included AngloGold Ashanti (NYSE:AU) but it's not in the same class as these other majors. AngloGold produces over 4 million ounces of gold per year, but about 1/3 of its production is from South Africa. Their total gold production has declined drastically in the last 8-9 years and the company's market cap is substantially below its rivals due to this factor. The quality of its asset also isn't on par with these other majors. That doesn't mean AngloGold is a dog, it's got some good assets, I do like their Kibali project. It's just as a whole, looking at the entire portfolio of assets, they just don't quite match up to Barrick, Newmont, and Goldcorp.
The Management Teams
The CEO of Goldcorp, Chuck Jeannes, has done a fantastic job at the helm of the company. He has been President and CEO since 2008, and held the role of Executive Vice President, Corporate Development at Goldcorp 2 years prior. Under his leadership, Goldcorp has laid out a solid foundation for growth, taking the company from 2.3 million ounces of gold production in 2008, to 3.6-3.8 million ounces by next year. All without blowing up the balance sheet.
The management team at Barrick has experienced a shake-up in the last few years. In 2012, the company fired then CEO Aaron Regent, and replaced him with EVP and CFO at the time Jamie Sokalsky. Regent was responsible for the ill-fated $7.8 billion acquisition of copper producer Equinox Minerals, in what appeared to be an attempt to diversify the business and become the next Rio Tinto. Regent was also CEO at the time when Barrick's Pascua Lama project was experiencing huge costs overruns and delays. When Regent left, the debt on the balance sheet at Barrick had exploded compared to when he took over in 2009.
Barrick has cleaned house in the last few years. Its founder and former Chairman Peter Munk is also now out of the picture. The company appointed John Thorton to the role of Chairman. Thorton retired as President of Goldman Sachs in 2003. In July 2014, Barrick announced a new Executive Management Structure in which they would have Co-Presidents, Kelvin Dushnisky and Jim Gowans, and Sokalsky would be stepping down as CEO.
I have confidence in the new management of Barrick. I think Barrick is much better off without Peter Munk being involved, although you must credit Munk with creating the largest gold company in the world. Thorton seems like he will use some different types of tactics to increase shareholder value. Given his experience at Goldman, I believe we could see a different looking Barrick in a few years time.
Newmont's management has done nothing for shareholders, or the company. While Newmont still produces millions of ounces of gold per year, their production has been in decline. What is frustrating to me is the fact that they haven't done much about it. No major acquisitions, no major projects, just moving at a snail's pace as production levels creep lower and lower.
Newmont's previous CEO, Richard O'Brien, stepped down in 2013. The company's new CEO, Gary Goldberg, has a strong 30 year background with Rio Tinto, but we still haven't seen much in the way of progress.
I like Goldcorp's management team the best. I think they are nimble, they are careful with cash spending, and they are focused on the quality of their assets. They want only the best assets in their portfolio. Barrick has brought in some interesting additions to the leadership roles. I don't think though this company gets bigger, rather it might break apart and get smaller. Newmont's management is the most boring of the bunch. It's old school, and that equals not much growth. Maybe Goldberg will shake things up, I would like to see Newmont break out of this mold.
The Assets
Without question, Barrick, Goldcorp, and Newmont own some of the best gold assets in the world. While I believe Goldcorp is the best overall senior gold producer, Barrick is the one with the best assets.
Barrick's Best Assets
Barrick calls the five mines below its "cornerstone mines." Cortez and Goldstrike in Nevada, Lagunas Norte in Peru, Veladero in Argentina, and Pueblo Viejo in the Dominican Republic make up 60% of Barrick's 2014 gold production, with all-in sustaining costs of $750-$800 per ounce for all of these combined. These are very long life mines that will keep Barrick the top gold producer for a long time to come.
Barrick's Best Producing Assets
2013 Production
2013 AISC
Reserves (ounces)
Goldstrike
892,000 oz
$901 per oz
10.7 million
Cortez
1.34 million oz
$433 per oz
11 million
Lagunas Norte
606,000 oz
$627 per oz
3.75 million
Pueblo Viejo (60%)
488,000 oz
$735 per oz
9.7 million
Veladero
641,000 oz
$843 per oz
5.1 million
Barrick also has two major projects which could become part of its cornerstone portfolio. Those being Pascua Lama and the recently discovered Goldrush deposit which is right next to the company's Cortez Hills mine.
Goldrush contains 15.6 million ounces of gold resources at a very high grade. This could become a 500,000-1 million ounce per year mine.
While Pascua Lama has had some major problems, it still is a very important asset for Barrick. It contains one of the world's largest gold and silver resources, with more than 15 million ounces of proven and probable gold reserves, and 675 million ounces of silver contained within the gold reserves. Annual production in the first full five years is expected to average 800,000 to 850,000 ounces of gold and 35 million ounces of silver, at cash costs of under $200 per ounce of gold. The expected mine life is 25 years.
Goldcorp's Best Assets
Goldcorp's mines don't rival the size of Barrick's, but they are very high quality. The two companies both own Pueblo Viejo (40% for Goldcorp and 60% for Barrick). Goldcorp's Red Lake mine, as well as Pueblo Viejo and Penasquito, make up about 40% of total production. These are the best in the portfolio in terms of mines in production during 2013.
Goldcorp's Best Producing Assets
2013 Production
2013 AISC
Reserves (ounces)
Red Lake
493,000 oz
$880 per oz
2.55 million
Pueblo Viejo(40%)
324,000 oz
$735 per oz
6.46 million
Penasquito
403,800 oz
$914 per oz
10.62 million
The real story with Goldcorp though is with the mines they have in the pipeline. These have been in development for years and all but one are about to come online in the next year.
You have Cochenour and Éléonore in Canada which will produce 250,000 and 600,000 ounces of gold per year respectively. Cerro Negro in Argentina just entered production, and will produce 500,000 ounces of gold per year for the first five years. And finally El Morro in Chile will produce 200,000 ounces of gold per year at a negative $700 per ounce cash cost due to its by-product credits. El Morro is still a few years out.
Newmont's Best Assets
Newmont also has some strong gold assets. Carlin in Nevada is their best, and I really like Ahafo and Akyem which are large and low cost mines in Ghana. Boddington's cash costs are coming down but it's never really turned out to be the mine that investors expected.
Newmont's Best Assets
2013 Production
2013 AISC
Reserves (ounces)
Carlin
1 million oz
$895 per oz
15.7 million
Boddington
743,000 oz
$1,222 per oz
13.6 million
Kalgoorlie
315,000 oz
$914 per oz
3.7 million
Ahafo
570,000 oz
$873 per oz
10.1 million
Akyem*
465,000 oz
$388 per oz
7.2 million
Yanacocha (51%)
525,000 oz
$983 per oz
3 million
Newmont has a few interesting projects in the pipeline, but they are higher risk. Conga in Peru will produce 300,000-350,000 ounces of gold per year at a very low cash cost. But it has a lot of local opposition to the mine. Merian is located in South America, Suriname to be exact. This has strong local support for the project and annual production will average 400,000 to 500,000 ounces of gold per year in the first five years, with expected all-in sustaining costs of between $750 and $850 per ounce.
The Growth Profiles
As mentioned earlier, Goldcorp has several mines coming online in the next year. Barrick and Newmont have no major planned expansion.
Below is the expected production from Goldcorp over the next 5 years. In 2015, you have Cochenour, Éléonore, and Cerro Negro all contributing. Gold production jumps from 2.95-3.1 million ounces in 2014, to 3.6-3.8 million ounces in 2015. Production is steady after the large bump higher next year. Also notice the GEO (gold equivalent ounces) estimates in graph below. Goldcorp is at almost 5.5 million GEOs in 2015. Goldcorp's AISC for 2014 is estimated to be $950-$1,000 per ounce. That should trend lower next year.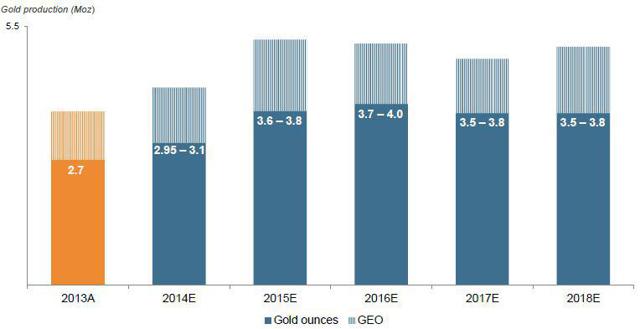 (Source: Goldcorp)
Barrick isn't providing guidance past 2014 for production. But it should be fairly steady. You will notice the big drop-off from 2013 as Barrick has sold a few mines, focused more on higher grade ounces which reduced 2014 production figures, and also Cortez is going to have a big drop off from 2013 mainly due to a decrease in open pit and underground ore grades as expected in the life of mine plan. I'm assuming production at the higher end of the range for 2015 and 2016 given the modified autoclaves at Goldstrike coming online later this year, which are forecast to contribute an average of 350,000-450,000 ounces of annual gold production. Past 2016 is where Barrick could get a big jump as Goldrush and Pascua Lama could be in production. Barrick does have the lowest AISC of the group, as 2014 estimates are $900-$940 AISC per ounce.
| | | | |
| --- | --- | --- | --- |
| 2013 | 2014 | 2015 (est.) | 2016 (est.) |
| 7.2 million ounces | 6.0-6.5 million ounces | 6.5 million ounces | 6.5 million ounces |
Newmont has experienced a slow but steady decline in production for the last several years. The company is expecting production to finally stabilize, but AISC are still high at $1,075-$1,175 per ounce.
(Source: Newmont Mining)
The Balance Sheets
One of the big advantages that Goldcorp has over its rivals is the strength of their balance sheet. Goldcorp has done an amazing job of not only growing production, but also keeping their debt at a very modest level. That can't be said for Newmont and Barrick.
Take a look at Goldcorp's total debt below. At $3.4 billion, it's half of what Newmont has, and is well below Barrick's $12.97 billion. Barrick's debt exploded in the last 5 years, it was only $5 billion in 2009.
The Net Tangible Asset Value of Goldcorp is also the standout of the group. Its market cap is $22.8 billion, so it's trading only about 24% above book value. In other words, Goldcorp has the assets to back up the stock price should gold move lower instead of higher. The downside is a lot more limited compared to Newmont or Barrick.
| | | | |
| --- | --- | --- | --- |
| | Goldcorp | Barrick | Newmont |
| Cash and cash equivalents | $1.22 billion | $2.55 billion | $1.65 billion |
| Property Plant and Equipment | $23.7 billion | $21.38 billion | $14.04 billion |
| Total Assets | $30.62 billion | $37.44 billion | $24.98 billion |
| | | | |
| Short-term debt | $896 million | $187 million | $112 million |
| Long-term debt | $2.47 billion | $12.97 billion | $6.67 billion |
| Total Liabilities | $10.77 billion | $24.2 billion | $14.75 billion |
| | | | |
| Net Tangible Assets | $18.39 billion | $7.43 billion | $10.23 billion |
Share Price performance
Goldcorp's share price has outperformed its two largest rivals during the last decade.
Goldcorp shares are up 121% in the last 10 years, while Barrick is down 7.59% and Newmont is down a stunning 38.4%. What's also interesting is Goldcorp is well above its 2008 lows, while Barrick and Newmont are trading about the same as where they were at those lows in the financial crisis.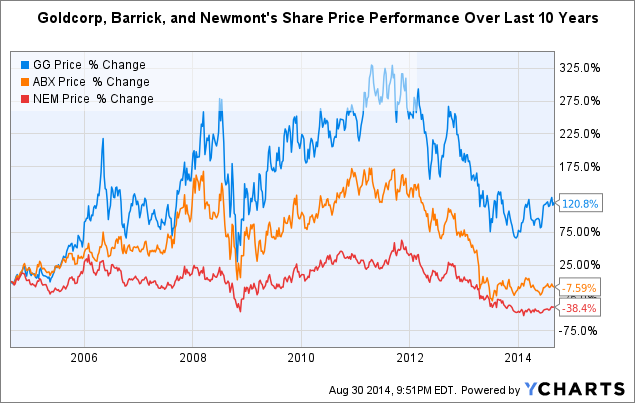 Goldcorp Is The Standout Of The Group
When you add it all up, the Management Team, the Assets, the Growth Profile, the Balance Sheet, and the Share Price Performance, Goldcorp is the standout of the three.
Goldcorp has a proven management team, Barrick and Newmont have new leadership, but they are unproven at this time. Goldcorp's management is nimble, extremely focused, and are careful with how they spend their cash. Chuck Jeannes is a proven leader, and because of this he has created a stable leadership team at Goldcorp, unlike Newmont and Barrick which seem to be a revolving door.
While Barrick has the best assets in the group, Goldcorp has a growth profile that Barrick and Newmont just don't have at the moment. Barrick has the lowest AISC, but Goldcorp isn't too far behind.
Goldcorp's balance sheet is also by far the strongest. It's exceptionally clean compared to the bloated debt levels on Barrick's books.
The share price performances speak for themselves. Goldcorp is a growing senior gold producer, Barrick and Newmont have experienced declining production over the last several years. Goldcorp's share price reflects all of these things listed above.
Goldcorp is the best, pure and simple.
Let me add this caveat though. Barrick and Newmont are still solid companies, but if I had to pick one to invest in I would pick Goldcorp. If it wasn't for Pascua Lama and Barrick's debt levels, then this would be a very different outcome as Barrick would be my top choice. I like Barrick, its assets are unrivaled. It's just the debt and the unknowns regarding Pascua Lama that are the problem. Newmont would be my last pick. They just have no growth in the future and it's a very closed off company in my opinion. In a rising gold market Newmont will do well, but it won't outperform Barrick and Goldcorp.
What Does The Future Hold For Goldcorp
I could envision one day Goldcorp becoming the largest gold miner in the world. It might take a while though. They are already the biggest by market cap, but still trail Barrick and Newmont in terms of production figures. Goldcorp clearly has its eyes on this as well. They tried to buyout Osisko earlier this year. That would have given them an additional 500,000+ ounces per year of gold production at a very low cash cost. Clearly they are on the prowl.
Conclusion
Gold stocks appear to be finally pulling out of this 3 year long bear market. Investors that want to participate in the upside to are going to look at the most popular gold miners, those being Goldcorp, Barrick, and Newmont.
Of those three, Goldcorp is the standout of the group. The company has a stable and proven management team that keeps building the company while preserving the balance sheet. Barrick is saddled with debt and its issues with Pascua Lama make it my second choice. Barrick does have the best assets of the group, and this outcome would be different if it weren't for those negative issues. Newmont is a distant third.
Goldcorp's share price has far outperformed Barrick's and Newmont's over the last decade. I expect that to continue.
Disclosure: The author has no positions in any stocks mentioned, and no plans to initiate any positions within the next 72 hours.
The author wrote this article themselves, and it expresses their own opinions. The author is not receiving compensation for it (other than from Seeking Alpha). The author has no business relationship with any company whose stock is mentioned in this article.