In 2010, the CEO of Tesla Motors (NASDAQ: TSLA) Elon Musk invited the President of Toyota (NYSE:TM) Akio Toyoda to his home and gave him a ride in his electric powered car. This was the beginning of a relationship in which Toyota bought a $50 million stake in Tesla, and also gave its California factory to Tesla for a mere $42 million. For most observers, this was a welcome partnership in which Tesla was predicted to work on the battery size and performance, whereas Toyota would focus on the automotive part. The collaboration between the two resulted in the introduction of RAV 4 EV, which is an all electric version of the popular RAV 4 SUV of Toyota. However, this model which debuted in 2012 was not much successful as it was heavily priced at $50,000 and was only limited to the state of California. Moreover, there have been regular disagreements between the engineers of both the companies as they have been reluctant to share their codes with each other resulting in some technical discrepancies which include an issue with the SUV's parking brake.
The production of the RAV 4 EV will stop at the end of this year, as the contract between Toyota and Tesla has not been renewed. Toyota is focusing more on hydrogen fuelled cars and has also been in a partnership with BMW to launch a car that runs on hydrogen in 2015. The car, named FCV has a size similar to that of Corolla and accelerates faster than a second generation Prius. Elon Musk has already been very vocal against fuel cells, and believes they are only a marketing ploy rather than a viable option for future cars.
Tesla has itself introduced an electric sedan of its own called the Tesla Model S. The car powered by an 85 kilo watt hour battery can accelerate from 0-60 mph in just 4.2 seconds and has a top speed of 130 mph. It has a range of 265 miles on a single complete charge and 416 horsepower. Additionally, its batteries have a 8 year company warranty, which is a good sign for the customers who fear for battery maintenance costs. The car has won the 2013 World Green car of the Year as well as featured in Consumer Report's top scoring car ever. It has been given a 5 star rating by NHTSA, which shows that the likelihood of injury to the passengers is minimal in this car. The model powered by the 85 kWh battery costs around $80,000.
In contrast, the Toyota's fuel cell vehicle (FCV) is predicted to have a tag price of $70,000 and will be powered by a fuel cell instead of electric batteries. The FCV is predicted to have a lesser system cost than the electric vehicle at large distances, as it is cheaper to extend hydrogen tank capacity than to put in a larger battery. The FCV to be introduced in 2015 has been predicted to have a range of around 450 miles. The refueling time of the car would be similar to a gasoline car which would be an advantage as compared to the battery cars which have to be charged overnight. However, the availability of hydrogen fuel is a big concern with only a few places which have this facility, unlike electricity which is widely available. Also the fact that hydrogen is extremely explosive adds the risk of high scale damage in case of an accident. Although Toyota is the largest seller of hybrid cars in the world with Toyota Prius, Highlander and Camry featuring in the Top 5 most sold hybrid cars, their venture in the fuel cell technology is yet to bear fruit.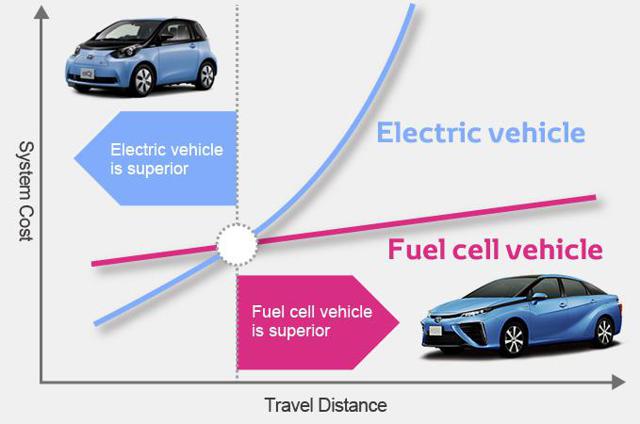 Click to enlarge
Source: Toyota Website
Despite of the fact that Toyota owns 3% of the stake in Tesla, both the companies seem to be on a collision course with both competing on developing the cars of the future. The road map of both the companies seems different with Toyota focusing on fuel cells and Tesla on electric batteries; however, the objective is the same - to become the pioneer of selling green cars on a large scale as soon as possible.
Disclosure: The author has no positions in any stocks mentioned, and no plans to initiate any positions within the next 72 hours.
The author wrote this article themselves, and it expresses their own opinions. The author is not receiving compensation for it (other than from Seeking Alpha). The author has no business relationship with any company whose stock is mentioned in this article.