A few weeks ago I wrote an article (Should I Short These 3 REITs?) and Campus Crest (NYSE:CCG) was one of the riskier REIT bets that I included in the article. I summed up my arguments as follows:
My biggest concern with Campus Crest has to do with high leverage (46% floating debt) and short-term dilution of around $0.17 per fully diluted share due to the closing on the Copper Beach transaction (last year). That has clearly created an overhang on Campus Crest shares and moved the valuation into a more risky category.
Over the last few months it became clear to me that Campus Crest was operating its student housing platform in a dangerous manner and I proceeded to move my recommendation from a HOLD to SELL. Since the IPO (on October 13, 2010) Campus Crest shares have declined by over 34% (from $12.50 to $8.22).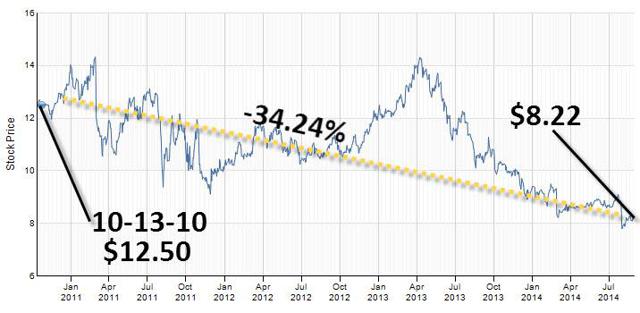 Click to enlarge
Campus Crest is currently paying a dividend yield of 8.03%, an increase of over 29% from the IPO yield.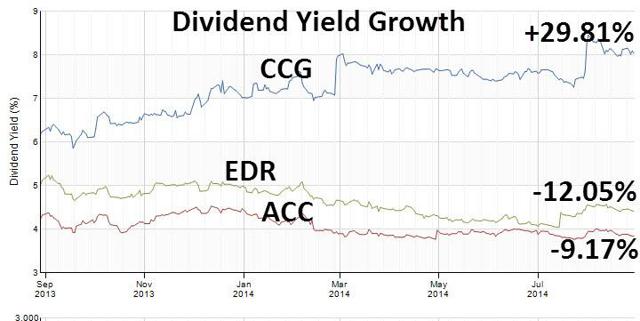 Click to enlarge
Given the drastic decline in Campus Crest's share price, could this be the bottom? What are the drivers that could move Campus Crest back to more attractive valuation levels?
Let's Start with the Basics
Campus Crest Communities, based in Charlotte, was founded in 2004 to address the compelling supply and demand characteristics of the U.S. student housing market. In 2005, the company became a fully vertically integrated enterprise that included property management, development and construction divisions. Also in 2005, the company created and delivered its first Grove® asset in Asheville, North Carolina.
This unique campus community was developed at UNC-Asheville and the popular Grove® brand became the prototype for a nationwide rollout of similar projects. In 2010, Campus Crest executed an IPO and listed its shares on the New York Stock Exchange.
Campus Crest has two publicly-traded peers: American Campus Communities (NYSE:ACC) with a market capitalization of $4.146 billion and Education Realty Trust (NYSE:EDR) with a market capitalization of $1.520 billion. Campus Crest is the smallest student housing REIT (with a market capitalization of $533 million):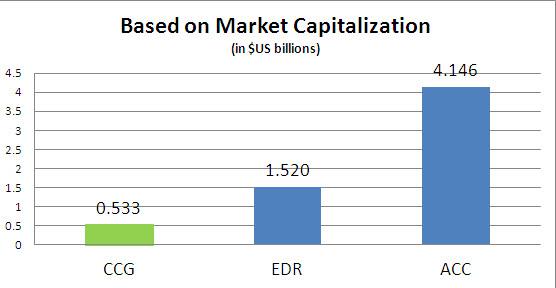 Since its first property in 2005 Campus Crest has grown to 72 properties (as of Q2-14). Here is the footprint as of October 2010: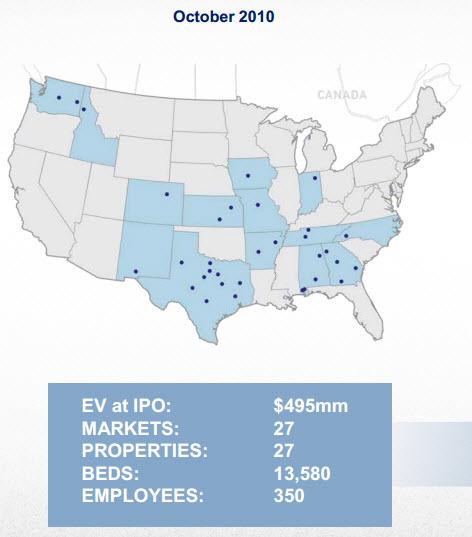 Here's the footprint as of February 2014: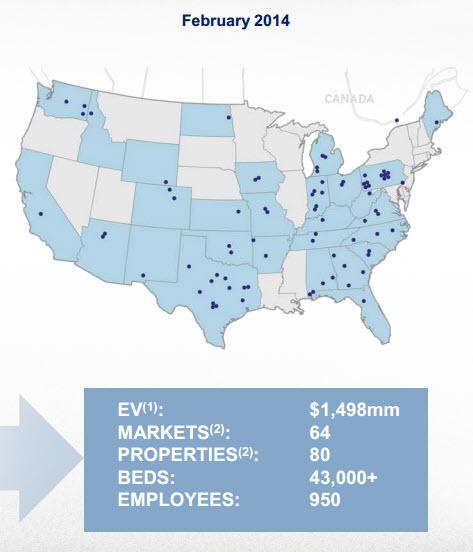 Campus Crest develops, acquires, and invests in three different products: grove, evo, and CopperBeech concepts. Here's a snapshot of the unique-positioned product offerings: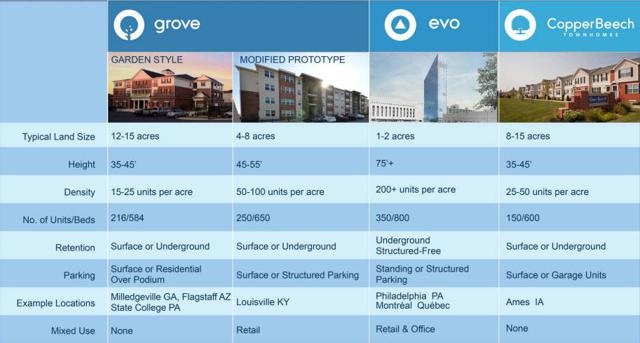 Click to enlarge
As illustrated below, Campus Crest's multiple brands allow for deeper penetration in targeted markets: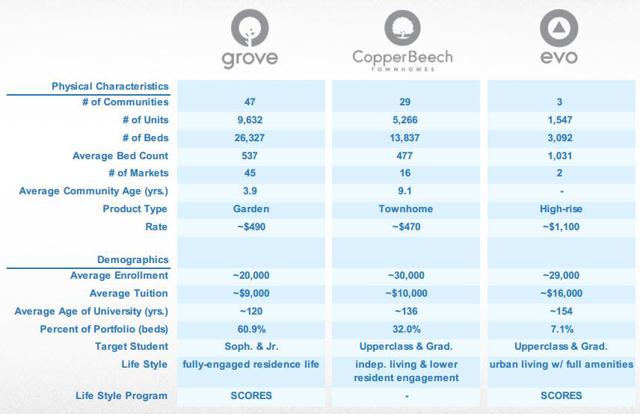 Click to enlarge
Catalyst 1: Biting Off More Than It Can Chew
A few days ago Campus Crest announced that it had elected not to exercise the first purchase option to acquire additional interests in the entities comprising the 37 property Copper Beech portfolio (known as Copper Beech) and will revert to a 48% economic interest in the portfolio. As per the terms of the amended purchase and sale agreement, Campus Crest holds a 48% economic interest in the 37 property portfolio. Separately, the company maintains a 67% economic interest in the Copper Beech asset located in Ames, Iowa.
The acquisition in Copper Beech had been one of the riskier investments by Campus Crest and one of the reasons that their shares were trading at such a substantial discount. By not exercising the 52% interest in Copper Beech, Campus Crest should be able to preserve capital and identify a buyer for the non-controlling interest in the 37 locations. Accordingly, Campus Crest will be able to focus its efforts on leasing up its "core" Grove and Evo platforms.
I consider the latest move by Campus Crest to be a commitment to discipline. The $250 million investment (to purchase the current 48% interest) is a chunk of capital and I believe the decision by management to forgo the 52% purchase option is one positive step in the right direction.
Catalyst 2: Slow Down Development
Campus Crest's management team has deep experience in construction and development and that's one key differentiator of the small-cap REIT's value proposition. By maintaining a proprietary development model, Campus Crest enjoys a vertically integrated operating platform. As such, the company gets product constructed faster and gains economies of scale where it can operate a more efficient platform - a "soup to nuts" strategy that enables Campus Crest to control all facets of the development and operational functions.
Campus Crest's track record of development value creation has generated higher initial yields as evidenced by the snapshot below: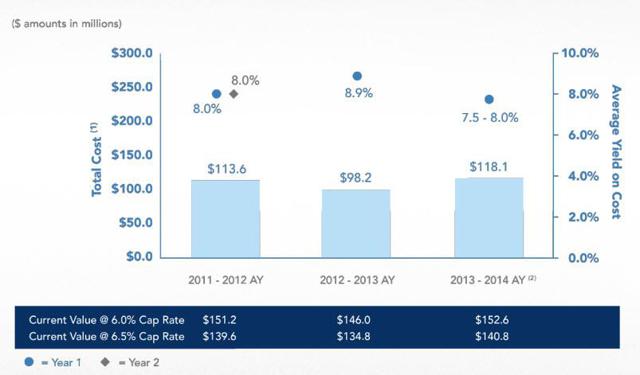 Click to enlarge
Although development has its rewards (higher yield of 100-200 bps versus acquisitions), Campus Crest has struggled with delays in construction; consequently, several assets weren't delivered on time. These leasing challenges (mainly evo assets) caused Campus Crest to reduce earnings by $.03 to $.05 per share. That's a big hit as initial pro-forma yields of 7.5% to 8% are now booked at around 5%. As a result of these hiccups, Campus Crest is reducing its development pipeline and that should reduce risk considerably.
As a result of the slowdown in development, Campus Crest is revising its guidance: In 2015, the company will have just four new deliveries (a 60% reduction compared to 2014 and the lowest amount of new projects delivered as a public company). The 2015 development projects will be funded through joint ventures to limit capital needs and increase fee income.
This move by management tells me that the company is committed to discipline and prudent capital management practices.
Catalyst 3: New Kid on the Block
Recently Campus Crest hired veteran REIT analyst, Aaron Halfacre, to its bench. I was pleased to see Campus Crest add new management, especially in the capital market ranks. Halfacre serves as Director of Capital Markets and he has an extensive background in the REIT industry. I know him well as I met with him on numerous occasions while he was in an executive management position (head of Strategic Relations) at Cole Capital (before being acquired by ARCP). On the recent earnings call, a Citi analyst asked about Halfacre's credentials and the new employee added:
I too am excited to be a part of the team. However I was like many of you listening today initially skeptical. I spoke to many of you as part of my due diligence. You shared with me your frustration and your dismay, candidly many of you said, don't even bother. You questioned management's ability to change and you noted how they were tone deaf to investors.

On the surface, I couldn't really disagree but as I was digging deeper I saw a real opportunity for Campus Crest to improve. However, opportunity means nothing if it can't become reality. I knew that if I were going to join, if I were going to lay my personal career credibility on the line then I had to be absolutely convinced that not only could they change but they really wanted to change.

The whole team, Ted and Donnie in particular can attest that I probed and challenged them. This went on for a bit as I kept asking the hard questions. I feel it's easy for someone to say they can change or that they're willing to change but I've always found it much harder to do so. To ensure that they would hold to a long-term consistent change I requested a seat at the table.

I knew if they couldn't stomach that request better yet if they couldn't openly embrace it then it was very unlikely in my assessment that they could change. In the end I became convinced that they were on board with turning the tide and I hope you see today as a glimpse of that...

Obviously this isn't going to happen in a few quarters, we have to execute quarter in, quarter out, day in, day out in a real disciplined focused manner. It's going to take some time. I'm encouraged as I see a lot of low hanging fruit. There is real opportunity here. Clearly lowering guidance is never desirable, however I hope you can see the silver lining. Today's actions are designed to establish firm ground and bring about positive change...

Looking further ahead after we complete the leasing cycle for this academic year you can expect from us a clear articulation of what actions we intend to take to close our value gap.
As I said, I know Halfacre well and I think the new addition by Campus Crest is a substantial driver for de-risking of the Campus Crest brand. His skill-set brings tremendous value to the company and, as evidenced below, his purchase of 100,000 shares in the company brings considerable alignment ("skin in the game") to the table.
Click to enlarge
Here's a snapshot of other insider ownership (including Halfacre):

Perfecting Performance
As I outlined above, there are 3 drivers/catalysts that could increase the share price for Campus Crest. Let's now take a closer look at the performance metrics:
As illustrated below, Campus Crest has the lowest operating expenses of the peer group:

The table below breaks down the expenses:

Click to enlarge
As mentioned on the recent quarter earnings call Campus Crest intends to reduce its development pipeline and focus on leasing - that should reduce downside risk of the shares and allow the company to ramp up leasing. As mentioned above, the company's evo-branded projects are leasing well below expectations and they are one of the primary drivers in the decision to revise guidance. The company attributes the slower leasing activity to a variety of factors which include the following (source earnings call):
First, a new product experience. The introduction of highly amenitized high rise assets into the Montreal and Philadelphia student housing markets is quite simply a new experience for the student population.
Second, a more dynamic leasing population; whereas in the past Campus Crest's projects have been linked with a single dominant university in a non urban location. The leasing population for the evo projects are fed from multiple universities both graduate and undergraduate with varying academic start dates. As such, marketing initiatives have to be differentiated and targeted in ways that are more dynamic than prior marketing campaigns.
Third - a lack of clarity. Here's how the CEO, Ted Rollins, explained that on the recent earnings call:
We recognize that we experience a steep learning curve with these projects. We accept constructive criticism that our prior experiences may have made us optimistically biased. We also believe we have acted nimbly and diligently as each unknown has appeared. That said, we see the biggest challenge we face this very day is of the known unknown.

Said differently, we know we are poised for non-linear leasing activity as a wave of students arrive and students begin to physically explore the properties in August and September. However, we simply have no clarity at this point in time to realistically project how large that step function will be. We're in a position where the outcome will be a bit binary - underwhelming results or impressive progress.

We will not have the clarity to know how well these assets perform until late in the third quarter. All of our efforts and attention are on the operations for this quarter. We have an all consuming focus on delivering the strongest possible results we can for both our existing portfolio and the new deliveries we have committed to.

Click to enlarge
Another way that Campus Crest can reduce risk (in the shares) is balancing its debt maturities. By focusing on the balance sheet (no new capital market activity during the quarter) and with a discounted NAV, the company is not in a position to raise new equity. As of June 30, 2014 Campus Crest had cash balances of $17.6 million available for investment and $84.1 million available under the revolving credit facility.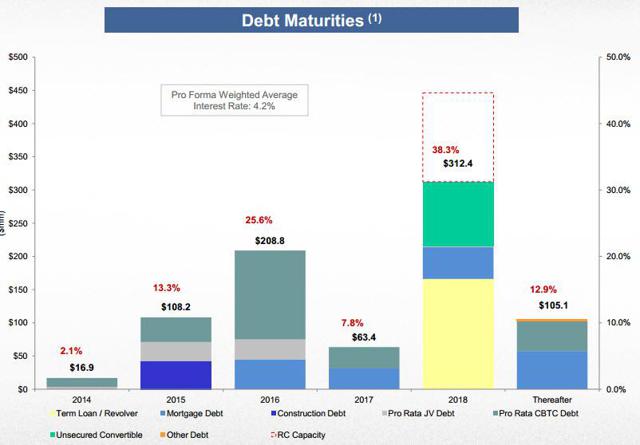 Click to enlarge
The company has nearly funded its entire share of equity capital for 2014 deliveries and the debt-to-total market capitalization was approximately 42.3% at the end of the quarter (the highest in the peer group):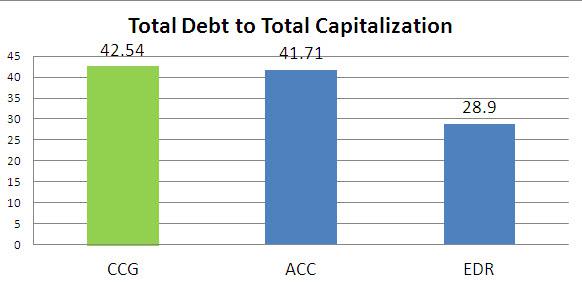 Campus Crest has a history of reducing its reliance on secured debt: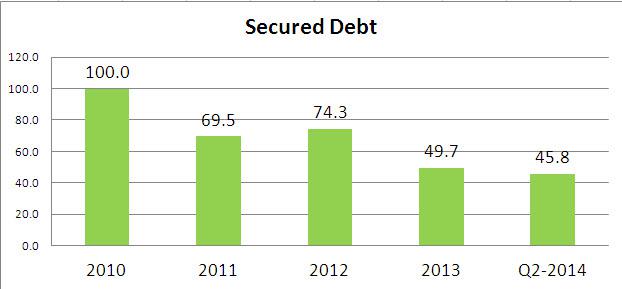 The company has the least secured debt in the peer group: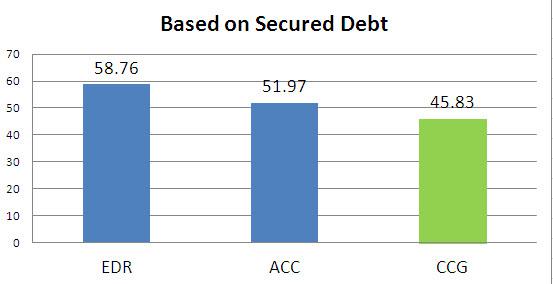 However, Campus Crest has the lowest percentage of fixed rate debt in the peer group:

Here's a snapshot of the company's liquidity profile (sources and uses):

Click to enlarge
Are Earnings (More Importantly, Dividends) Sustainable?
In the second quarter Campus Crest reported FFO (adjusted) of $10.4 million resulting in $0.16 per diluted share. Here's a snapshot of historic FFO and as you can see, the FFO for Q1 and Q2 of 2014 is less than 50% of FFO in all of 2013.

Click to enlarge
As a result, FFO per share is expected to decrease from $.80 (in 2013) to around $.73 in 2014.

Click to enlarge
Here's a snapshot of the company's dividend history: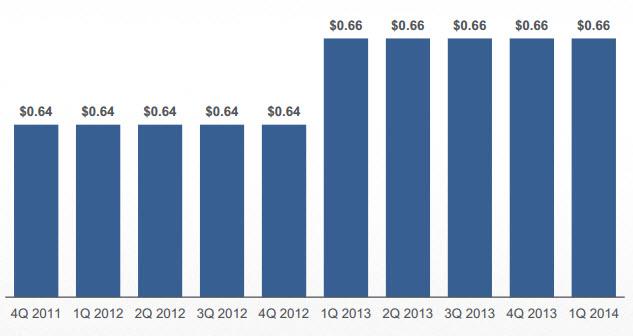 The implied payout ratio estimated for 2014 is 90.4% and as you can see below, the latest earnings falloff has increased the risk to future dividend growth.

On the latest earnings call one analyst asked if Campus Crest was in danger of a dividend cut and the CFO, Donnie Bobbitt, replied:
No, no plans to cut the dividend. The way we're looking at it is we put out a realistic plan to cover the dividend through FFO for the remainder of this year and we're confident in the full support of it.
The CEO, Ted Rollins, chimed in:
…we remain very committed to making the dividend and we are pretty confident we're going to be okay in terms of the cash flow. We know we're confident on the FFO and we're going to get there but I think you know, I think we should have this conversation again next quarter because that would be really telling.
Campus Crest's current dividend yield is 8.03% - the average of the other two peers is 4.13%.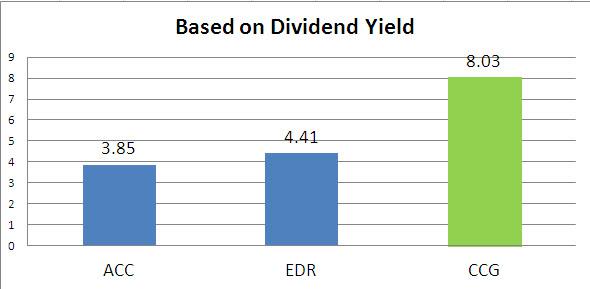 Here's the bull case as presented by Campus Crest: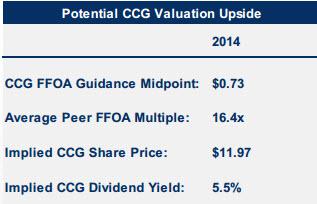 As the chart illustrates below, Campus Crest is trading at a considerable discount: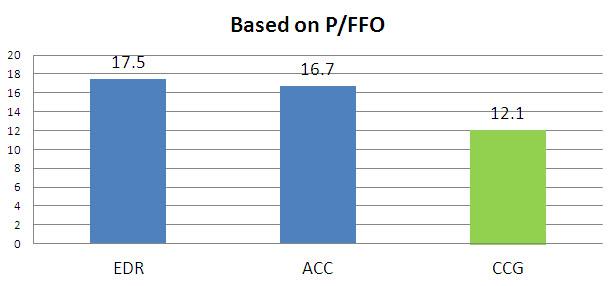 Let's examine the total return since January 1, 2014: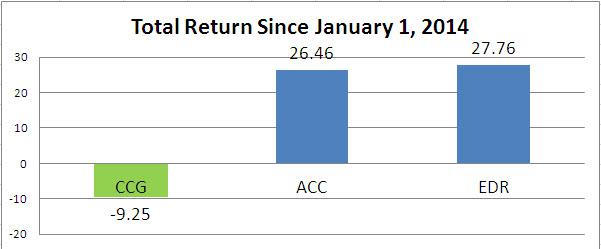 Now let's examine the total return over the last twelve months: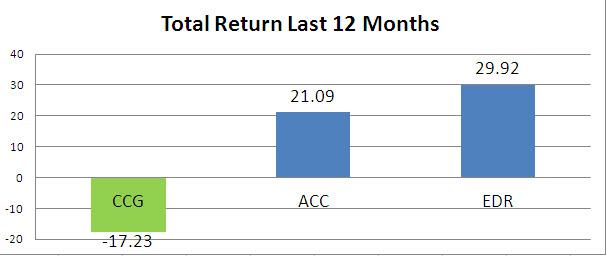 Now let's examine the total return over the last two years:

Click to enlarge
Campus Crest appears to be floating at the bottom of the ocean floor and based upon the comments from the CEO (Rollins) the catalysts are in place for a rebound. Here's how he summed it up:
As I mentioned our revised guidance reflects a strategic shift not a temporary tactical maneuver. This is not about us reverting back to doing a bunch of deals as soon as we get past this academic year but once we have a good quarter we'll raise new capital. This is a fundamental shift.
He appears to be sincere, as he said:
I know you are all frustrated and I know that we have to change things here at Campus Crest to end that frustration. I know you have asked for us to change how we operate, you want a change but I also know that many of you are skeptical that we will change.
The new hire, Halfacre, is not superman and we know he can't resurrect the struggling campus housing REIT with a burst of energy; however, I view his comments to be a catalyst to begin the transition. He explained:
As you would likely agree and I don't want to sound too cliché here, but running a student housing REIT isn't rocket science. We're not building a electric car or launching a sub orbital spaceship. Our goal at the public REIT is pretty straightforward.

We need to maximize our economic occupancy, control our expenses, de-lever our balance sheet and de-risk our business model. We're not student housing developers, we're financial stewards and capital allocators just like all of you. Every dollar we spend, invest or return needs to be viewed in that framework.
So how do I view Campus Crest today?
This isn't Digital Realty (NYSE:DLR), a REIT that fell out of favor when it had strong fundamentals. Instead, Campus Crest is a REIT that has weak fundamentals and Mr. Market has, in my opinion, placed a proper valuation on the shares of the high risk enterprise. In other words, there are considerable risks in owning Campus Crest and I consider the upside for owning favorable. Shares are currently trading at $8.22 with an 8.03% dividend yield.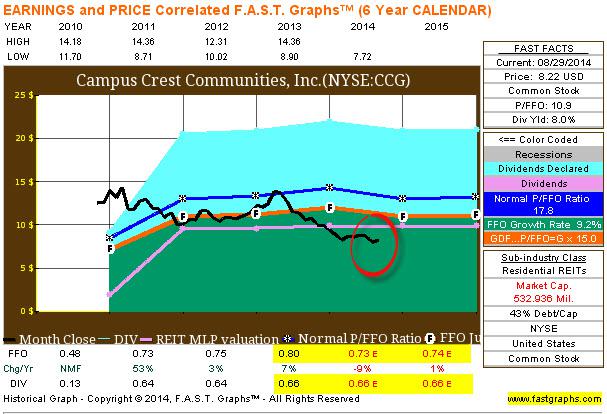 The catalysts noted above offer good upside and although the dividend is tight, I believe that investors (with mid to high risk tolerance levels) could benefit from the 8.03% dividend while waiting on the "strategic shift" to unfold. Keep in mind, there are risks (slow student enrollment, tightening credit, development); however, I believe that the decision to "punt" Copper Beech and begin to risk manage the portfolio (new hire) offer a compelling reason to BUY the shares.
Remember: Buying into a market with a lot of downward momentum can be quite dangerous. If timed perfectly, a buy at the bottom of a long downtrend can be rewarding - both financially and emotionally - but the risks also run extremely high. Campus Crest is a small-cap REIT so the share price is subject to higher volatility. I can't tell you that this carp is swimming at the bottom, but I'm going to nibble on a few shares later in the week.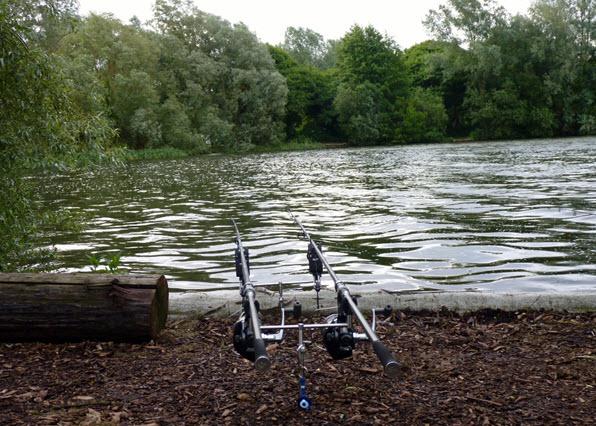 Check out my REIT Newsletter (iREIT Investor) HERE.
Source: SNL Financial, F.A.S.T. Graphs, and Campus Crest Investor Presentation.
Disclaimer: This article is intended to provide information to interested parties. As I have no knowledge of individual investor circumstances, portfolio concentration or diversification, readers are expected to complete their own due diligence before purchasing any stocks mentioned or recommended.
Disclosure: The author is long O, DLR, VTR, HTA, STAG, UMH, CSG, GPT, ARCP, ROIC, HCN, OHI, LXP, KIM, WPC, DOC, UDF, EXR.
The author wrote this article themselves, and it expresses their own opinions. The author is not receiving compensation for it (other than from Seeking Alpha). The author has no business relationship with any company whose stock is mentioned in this article.