The price movement for RadioShack (NYSE:RSH) has been interesting over the last few days - the stock went up over 135% during the last five days, a massive rise for a stock which has been on a consistent downward trend over the last twelve months. Despite this massive rise, the stock is down over 51% during the last twelve months. So, this rise does not make up for the fall over the last few months. There have been concerns about the solvency of the company, and there were fears that the company might go bankrupt. As a result, when the market found out about RadioShack's efforts to gain financing, the stock went up dramatically.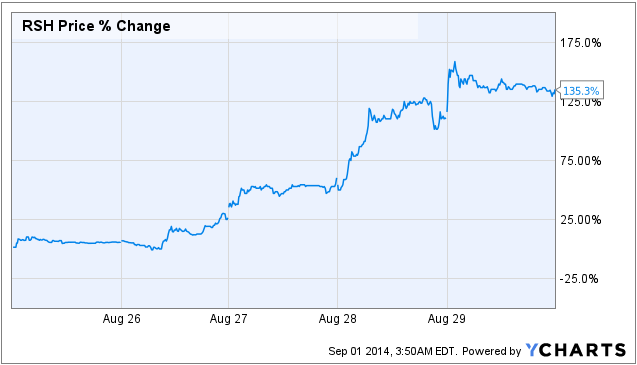 The company's net margins have been poor over the last few quarters and the cash position is also getting worse. However, RadioShack is in talks with its largest shareholder, Standard General, regarding a financial rescue package in order to prevent RadioShack from bankruptcy. This rescue package might help RadioShack pay down some debt and eventually close some underperforming stores - the company was previously restricted by strict credit agreements, and could only close down a specific number of stores in a year.
Is this Rise Short Term?
The news about a financing package by one of the company's largest stakeholders, Standard General, has resulted in a change of mood among RadioShack shareholders. Trading volumes have been high as more than 50 million trades were recorded in a single day. However, this sudden rise in the company stock price might not be sustainable - the news is good in the short term and helps solve RadioShack a major issue; however, the company needs to do a lot more to ensure a stable upward trend in the stock price.
Standard General is a New York-based investment company that manages event-driven opportunity funds. The firm focuses on companies with complex capital structures which are undergoing dramatic change or are faced with material events - Standard General has been helping American Apparel (APP) to get out of trouble as well.
Standard General has been in talks with RadioShack to finance some or all of its debt. The company's bondholders are also trying to approach RadioShack and discuss their options. Moreover, RadioShack's top management is included in American Apparel's board in order to establish a relationship between the two troubled retailers. This will create several opportunities amongst the two, as they can cross-sell each other's products to improve their liquidity position. However, even if the company managed to efficiently follow its plan and close a bunch of unprofitable stores by getting the rescue financing, it is still going to be a rough ride for the company.
Possible Positives
RadioShack's management has been trying to improve its efficiency to address falling margins and comparable same store sales, improve customers' in-store experience and increase product offerings. The company has remodeled 44 stores in Washington and San Francisco in an attempt to improve the customer experience. Also, the company reported double digit growth in the revamped stores during the first quarter.
RadioShack has partnered with a Connecticut veterans mobile service company, Defense Mobile Corporation, to be its exclusive national retailer. The company is expected to sell Defense Mobile's new 4G-LTE services exclusively to the 51.6 million members of the U.S. military community by the second half of this year, which could substantially increase RadioShack's revenues. Initially, ARMYmobile, NAVYmobile, AIRFORCEmobile, MARINESmobile and COASTGUARDmobile will be offered in 2,500 RadioShack stores and all company locations by 2015.
Moreover, the company built by veterans and supported by a 100% veteran-staffed Member Service Organization is launching nationwide mobile services and a set of value-added applications in the coming quarters. RadioShack stores are located in the heart of communities where veterans work and live and the company has been offering a 10% discount to military families to connect to their loved ones to enhance its sales.
Conclusion
The financial package is certainly positive news for the company and it will help it tackle its short-term liquidity issues. However, RadioShack needs to do a lot more for the long-term sustainability. The company needs to grow its revenues and cash flows. One of the ways to do this is decreasing operating expenses, which can be achieved by closing down stores that are operating under losses. Furthermore, the efforts to make RadioShack a modern place of choice for electronics shopping need to be accelerated. The future of the company still remains unclear; however, the news about the financing package is certainly good for the company.
Additional Disclosure: This article is for educational purposes only and it should not be taken as an investment recommendation. Investing in stock markets involves a number of risks and readers/investors are encouraged to do their own due diligence and familiarize themselves with the risks involved.
Disclosure: The author has no positions in any stocks mentioned, and no plans to initiate any positions within the next 72 hours.
The author wrote this article themselves, and it expresses their own opinions. The author is not receiving compensation for it (other than from Seeking Alpha). The author has no business relationship with any company whose stock is mentioned in this article.
Editor's Note: This article covers one or more stocks trading at less than $1 per share and/or with less than a $100 million market cap. Please be aware of the risks associated with these stocks.