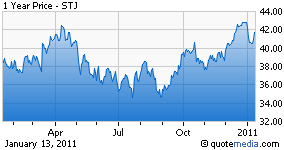 Medical devices major St. Jude Medical (NYSE:STJ) reported preliminary sales data for fourth-quarter fiscal 2010. The company expects to report final results before the opening bell on January 26, 2011.
The Minnesota-based company expects to post revenues of $1,350 million, up 12% (13% in constant currency) year-over-year, topping the Zacks Consensus Estimate of $1,296 million. Sales include a $25 million contribution from AGA Medical Holdings, which St. Jude acquired in November 2010. Revenues got a boost from healthy sales across the board.
Per the preliminary data, revenues from the Cardiac Rhythm Management ("CRM") division leaped 9% (11% on a constant currency basis) year-over-year to $762 million on the back of strong ICD sales, which cruised 16% (18% in constant currency) to $458 million. Pacemaker sales were relatively stable (edged up 1% in constant currency) at $304 million.
The results look impressive considering the softness in the highly competitive CRM market. St. Jude is increasingly in a tug-of-war with its compatriots Medtronic (NYSE:MDT) and Boston Scientific (NYSE:BSX) to grab CRM share.
Atrial Fibrillation sales jumped 13% (14% in constant currency) year over year to $193 while neuromodulation revenues soared 15% (16% in constant currency) to $108 million. Cardiovascular revenues, including AGA Medical's contributions, surged 20% to $287 million. The addition of AGA Medical has strengthened St. Jude's atrial fibrillation and cardiovascular franchises.
Based on the strong top line performance, St. Jude appears upbeat on the earnings front as it now expects adjusted earnings for the fourth quarter to be close to the upper end of its guidance range of 72 cents to 74 cents. The current Zacks Consensus Estimate for the quarter is 73 cents.
Neutral on St. Jude
While we are encouraged by St. Jude's solid fundamentals, strong product mix and healthy growth trajectory, we remain wary about competition-driven pricing pressure and the heightened competition in a mature pacemaker market.
Moreover, we are cautious about the dilutive impact of acquisitions and any unfavorable currency exchange fluctuations on the bottom line. This is reflected in our Neutral recommendation for the stock, which is supported by a short-term Zacks #3 Rank (Hold).
Disclosure: None