As earnings approach on Sep. 4, investors who own shares in Joy Global (NYSE:JOY) are probably kicking around what they should do with the business' shares. Currently, the company touts its significance in the mining industry and claims to be the world's largest producer of both underground mining machinery and electric mining shovels, as well as be a major provider of other mining-related equipment. While this gives the impression that the business has a huge economic moat, is this merely an illusion that will cause investors to get burned in the end?
Analysts are very pessimistic
For the quarter, analysts expect Joy Global to report revenue of $934.25 million. If this forecast turns out to be correct, it will represent a 29% drop in sales compared to the $1.32 billion management reported the same quarter a year earlier. If the past is any indication of the future, then the business' sales decline will come largely from a drop in revenue stemming from its underground mining machinery, but it wouldn't be unreasonable to expect a drop in sales attributable to Joy Global's surface mining equipment as well.
| | | |
| --- | --- | --- |
| | Last Year's | Forecasted |
| Revenue (billions) | $1.32 | $0.93 |
| Earnings per Share | $1.70 | $0.84 |
From an earnings standpoint, the situation looks even worse. For the quarter, Joy Global's expected to report earnings per share of $0.84. In the event that analysts are correct in their assumptions, this will represent a massive 51% decline in profits compared to the $1.70 seen the same quarter a year ago. Such a decline would come largely from a drop in sales but investors should also attribute it to an increase in the business's cost of goods sold, selling and administrative expenses and, potentially, impairment charges.
Joy Global's picture is getting worse despite a strong past
Between its 2009 and 2012 fiscal years, Joy Global experienced a rapid improvement in its top and bottom lines. During this four-year period, sales soared 57% from $3.60 billion to $5.66 billion while its net income rose 68% from $454.65 million to $762.02 million. On the top line, growth took place because of increased product demand in most regions, especially areas like China and Australia, as well as because of acquisitions like the company's purchase of LeTourneau. This growth contributed to Joy Global's bottom line as well, but so too did decreases in its cost structure in relation to sales.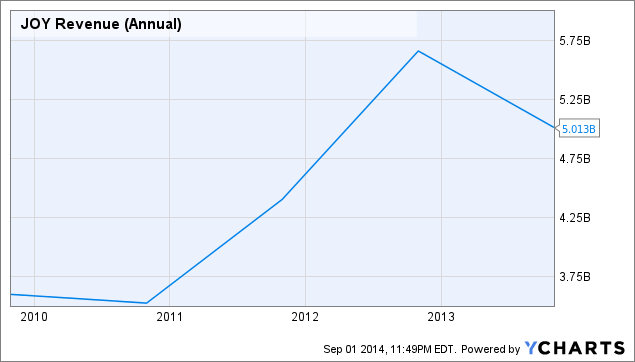 JOY Revenue (Annual) data by YCharts
In 2013, however, Joy Global's situation took a turn for the worst. For the year, sales dropped over 11% to $5.01 billion. According to the company's most recent annual report, this decline in sales was driven by a drop in both of its segments but was most severe in the company's Underground Mining Machinery segment, which saw its top line fall 13%, led primarily by a 16% drop in its original equipment category. As sales fell in most regions (except for Africa in its Underground Mining Machinery and Africa and South America in its Surface Mining Equipment), profits also fell, with the business' net income falling 30% between 2012 and 2013.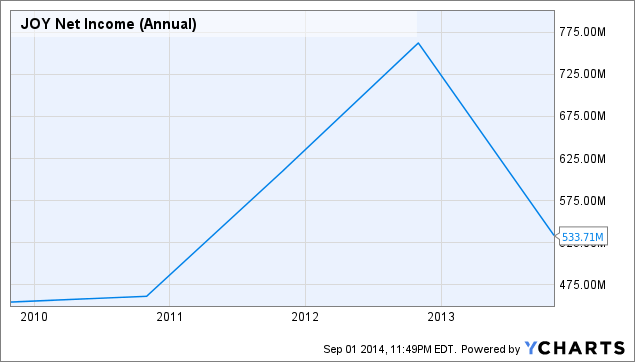 JOY Net Income (Annual) data by YCharts
In recent years, a construction boom in China has led to an increase in the demand of mining equipment in places like China and Australia. While this growth helped to fuel companies like Joy Global, a slowdown in these areas has been underway, which could make the next five years harder for the business than the past five have been. Although nobody can tell with certainty what the future holds, a working paper from the Federal Reserve Bank of St. Louis points to a bad outcome for mining and construction.
According to this source, the current vacancy rate in the country (in urban areas) stands at about 22.4%. Although this may not sound ridiculous, when you take into consideration the fact that the vacancy rate in the U.S. at the height of the latest housing bubble was only 3%, the picture looks a bit worrisome. Of course, one indicator a thesis does not make. In order to find the true extent of the issue, investors should assess other factors at play as well.
One of the most interesting is the price-to-income ratio of China compared to the U.S. Between 1975 and 2000, this ratio stood at an almost consistent 3-1 in the U.S., but began to rise steadily until reaching nearly 5-1 in 2005 (though the ratio was as high as 6-1 in some cities). At the end of 2012, the home price/household income ratio throughout China averaged 11-1 while major cities such as Beijing and Shanghai saw their metrics top out around 23-1.
With a slowdown in China's growth imminent and prices standing at high bubble levels, this doesn't bode well for any businesses associated with infrastructure development inside China. Evidence supporting this has already begun to surface. If you look at the two tables below, you can see that the price of iron ore as well as coal has dropped off since peaking in Feb. 2011 and Jul. 2008, respectively. Prices for iron ore have taken a 49% dive while thermal coal has plummeted 62% since achieving these all-time highs.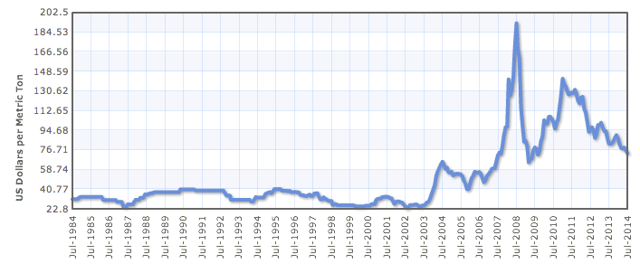 Click to enlarge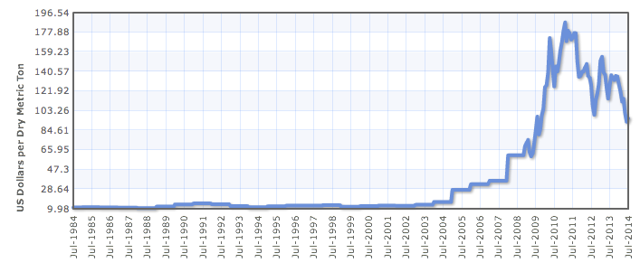 Click to enlarge
Takeaway
No matter how you stack it, the picture doesn't look all that great for Joy Global or any of its peers like Caterpillar (NYSE:CAT) or for other companies involved in construction-related industries in China like BHP Billiton (NYSE:BHP), Vale (NYSE:VALE), Rio Tinto (NYSE:RIO), or even Cliffs Natural Resources (NYSE:CLF). In the event that China can pick up steam, then a turnaround in the sales and profits for these businesses is possible, but with high vacancy rates in China, high home prices, and precious metals declining in value, the downside for Joy Global and its peers could be rather significant.
Disclosure: The author has no positions in any stocks mentioned, and no plans to initiate any positions within the next 72 hours.
The author wrote this article themselves, and it expresses their own opinions. The author is not receiving compensation for it (other than from Seeking Alpha). The author has no business relationship with any company whose stock is mentioned in this article.