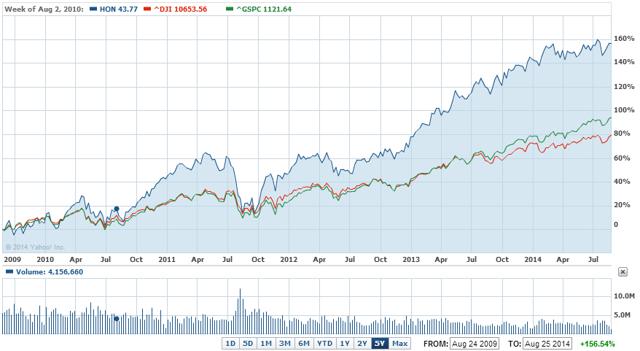 Exhibit 1 Source: Yahoo Finance
Giant Industrial Innovator Beats The Indices
Honeywell (NYSE:HON) is one of the largest technology-based industrial and diversified companies in the world. It is an inventor and producer of technologies that help industries and economies to grow. Its technologies provide solutions for efficient and clean energy generation, safety and security and defense, industrial productivity and global trade. HON employs 132,000 employees including 22,000 engineers and scientists located all over the world. It operates in the Americas, the Asia Pacific region, Europe, the Middle East and Africa. Its strong presence in the exploding emerging markets of China and India makes it well-placed to capitalize on the growth. As shown in the figure above, HON beat the S&P 500 and the Dow Jones Industrial Average indices by producing a 156.54% return in five years.
Honeywell Supports the Global Economic Growth
HON is an innovator that develops and produces technologies that play a vital role in economic growth worldwide. The company's three business units are: Aerospace, Automation and Control Solutions (ACS) and Performance Materials and Technologies (NYSE:PMT). The Aerospace unit provides various leading technological solutions to the aerospace industry that allows the industry to operate efficiently. The ACS unit develops products and solutions that are used in 150 million homes. Products from this unit help 10 million buildings and hundreds of gas and electric utilities globally to function efficiently. The PMT unit develops technologies and solutions for diverse industries including oil and gas, refining, pulp and paper, industrial power generation, chemicals and petrochemicals, biofuels, life sciences, and metals, minerals and mining.
The Top Line Growth Fueled by R&D Capabilities and the Company's Presence in Emerging Markets
HON's financial performance over the past ten years see figure below) was stable and positive. The growth in top line is driven by innovation and the company's proven abilities in research and development.
HON's strong presence in the emerging markets is another critical top line growth driver. HON has been operating in the blooming markets of China and India since 1935. HON employs about 24,000 employees including scientists and engineers in China and India and owns and operates various state-of-the-art engineering and manufacturing facilities. As an innovator, HON's strong presence in the emerging markets makes the company well-positioned to capitalize on the growth potential in China and India. HON's presence in the Asia Pacific region, Europe, the Middle East and Africa will augment its top and bottom lines as these regions show economic progress.
HON's top line grew consistently in the past ten years with the exception of 2009. Its top line grew at a CAGR of 5%. Looking at the most recent result of the second quarter of 2014, HON managed to grow its revenue by 6% compared to the figure reported in the same quarter last year. The analyst consensus estimate expects revenue growth of 3.6% in the current year and 4.5% in the coming year. HON is also confident regarding both its short and long-term revenue outlook.

Exhibit 2 Source: Morningstar.com
Improving Margins: A Very Well Run Business
Despite being a huge enterprise that could lose efficiency owing to diseconomies of scale, HON has in fact improved its operational efficiency. In the figure above HON managed to increase both its gross and operating margins over the past ten years. It is fascinating to see the improvements in the company's margins since it is a daunting task to bring efficiency to such a huge enterprise. In 2004 the gross margin was 19.6% and improved considerably in ten years reaching 27.9% during 2013-14. The operating margins that stood at 6.6% in 2004 grew to 14.4% during 2013-14. The growing top line and expanding margins helped HON to produce healthy bottom line growth. Net income grew at a CAGR of 13.5% and EPS grew at a CAGR of 13% in ten years. The growth momentum continued in the recent quarter. In the second quarter of 2014 the company managed to grow its net income by 8% compared to the figure reported in the same quarter last year.
It is encouraging to see that HON continued its segment margin expansion in recent financial results. During the second quarter of 2014, HON managed to expand its operating margin in all of its operating segments. As an innovator HON strives to improve the functionality of its products and it shows the same vigor when improving its operations. These qualities make HON a very good and stable long-term investment.
Target Price Estimate Reveals Undervaluation
The consensus target price polled from 17 brokers shows an attractive upside. The mean target price is $107 which presents an upside of 12% at the current price of $95.51. The median target price is $105 which presents an upside potential of 10%. The most optimistic target price is $121 and if materialized it presents an upside of 27%. It's encouraging to see that even the most conservative analyst estimate has an upside of 3%. This analysis clearly shows that HON is under-appreciated by the market and this makes it a good investment opportunity.

Relative Valuation
If we look at the price multiples to assess the relative price of HON compared to the industry, sector, and S&P 500 we don't get a clear answer. Honeywell's P/E ratio is 17.24 times which indicates that its stock price is undervalued compared to the industry but overvalued compared to the sector and S&P 500. The PEG ratio shows that HON is undervalued compared to the S&P 500 but overvalued compared to the industry and the sector. On a relative basis HON's stock is not a definite buy but the consensus target price that is used to calculate the intrinsic value of company shows that HON is an attractive investment at its current price level. Investors that intend to gain exposure in a diversified industrial company should consider investing in Honeywell.

Conclusion
Honeywell has attractive upside at its current price level based on the target price analysis. Its consistent financial performance and expanding margins make it a stable long=term investment. Its R&D capabilities and strong presence in emerging markets are expected to give it healthy top and bottom-line growth in the coming years. Investors with long-term horizons should consider investing in HON at its current price.
Disclosure: The author has no positions in any stocks mentioned, and no plans to initiate any positions within the next 72 hours.
The author wrote this article themselves, and it expresses their own opinions. The author is not receiving compensation for it (other than from Seeking Alpha). The author has no business relationship with any company whose stock is mentioned in this article.