PPL Corporation's (NYSE:PPL) stock has reported a solid performance and year to date it has gained around 16%. This stock has outperformed most of its competitors and also the S&P 500 index over the same period. In comparison to PPL, American Electric Power (NYSE:AEP) has gained 13.8% year to date, Southern Company (NYSE:SO) has gained 7.3%, Duke Energy (NYSE:DUK) has gained 6.9% and the S&P 500 index has gained 8.5% over the same period. The stock is trading above its 200-day moving average of $32.21. The 200-day moving average is below PPL's 50-day moving average of $33.86. The stock is currently trading at $34.32 which is slightly lower than its 52-week high of $35.56.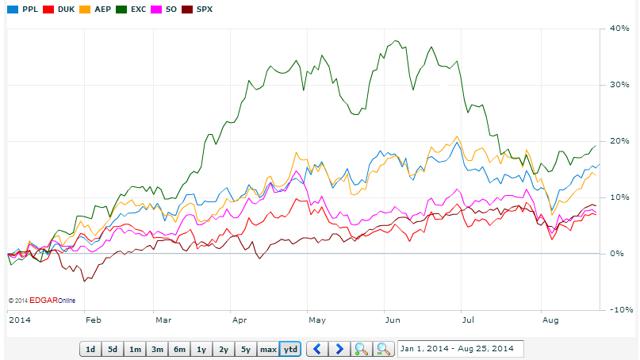 Source: NASDAQ
PPL's Financial Performance Is Satisfactory
PPL may be facing challenges in maintaining its top and bottom-line growth but the company's financial performance is still satisfactory. Also, PPL is making some important strategic moves which will boost its earnings stream in the future. In the first half of 2014, each of the company's regulated utilities performed well. The strong margins from the competitive energy supply business helped to generate solid earnings in the first two quarters. PPL's four business segments experienced an earnings increase of $115 million or 15% from ongoing operations compared with the first half of 2013.
PPL's reported earnings dropped to $229 million or $0.34 per share from $405 million or $0.63 per share in the second quarter of 2013. However, these numbers portray a different picture when special items are adjusted. PPL's earnings from ongoing operations for the quarter were $357 million or $0.53 per share increasing from $311 million or $0.49 per share in the second quarter of 2013. The earnings results from ongoing operations after special items adjustment also improved reflecting PPL's satisfactory financial performance.
PPL hopes that spinning off its energy supply business may help its bottom line. PPL increased its full year 2014 forecast for earnings from ongoing operations. PPL expects to generate per share earnings of between $2.20 and $2.40 with a midpoint of $2.30 per share. This estimate is an increase from the previous forecast of $2.15 to $2.30 per share with a midpoint of $2.23 per share. This increase in per share earnings is expected to be achieved due to the strong performance of the competitive energy supply business throughout the rest of the year.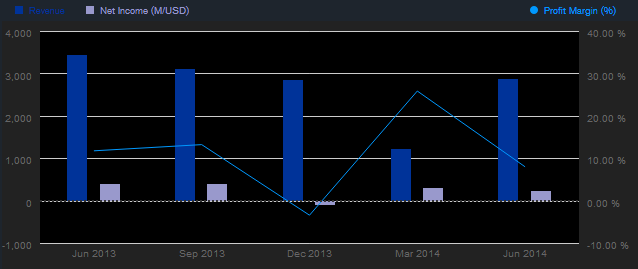 Source: Bloomberg
The Spin-Off May Improve the Company's Performance
PPL recently announced an agreement to spin off its competitive generation business and combine it with the competitive generation business of Riverstone Holdings LLC to form Talen Energy Corporation. This would create the third-largest independent U.S. power producer owned by investors. PPL shareholders will own 65% of the new company and the remainder will be owned by Riverstone. The newly formed company will have a capacity of 15,320 megawatts.
PPL is trying to refocus on its better performing utility assets in Kentucky, Pennsylvania, and the U.K. This spinoff will release resources for PPL and allow it to focus on its core business which generated more than 85% of total earnings from ongoing operations last year. The spin-off is expected to be complete in the second quarter of 2015. After the spin-off, PPL will become a regulated utility and will serve more than 10 million customers in the U.K., Pennsylvania, and Kentucky. It is expected that the more streamlined PPL will continue to provide stable returns to its shareholders in the long term. Also the improved earnings growth will support the company's dividend profile which will help the company to attract the investors. It is also expected that PPL will have a better credit rating and this will reduce its cost of borrowing and allow it to upgrade the electric grids.
Improved Transmission and Reliability
PPL is also trying to improve its transmission line with the hopes of saving money and lowering costs for millions of electric users; this may boost the company's reliability. To do so, PPL Electric Utilities recently proposed a new regional transmission project that would improve the reliability of electric services. This proposal includes a 500-kilovolt line that would run about 735 miles. This will increase PPL's reliability by delivering low-cost electricity and enabling the development of new power plants fueled by clean-burning natural gas. PPL expects to spend around $4 billion to $6 billion on this project and this investment will result in improved earnings stream in the long run.
Final Words
PPL is a financially sound company and its attractive dividend yield plus share price gain can provide investors with healthy returns. PPL slightly increases its dividends each year. In the first quarter of 2014, PPL increased the dividend from $0.3675 in the previous four quarters to $0.3725. In the second quarter PPL maintained its previous dividend which translates into an annual dividend of $1.49 per share in 2014. In the past five years its dividend growth was 1.71% which may seem low but it is consistent and the dividend yield of 4.34% is good enough. This slow but consistent growth means that with the improvement in per share earnings growth in the future it is valid to expect growing dividends.
In the long run, PPL is aiming to achieve a 4% compound annual growth rate in its earnings per share based on the 2014 projection. Additionally, the stock is trading at a forward P/E ratio of 15.24 times meaning this stock is fairly valued at this price. Going forward this stock can provide good returns in the long run.
Disclosure: The author has no positions in any stocks mentioned, and no plans to initiate any positions within the next 72 hours.
The author wrote this article themselves, and it expresses their own opinions. The author is not receiving compensation for it (other than from Seeking Alpha). The author has no business relationship with any company whose stock is mentioned in this article.