The Samsung (OTC:SSNLF) Unpacked Episode 2 event will soon be underway, on September 3rd. And while the press conference is likely to attract some eyeballs it's not going to be anywhere near as eye catching as Apple's (NASDAQ:AAPL) upcoming September 9th event. However, outside of Samsung, we have IFA Berlin 2014, which will go from September 5th to September 10th. The Berlin show will feature every Android OEM. So, these upcoming two week will be a mad scramble for analysts, tech commentators, and investors alike.
Another question coming out of Samsung is its commitment to the Tizen OS, and how much progress it has been able to make. Assuming Samsung is able to create a successful wearable ecosystem, it may diminish the likelihood of Samsung jumping back onto the Android bandwagon. But it begs the question, how many companies will want to support Samsung, or if Samsung will even drag along other OEMs into the Tizen ecosystem?
What to expect from Galaxy Note 4
The Galaxy Note 4 will be the biggest device announcement coming out of Unpacked Episode 2,as it will have to directly compete with the iPhone 6 5.5 inch model, which puts Samsung on the defensive in a category that it has pretty much dominated for the past couple years.
By now, Samsung should have a cutting edge application, or feature, but it's not clear as to whether such a feature will actually materialize going into the September 3rd event.
Based on leaks here's what we know about the Note 4:
5.7 inch screen at 2560x1440 AMOLED 515ppi
Snapdragon 805 at 2.5 GHz
Adreno 420 GPU
16 MP camera
Retina scanner
UV sensor
Premium metal design
Flexible display
Android Lollipop (release date matches Android version update)
The update in components, paired with a new OS will give the Note 4 the added horsepower, plus technical jargon to get consumers pumped up about updating their devices… again. However, based on those technological specs, it won't be impossible for other OEMs like HTC, LG, and Sony to bring to market a comparable device. Samsung's edge will most likely come from the retina scanner, display quality, and UV sensor.
The ultraviolet sensor will tell users about the amount of radiation they're absorbing. However, it's not really clear as to whether this will be a very useful feature to include into the bulky form factor of a phablet. How would it measure radiation when a phone is usually tucked away in a pocket? Anyhow, features are nice and I guess adding more doesn't hurt any.
However, Samsung has a relatively unique take on the idea of security. Rather than using a thumbprint sensor, the retina scanner may make for a better security alternative. The retina sensor will grant access to your Galaxy Note 4, by scanning your eyes. After all, it's really hard to gain individual eye data, however in low light settings it's debatable as to whether or not it will be effective. The technological novelty may help Samsung to gain back the title of innovator.
The stakes are getting high for Samsung
When it came to financial performance, Samsung made a rare slip-up.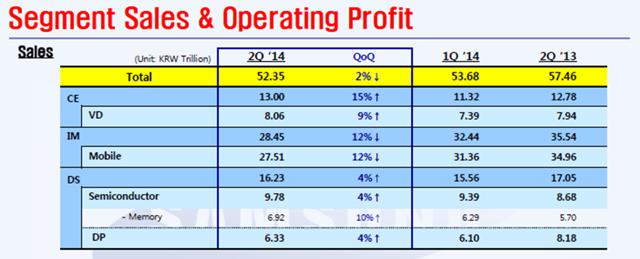 Source: Samsung
In Samsung's FY Q2, the company reported a 12% q-o-q decline in the mobile segment. The y-o-y figure was even worse at a 20% decline. Mobile is perhaps the largest segment in terms of profit and revenue for the consolidated Samsung group. Stemming the decline in this operating segment couldn't be more important, however, the question comes down to how?
At the present moment, Samsung doesn't have a whole lot of flexibility, as its growth is contingent upon macro trends that it largely has no control over. Part of the difficulty comes from the somewhat stagnant growth from the high-end, paired with incremental growth in emerging markets that contributes mostly to the low-end of the smartphone market. Assuming Samsung continues to chase after volume; the sales mix will be inclusive of lower-tier devices, which come with slimmer margins, which impacts the top-line and bottom-line figures.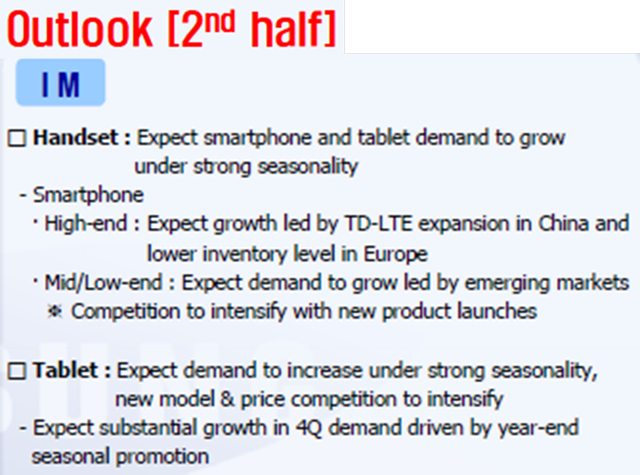 Source: Samsung
Seasonal trends will improve the q-o-q figures significantly, but it's not clear as to whether the upcoming holiday season will result in better y-o-y comps. I've seen technology commentators unfairly apply the competition argument against Apple, but in the case of Samsung, the argument over whether competition will be a mitigating factor to earnings should be more thoroughly considered.
A whole plethora of phones are set to be launched in the second half of 2014. Samsung's marketing budget may only take it so far, and the wearable category hasn't exactly exploded like popcorn for Samsung yet.
Currently, Samsung spends about the same amount on advertising as Apple, quoted from MacRumors:
While Apple increased its spending 5 percent year over year on mobile phone ads, Samsung scaled back its advertising efforts, reducing its U.S. advertising by 10 percent in 2013 to $363 million. The gap between Samsung and Apple now has narrowed to $12 million, which is less than the $68 million gap in 2012.
Conclusion
Samsung has in store a fairly compelling device, and while no one is expecting Samsung to shatter the low roof it has set for itself. An upset surprise like a really unique feature that becomes a total wow factor, will keep Samsung from being a complete no-show when it comes to innovation.
I'm leaning heavily in favor of the Apple event becoming the most talked about smartphone event in September. Samsung doesn't generate the kind of excitement that Apple does, even when it spends as much on marketing. Furthermore, Samsung hasn't figured out a way to retain the authenticity of the brand when targeting both the low and high-end of the market. Even so, Samsung has been able to broaden its market, by spreading its product line-up from various form factors and price points. The strategy has been effective, up until the prior quarter.
Going forward product execution has to become significantly better if Samsung wants to remain the most dominant smartphone OEM by sheer market share by the end of calendar year 2014. For Samsung to grow high-end handset sales, the company will have to figure out a way to shut out the remaining Android OEMs that are competing for the remainder of the high-end handset market. But you see… the likelihood of that happening is slim, as differentiation of products, is a component of every competitive market. When it comes to fashion, many labels learn to co-exist with each other; likewise the story in smartphones is unlikely to be any different.
Disclosure: The author has no positions in any stocks mentioned, and no plans to initiate any positions within the next 72 hours.
The author wrote this article themselves, and it expresses their own opinions. The author is not receiving compensation for it (other than from Seeking Alpha). The author has no business relationship with any company whose stock is mentioned in this article.
Editor's Note: This article discusses one or more securities that do not trade on a major U.S. exchange. Please be aware of the risks associated with these stocks.