Before the market opens on Sep. 4, Mattress Firm Holdings (NASDAQ:MFRM) is expected to report revenue and earnings for the second quarter of its 2014 fiscal year. With shares trading around their 52-week high, some investors might be tempted to get out of the business and opt, instead, to jump into another firm play in this soft industry like Tempur-Sealy International (NYSE:TPX), but is it more sensible for investors to spring into Mattress Firm's shares so that they don't miss out on some comfortable gains?
Mr. Market has pretty high expectations
For the quarter, Mattress Firm is expected to report revenue of $406.6 million. If this forecast comes to fruition, it will represent a 34% gain in sales over the $302.5 million management reported during the second quarter of its 2013 fiscal year. Although some of this increase will likely come from higher comparable store sales, store growth will likely be a major contributing factor to its rising top line.
Earnings Preview

| | | |
| --- | --- | --- |
|   | Last Year's | Actual |
| Revenue (millions) | $302.5 | $406.6 |
| Earnings per Share | $0.43 | $0.60 |
From a profit standpoint, analysts are even more optimistic. For the quarter, Mr. Market expects Mattress Firm to report earnings per share of $0.60. This represents a 46% jump over the $0.41 seen the same quarter a year earlier and an almost 40% gain over the $0.43 in adjusted earnings, which adds back in the company's ERP system implementation costs recorded during 2013. This growth, if it materializes, will be partially attributable to the retailer's higher revenue but can also be chalked up to margin improvement.
But is there a more comfortable play in the business?
The past few years have been amazing for Mattress Firm. Between 2009 and 2013, the retailer's revenue has soared 185% from $432.3 million to over $1.2 billion. According to its most recent annual report, this rise in sales has been driven by a roughly 32% increase in its aggregate comparable store sales, combined with an impressive 152% jump in store count to 1,225 locations in 2013 from the 487 stores in operation at the end of its 2009 fiscal year.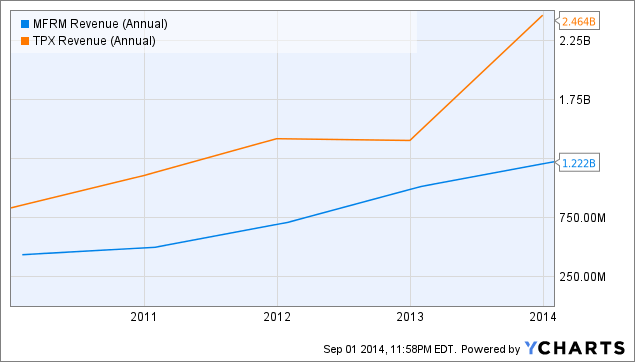 MFRM Revenue (Annual) data by YCharts
As impressive as this top line growth has been, however, Tempur-Sealy has grown at an even faster clip. Over this five-year period, the mattress company saw its revenue shoot up 196% from $831.2 million to $2.5 billion. Although this is nice to see, investors should consider that approximately $1.1 billion of this top line expansion came from its acquisition of Sealy in 2013, without which its revenue would have only grown by 62%.
Looking at profits is even more interesting. Over the same timeframe, Mattress Firm's bottom line shot up from a loss of $4.7 million to a gain of $52.9 million. This was due, in part, to the retailer's rising sales, but investors must also credit the company's ability to push costs down. During this period, its cost of goods sold declined from 64.9% of sales to 61.8%, while its general and administrative expenses dropped from 7.5% of sales to 6.8%.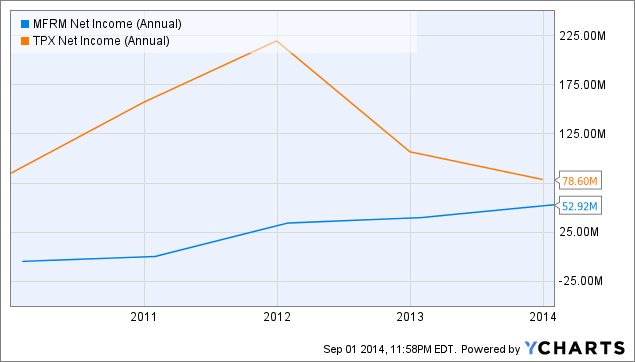 MFRM Net Income (Annual) data by YCharts
Unfortunately, the same kind of improvements did not take place at Tempur-Sealy. Over this time horizon, Tempur-Sealy's net income actually fell by almost 8% from $85 million to $78.6 million. Despite the fact that revenue grew during this period, an increase in its cost of goods sold from 52.6% of sales to 58.8%, in its operating expenses from 29.9% of sales to 31.3% and in its interest expense from 2.1% of sales to 4.5% (this being the result of its Sealy acquisition), negatively impacted the business's bottom line.
Takeaway
Based on its current share price, investors have high expectations for Mattress Firm and for good reason. In recent years, the retailer has done incredibly well, especially when you compare it to Tempur-Sealy (after adjusting for the acquisition of Sealy) on both the top and bottom lines. For those who don't believe in the potential that Mattress Firm offers, Tempur-Sealy might make for an interesting prospect, but when you consider that Mattress Firm makes up over 10% of the company's sales each year, a play on it is also a play on Tempur-Sealy. In the long run, it's difficult to say which company provides the best long-term prospects, but the past indicates that Mattress Firm might be the more appealing company to consider taking a stake in.
Disclosure: The author has no positions in any stocks mentioned, and no plans to initiate any positions within the next 72 hours.
The author wrote this article themselves, and it expresses their own opinions. The author is not receiving compensation for it (other than from Seeking Alpha). The author has no business relationship with any company whose stock is mentioned in this article.