Over the past few years Chevron Corporation (NYSE:CVX) has seen its production base slowly erode away. Chevron's average production rate for the first six months of 2010 was 2,764 MBoe/d, which fell to 2,567 MBoe/d during the first six months of this year. The decline in Chevron's output levels has lowered its valuation, but if production growth returned Chevron would most likely trade at a higher valuation. On top of that Chevron would be generating larger top and bottom lines, which could lead to dividend increases and more share buybacks.
Effectively, if Chevron could start growing its production base again it would become a much better investment. With 1.9 million net acres in the Permian Basin, Chevron has plenty of opportunities to crank out more output.
Permian aspirations
Horizontal drilling has unlocked growth in the Permian Basin once more, with Chevron sitting on an enormous acreage position in the region.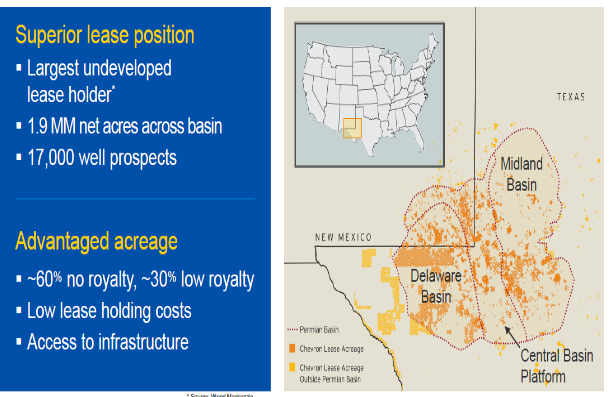 Source: Chevron Presentation
Through its extensive holdings, Chevron plans on tapping into the Bone Spring, Spraberry, and Wolfcamp intervals (among others) with its ~30 rigs in the play.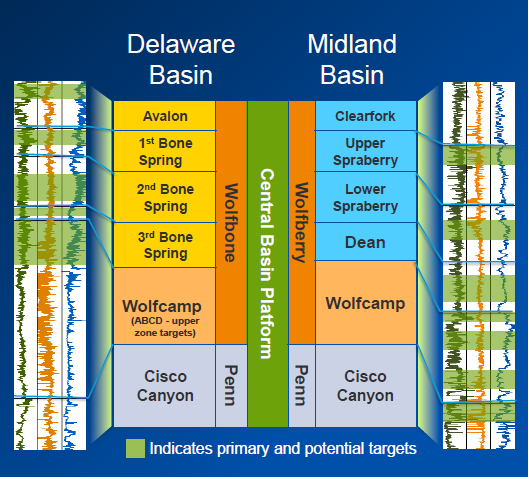 Source: Chevron Presentation
Chevron will produce an average 150,000 BOE/d from the Permian this year, but by 2020 than will grow to 250,000 BOE/d. To get there Chevron will increase its average rig count from 30 this year to 50 in 2020.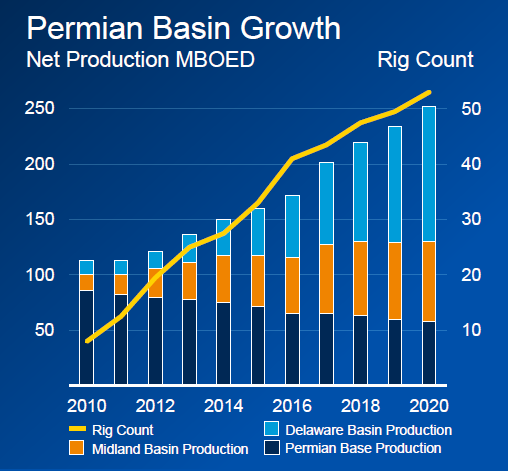 Source: Chevron Presentation
14,500 of its 17,000 potential drilling locations are considered liquids rich (Permian has 2,500 possible gas rich locations), allowing Chevron to keep ramping up production for years and years. An additional 100,000 BOE/d in output may seem like a drop in the bucket for an oil major as large as Chevron, but for Chevron it's all about the sum of the parts.
Chevron has a stake in numerous large projects that are about to become operational in offshore Gulf of Mexico. By reaching down through several thousand feet of water, Chevron can pull up more hydrocarbons.
Reach down into the deep blue sea
The Hess Corporation (NYSE:HES) operated Tubular Bells is expected to come online this quarter, with a production rate of 44 MBoe/d gross. Previously, BP plc (NYSE:BP) was also invested in the project, but it sold off its stake to Hess and Chevron. Now Hess owns 57.14% of the project, while Chevron has a 42.86% stake.
Following the Tubular Bells is the Jack/St. Malo project which is guided to start up sometime this year. Chevron owns 50% of the Jack field, 51% of the St. Malo field, and is the operator of both. Statoil (NYSE:STO) owns 25% of the Jack field and 21.5% of the St. Malo field. These two fields will produce 94 MBoe/d, supported by the 177 MBoe/d of capacity the floating production facility that is also being developed. Third party tie-backs will utilize the rest of the facility's capacity, which Chevron owns 40.6% of. The size of the project makes it a major catalyst for Chevron's production growth.
Next year the Big Foot project is expected to come online, with the capacity to pump out 79 MBoe/d. Chevron is the operator of Big Foot and has a 60% stake in the project, while Statoil is also invested in the project and has a 27.5% in it. Combined, these three projects could add over 100 MBoe/d to Chevron's production base within a little over a year. Statoil also stands to gain as it has a large vested interest in two of these offshore projects.
Delays and hiccups could come down the road, but it looks like Chevron may finally be about to grow once more. Its North American operations look fine, but there are some problems occurring at its very expensive Australian projects that could hold it back.
Australian promise and Australian problems
Down in Australia Chevron has the massive Gorgon project, which it is the operator of with a 47.3% stake. The estimated cost of the project is huge, coming in at USD $54 billion. To spread out the enormous cost, Chevron teamed up with ExxonMobil Corporation (NYSE:XOM) and Royal Dutch Shell plc (NYSE:RDS.A) (NYSE:RDS.B), which both own 25% of the Gorgon project.
The Gorgon project is comprised of a couple parts, with the ultimate result being LNG exports to Asia. Combined, the Jansz-lo and the Gorgon fields will produce 213 MBoe/d, with 9,500 Boe/d of that being condensate. The rest is natural gas, which will be fed to the LNG facility capable of exporting 15.6 MTPA (million metric tons per annum).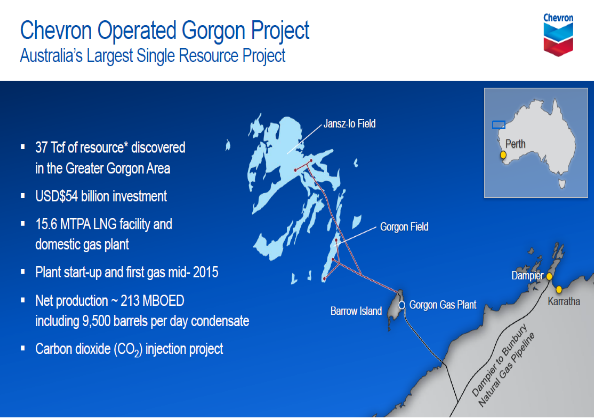 Source: Chevron Australia Presentation
Shell put a damper on Chevron's guidance for the start up date of the project, stating that it will most likely be operational in 2016 and not in mid-2015 like Chevron had hoped. If this turns out to be true the cost of the project would go up, which would eat into Chevron's cash flow. Delaying the start up date wouldn't hurt Chevron's current production base, but it would push back a major catalyst and could cause less cash to be spent elsewhere on growing future production.
Final thoughts
Through 2017, Chevron sees its production growing to 3,100 MBoe/d. If Chevron and its partners can successfully bring these major projects online, Chevron's guidance could become reality. A return of growth to Chevron's production base would definitely bolster the buy thesis for the stock. While investors wait for major projects and shale development programs to come to fruition, they can pocket Chevron's 3.3% yield. There are other projects Chevron is invested in, but in the near term the Gulf of Mexico is its best bet for strong levels of growth.
Chevron is a decent buy and is a stable player to bet on in the energy space. Another oil major worth looking at is ConocoPhillips (NYSE:COP), which yields 3.6% and is investing heavily in American shale plays. From now till 2017, Conoco is planning on growing its output and margins by 3% - 5% each year.
Disclosure: The author has no positions in any stocks mentioned, and no plans to initiate any positions within the next 72 hours.
The author wrote this article themselves, and it expresses their own opinions. The author is not receiving compensation for it (other than from Seeking Alpha). The author has no business relationship with any company whose stock is mentioned in this article.