With declining revenues, losses from operations, and mounting debts, RadioShack's probability of bankruptcy seemed imminent. The troubled retailer has struggled lately due to overall shift in consumer electronics. Where RadioShack once served as the haven for the regular tech-savvy "do-it-yourself" ("DIY") guys of the 80s, it seems less and less needed in a world with advanced electronic equipment with highly specialized components.
The company was started as Radio Shack in 1921 by two brothers, Theodore and Milton Deutschmann, to sell equipment for the amateur "Ham" radio.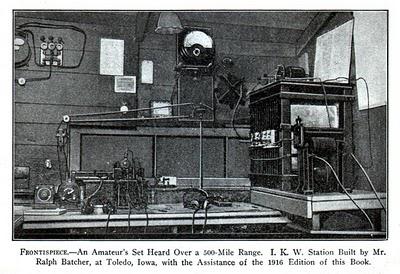 The company expanded and franchised, becoming the place to repair out of warranty electronic items. The company rose in value during the dot-com boom, hitting a high of $76.88.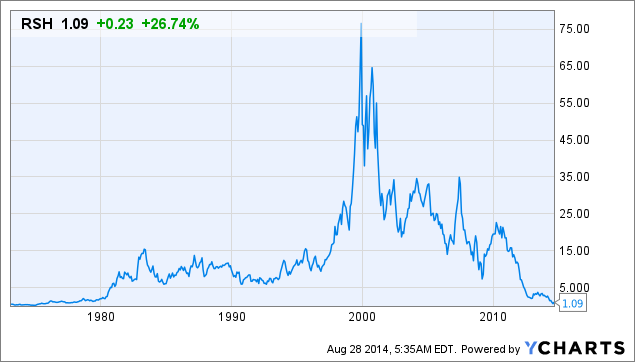 RSH has not been able to recover to its highs since the crash of 2000. The company went through numerous restructurings. In 2013, the company hired Joseph C. Magnacca as CEO, making him the fourth individual to hold that position in three years.
Today, RadioShack's retail network includes approximately 4,300 company-operated stores in the United States, over 270 company-operated stores in Mexico, and approximately 950 dealer and other outlets worldwide.
2014, the end of RadioShack?
March 4th, 2014 the company said to save the business they had to close 1,100 unprofitable stores.
May 9th, creditors said closing 1,100 stores would be in violation of RSH's contractual obligation that allows it to close an annual maximum of 200 stores.
May 15th, Fitch downgrades RSH to CC
June 10th, heavy operating losses confirms bearish outlook and increases chances of bankruptcy.
August 26th, Standard General announces talks with RSH to restructure a $250 million second-lien loan.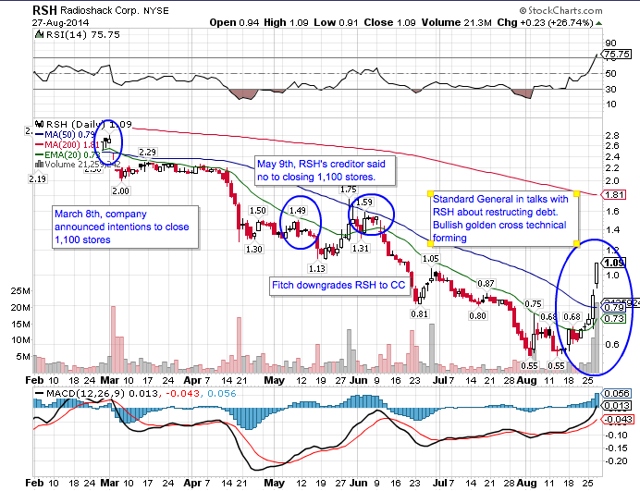 After announcing intentions to close 1,100 stores with almost guaranteed chance of bankruptcy, the stock price has decreased -77%. Since the rumor has been spread that Standard General may save the dying retailer, the stock has shot up from .50 to $1.60
RadioShack: 20 Years of Financials
There's no denying it. RadioShack's sales have been on the decline for 19 years at a rate of -3.30%.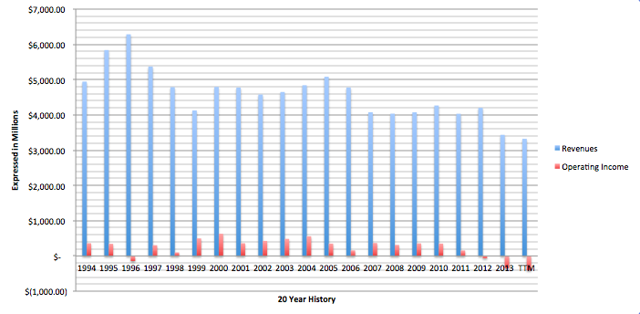 RadioShack saw its steepest decline in sales from 1996 to 1999 at a rate of -10%. However, operating income rose from a loss of -$145M in 1996 to a gain of $629M in 2000. This was reflected in the stock price: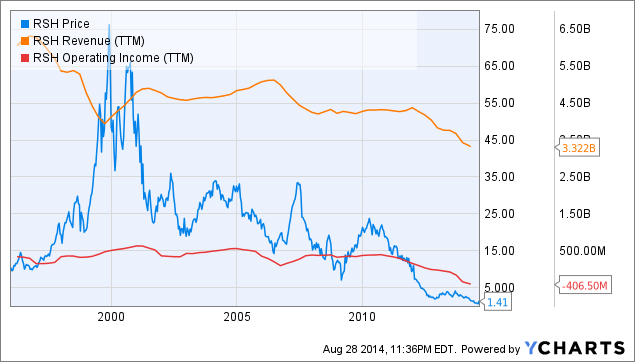 Although sales declined at a rate of -10%, the improvements of operating income saw the stock price spike from $10 a share to a high of $80. When it comes to RadioShack, investors seemed to have cared just about one thing: income from operations
The recent decline in share price is in line with historical investor behavior. They are unforgiving of losses from operations. The upside to all of this is that investors will forgive declines in revenues, as long as the company shows operating income.
Source of Revenues
RadioShack is largely dependent on cell-phone sales. It makes up more than 50% of the company's annual revenues. "Retail" makes up only 47% of sales.

Source RadioShack's 2014 Annual Report
Clearly, RadioShack's sales from mobiles are on the decline. In contrast to Best Buy (NYSE:BBY) and Systemax (NYSE:SYX), RadioShack reports the highest gross margin on its sales.

Click to enlarge
RSH 10-Year Financials Source: GuruFocus.com

Click to enlarge
BBY 10-Year Financials Source: GuruFocus.com

Click to enlarge
SYX 10-Year Financials Source: GuruFocus.com
RadioShack's gross margins are the highest out of the three retailers, suggesting that it is in fact charging more for its products.
New Institutional Bullishness
Several hedge funds have opened new positions or vastly increasing their bets on a surprise RadioShack recovery: Goldman Sachs, Deutche Bank Ag, Millennium Management, Susquehanna International, and even Soros Fund Management. Some Hedge funds like Standard General and Bluecrest Capital are not just buying new positions; they are also loading up on call options. Bluecrest Capital owns 2,486,891 common shares and bought 3,362,400 call options. In total, there are 145 institutions holding RSH shares.
Even BlackRock Inc loaded up an additional 2,331,377 on July 10th. This was after it had first reported it decreased its position on its June 30th 13-F filing. This represents a 8352% increase in its stake of Radioshack.
Admittedly, Standard General is a lot more bullish on a RadioShack recovery than the rest of the hedge funds. Standard General first disclosed a 4,492,172 position in February this year at $2.59. This represented 2.1% of the long portfolio. In the latest 13-F filing, Standard General reported a 43% increased position in RadioShack. Standard General also disclosed the purchase of 3,000,000 call options. Altogether, Standard General has doubled its stake in RadioShack. As of 08/29/14, this represented 3.5% of the long portfolio.
Standard General Hedge Fund
Standard General might be the ultimate contrarian hedge fund, possibly to a fault. The fund surprised many by helping the struggling V-neck retailer American Apparel stave off bankruptcy.
| | | |
| --- | --- | --- |
| Company | Position | Value as of 8/29/14 |
| Advanced Emissions Solut (NASDAQ:ADES) | 364,400 | $7,940,276.00 |
| American Apparel (APP) | 1,540,000 | $1,447,600.00 |
| Carrols Restaurant Group (NASDAQ:TAST) | 255,694 | $1,864,009.26 |
| International Game Tech (NYSE:IGT) | 180,060 | $3,035,811.60 |
| Media Gen Inc (NYSE:MEG) | 26,698,209 | $411,419,400.69 |
| Phoenix Cos Inc (NYSE:PNX) | 213,964 | $13,287,164.40 |
| RadioShack Corp (NYSE:RSH) | 7,130,928 | $11,409,484.80 |
| RadioShack Corp (Call options) | 3,000,000 | $4,800,000.00 |
| Total: |   | $455,203,746.75 |
94% of the hedge fund consists of retail and broadcast media stocks, e.g. dying industries. More significantly, 90% of the hedge fund is just MEG, a broadcast media company. Maybe hedge fund manager of Standard General, Soo Kim, hasn't heard the news, but millennials like myself are switching entirely away from broadcast. It makes you wonder if Soo Kim isn't just completely out of sync with the times. More than that, staking 90% of the fund on just one security is in itself irrationally risky. Didn't your finance professor tell you to diversify?!
There is a pattern to all of these companies (with the exception of ADES). They all have had deep corrections and have not recovered their highs. IGT traded at $46 pre-2009; APP is down from $15 a share; MEG is down from $70 a share; PNX is down from $300 a share; TAST is also down from $15 a share; RSH once was valued around $80 a share.
RadioShack's Glimmer of Hope
Refinancing the 2018 $250 million second lien term loan held by Salus Capital Partners and Cerberus Capital Management LP would allow RadioShack to move forward with its plan to close 1,100 stores. Under the current credit agreement, RadioShack can close a maximum of 200 stores a year. The company believes that closing unprofitable stores is the first step in revitalizing the business.
With 5,200 stores, RSH has the 6th largest retail footprint in the United States.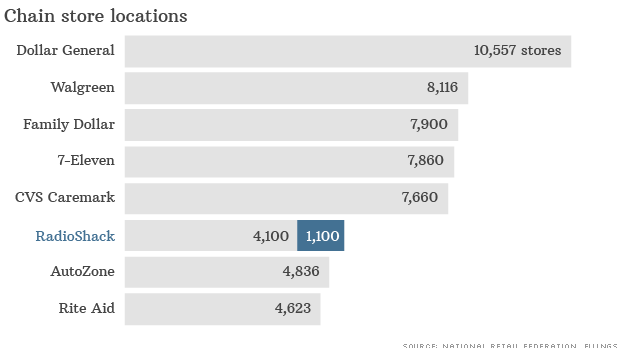 In contrast, Wal-Mart (NYSE:WMT) has 3,700 locations and Best Buy, 1,400.
There currently isn't a demand to keep the 5,200 stores open. The assumptions being that management identified 1,100 stores that were the biggest cost drain for the company. If the company were less overextended, it could implement its rebranding strategy with fewer stores with less costs.
Many analysts have balked at the idea of RadioShack's chances of survival. That any restructuring is delaying the inevitable: RadioShack will go bankrupt. And perhaps they are right. At this scale, RadioShack's brand is unsustainable. The company has too many unprofitable stores in operation. To fix each and every one of them would be nearly impossible. And that's why the company needs to shrink itself dramatically.
Can Something Save RadioShack?
RadioShack used to be the store of convenience. The company used to brag that 94% of Americans were within a 5-minute drive from any RadioShack. With the rise of Amazon (NASDAQ:AMZN), RadioShack lost that edge. What does RadioShack have left?
RadioShack's bottom line primarily comes from the sales of mobile devices. That market is saturated. Why buy the iPhone at RadioShack when you can just get buy it through the Apple store or directly from the wireless carrier?
Another part of RadioShack's rebranding strategy is to feature "innovative products from startups and inventors." While this is unfeasible on a large scale, it is possible to implement this on a smaller scale. Still, this may not be enough to save the company long term.
The company recently announced that it has an exclusive contract with Defense Mobile. This company makes mobile phones that are made by veterans and all proceeds go towards veteran causes. While this might get some die-hard nationalists through the door, ultimately the success of this exclusive contract will be determined by the quality of the product.
The company hopes that remodeling stores to be more interactive might juice up consumer traffic. The remodeled stores that have been launched in Washington D.C. and San Francisco have been designed to be more interactive for consumers. It is also nice to talk with a real human being face to face about tech questions and concerns, but the experience of RadioShack sales associates have not been consistent for customers.
Does the world need RadioShack?
One thing left that makes RadioShack unique is its "Do-it-Yourself" ("DIY") hobbyist equipment. Walk into every store and you'll find everything you need to make just about anything. But all that stuff is inaccessible to consumers. The parts are complex, confusing, and tucked away in drawers, hidden behind glossy cell phones and "Beats By Dre" displays. If they were to make their "DIY" more accessible it could bring people into the stores.
Ever wanted to build a camera from scratch? How about a robot that can draw? You can even build an Internet speedometer. With electronic equipment becoming more sophisticated, it seems that the DIY hobbyist is slowly becoming extinct.
(Drawbot. Source: dit.radioshack.com)

As part of RadioShack's rebranding strategy, the company launched the "do-it-together" campaign. Basically saying, "you don't have to build that gadget on your own. We'll help you."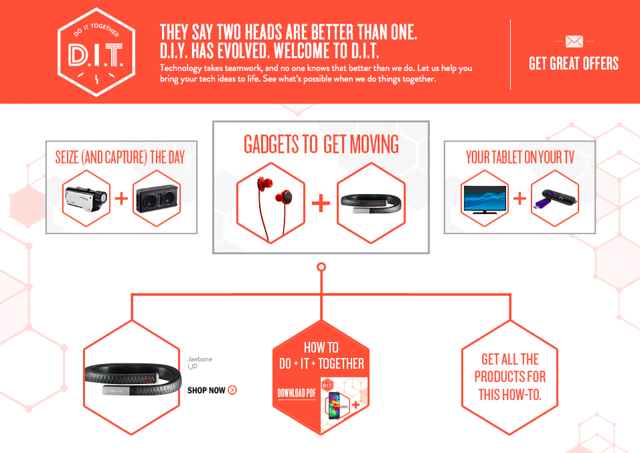 The "It Can be Done, When We Do It Together" ("D.I.T") campaign, launched during the Super Bowl 2013 and proved to be a flop. This is not because the idea isn't strong, it just doesn't jive with the consumer experience of RadioShack. RadioShack has gotten the reputation as the "overpriced" retailer of electronic equipment. With Wall Street's push to increase the company's profitability, sales representatives turned into electronic equipment hustlers.
The "DIY" toys are stuffed all the way in the back of the store, behind the glitzy array of hot new "overpriced" gadgets. The experience of RadioShack is a far cry from the nostalgic years of the 80s and 90s. The demand for the DIY products has never been that high. On top of that, margins are quite low.
Nevertheless, revamping the hobbyist theme could be enough to get people at least walking inside of the stores.
Conclusions
People may feel that RadioShack does not offer anything worthy of it being saved. However, it serves a purpose for a few. The trick for RadioShack's survival will be to just get people in the door. I believe the "DIT" campaign could be successful if RadioShack can make its store THE place for innovation. While the bottom-line could still be made through selling cell-phones, RadioShack could still attract traffic by featuring toys exclusive to RadioShack. Bottom-line: RadioShack needs to create more of a reason for customers to walk into the store.
If the company is able to refinance and remodel on a smaller scale, there might be a chance for the struggling retailer to survive. The concept might be dated but I think Wall Street has underestimated the company. The brand name is still recognizable to many and people still want the ability to interact with products before purchase. RadioShack's potential refinancing Hail Mary may end up saving the company long enough to implement its rebranding strategy.
Who knows, we might end up seeing RadioShack survive for another generation?
Disclosure: The author is long RSH, APP.
The author wrote this article themselves, and it expresses their own opinions. The author is not receiving compensation for it (other than from Seeking Alpha). The author has no business relationship with any company whose stock is mentioned in this article.
Additional disclosure: I may take a long position in MEG in the next 72 hours