During the past few months, there have been a few accounting frauds initiated by small-cap Chinese companies traded on U.S. exchanges. As a result, a couple weeks ago, the SEC launched investigations into these Chinese companies (commonly known as RTOs). The result of this news has been a decline in prices of RTOs. To gauge this, below I chart the S&P500/Dow Jones vs. the HAO (an index for small-cap Chinese companies):
Click to enlarge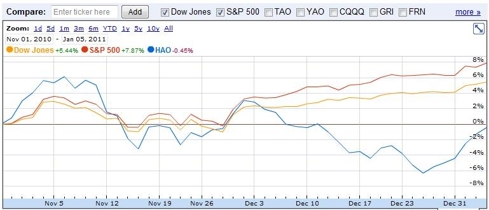 For sure, some of these Chinese companies are engaging in fraudulent accounting. However, some firms are not, but their stock prices have declined as a result of guilt by association. One of these is Jinpan International (NASDAQ:JST) which I have written about in the past and recommend as an investment. Today, I'm going to analyze NIVS Intellimedia International Corporation (NIV).
NIVS designs, manufactures and sells consumer audio and video electronics, primarily to consumers in China. From a macro perspective, the rising Chinese middle class is expected to make this a high growth industry over the next few years. In terms of sales, Asian countries accounted for 82.2% in 2007, 94.4% in 2008 and 74.1% in 2009. NIV also sells to North American and European consumers, and It is worth noting that the company has initiated a corporate strategy to expand its international presence - which is good from a diversification standpoint.
NIVS is competing in a very fast growing but highly competitive industry. Fortunately, NIV has been very proactive about product offerings and business strategy. Currently, NIV differentiates its products by integrating voice recognition technology. A rapidly growing segment of NIVS sales are "intelligent" audio and video devices. These products operate on a voice recognition interface. You don't need a remote to operate NIV's electronics, but you need to know Mandarin. Additionally, the firm has recently expanded into mobile devices. The Chinese mobile devices industry is anticipated to be a high growth industry over the next few years, and NIVS management has anticipated this and is aiming to increase its market share in this industry. Also, the firm has decided to stop competing on audio and video electronics with lower price points. It regards them as a lower margin, more competitive market segment.
Taking a look at NIVs past performance, it seems that management has been making good decisions. The firm has been growing very rapidly. Revenue grew at 28.8%/yr over the last four years. Net income growth sits at an impressive 80% yearly growth rate.
The firm is in great financial shape. NIVS has hardly any debt, and is highly liquid. On a less positive note, there have been some alarming trends on the balance sheet. Accounts receivable, inventory and accounts payable all surged in the Q3-2010. Seeing how this is a common red flag for accounting fraud, this has made NIV a potential "RTO fraud" company. However, the same trend occurred in Q3-2009. I expect this trend is occurring simply because of anticipated demand in Q4, which is the busy season for consumer electronics.
The firm has been issuing equity to finance its rapid expansion. This is a bad sign for shareholders, as it dilutes ownership. This year there was a large equity offering for 17.5% of the firm's equity. The offering was at a purchase price of $3.29, a 34% discount to the current market price of $2.16. I find this quite interesting. If accredited investors (the smart ones) are willing to purchase the company at $3.29, shouldn't a current market price of $2.16 be considered a steal? I think so. There is also a large lot of outstanding options and warrants for management. Approximately 3-4 million shares are tied up in options for management. These options won't be exercisable today (because of NIVS' low market price) However, they will dilute earnings in the future - a common downfall for speculative Chinese companies. On the other hand, short term equity dilution is less of a concern. In the Q3 10-Q, management stated that they believe cash flow from operations and short term debt financing should be all the financing they need for the next year. I hope this is true.
Value is where NIVS shines. NIVS trades at 3.25 last year's P/E, and 3.30 EV/EBITDA. These numbers are very attractive, but difficult to gauge. To compare, I could not find any publicly listed competitors that are based in China and that are comparable in size. For a rough comparison, the "industry average" for consumer electronics is 14.84 P/E. I have also completed a EPS valuation using my EPS growth model. To view it, please click on the image below:
Click to enlarge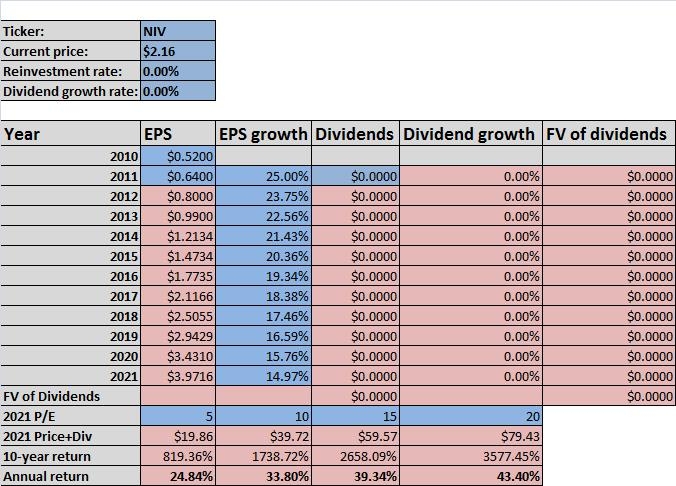 If NIVS can sustain a EPS growth rate of ~half its current rate, it offers a great long-term return. Obviously this is contingent on NIVS ability to compete and survive 10 years in a highly competitive industry. This is a large risk, and the major risk investing in this company. However, it is also worth noting that one-third of NIVS' equity is owned by insiders. This suggests management has a significant stake in the future performance of NIVS stock - a good sign.
I view NIVS as high-risk, high-reward investment. Investors run the risk of losing all their capital, but can easily see their investment grow 5-30x times in 10 years if NIVS can stay competitive. Recent events have made NIVS guilty by association, and the market has discounted NIVS ability to compete in this industry. If there is even a 20% chance of NIVS being able to stay competitive for 10 years, the investment is worthwhile.
Consider the following; NIVS has shown exceptional past performance, has great future prospects, a large concentration of insider ownership, and accredited investors that have shown confidence in the firm at a price much higher than today's market price. From my analysis, it appears NIVS got caught up in the RTO accounting scandal, and has recently experienced an unwarranted large price depreciation. This has provided a high risk high reward investment at an attractive entry price of $2.16.
Disclosure: I am long NIV.