While most are enjoying the day at the pool or golf course, I'm sitting at home writing. That's not the way that I would like to spend my Labor Day but that's the price you pay for writing a book.
However, I'm not really sweating over the computer trying to grind out articles to get page views. A large part of my script over the last few months has been Donald Trump. I couldn't have picked a flashier subject matter while also learning an awful lot about how to make my first billion (don't I wish).
In my upcoming book, Trump Factor, I examine the success and failures of "The Donald" and the brand value behind the globally-recognized Trump Empire. The legendary investor Ben Graham once said that "adversity is bitter but its uses may be sweet" and similarly Donald Trump has bounced back to extend his remarkable record of wealth creation. Here's how Chris Malone and Susan T. Fiske summed up the mantra (huge failure, makes huge success) in The Human Brand:
Because we respond to brands and companies the way we respond to people, it only stands to reason that highly competent brands and companies who suffer from lapses in judgment can emerge from the experience as more "human" and more approachable. Success, it's been said, is determined not by whether you fall down but how you get up.
The billionaire Trump's success though is much more recognizable because of his globally-recognized scale (thanks in large part to The Apprentice and Celebrity Apprentice) and his loyal brand awareness that is integrated within the various Trump-branded product lines. As Donald Trump explains:
Considering that my properties come with the success ratio now referred to as "the Trump Factor," I would say that the value is significant.
Trump has certainly enhanced his bank account considerably over the years and with a Forbes estimated net worth of $4.1 Billion; the legendary developer has extended his footprint with a vast portfolio of irreplaceable golf clubs. Since developing his first club (Trump International Golf Club, West Palm Beach) in 2000 he has increased his exposure in golf to well over $1 Billion (in cost).
I'll save the secrets of the Trump success for my book readers.
The purpose for this article is to provide you with an alternative to invest like Trump. Clearly he is making a big bet in golf and it would seem logical that his bullish golf strategies are an indication that there is growing demand and high barriers to entry. It's clear that Trump has tremendous passion for golf but he's not forking out over $1 Billion for plain fun and games.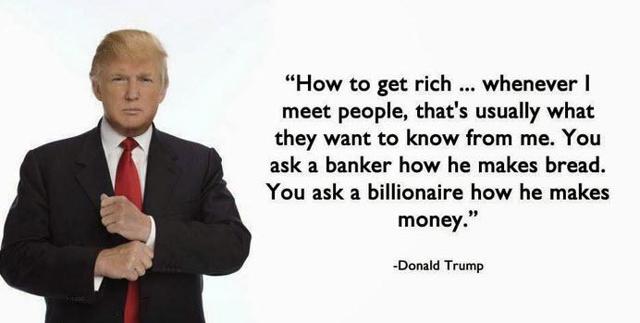 Click to enlarge
ClubCorp®: The Business Model
ClubCorp® (NYSE:MYCC) was founded in 1957 as a membership‑based leisure business and a leading owner/operator of private golf and country clubs, business, sports and alumni clubs in North America. As of Q2-14, ClubCorp owns or operates a portfolio of approximately 160 golf and country clubs, business clubs, sports clubs, and alumni clubs in 25 states, the District of Columbia and two foreign countries that serve over 370,000 members, with approximately 15,000 peak-season employees.
ClubCorp properties include many nationally-recognized and award-winning golf and country clubs including the Firestone Country Club - "Top 50 Private Clubs" (2010-2011 Golf World).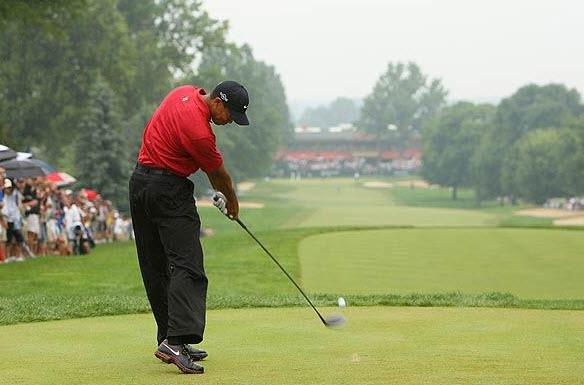 LPGA International - "America's Top 50 Courses for Women" (2013 Golf Digest)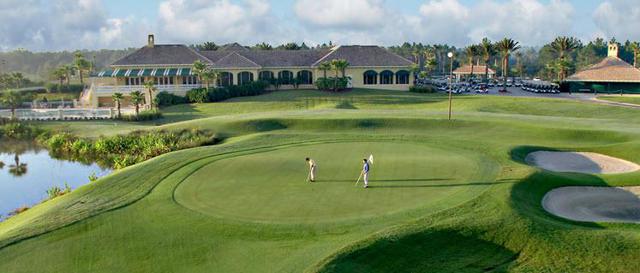 Click to enlarge
Oak Tree Country Club - "America's Toughest Golf Courses" (2011-2012 Golf Digest)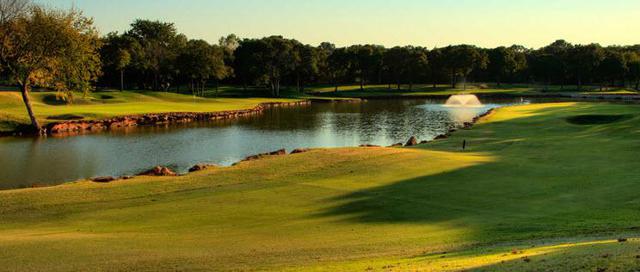 Click to enlarge
Aspen Glen Club, Southern Trace Country Club, The Hills Country Club at Lakeway and Firestone Country Club - each named in their respective states "Best-in-State" (2011 Golf Digest)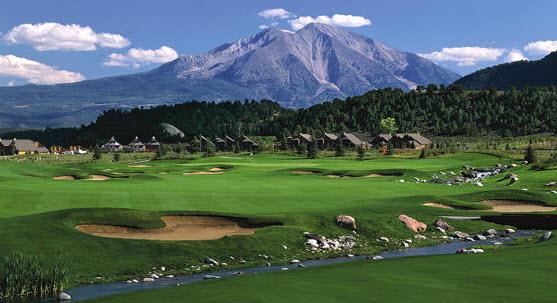 Brookhaven Country Club - "Best Overall Family Club" - Dallas/Fort Worth and "The Best in Private Clubs" List (2014 Avid Golfer Magazine)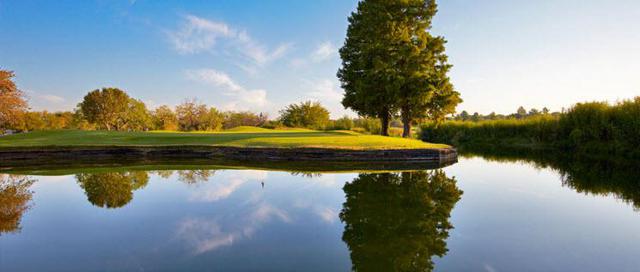 Click to enlarge
Vista Vallarta Club de Golf - "Best Caribbean and Mexico Courses" (2014 Golfweek)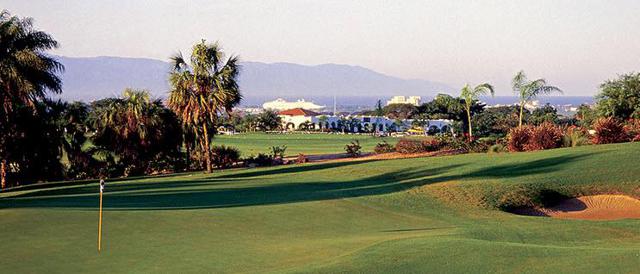 Click to enlarge
On September 20, 2013 ClubCorp® launched its IPO by listing 20.7 million shares (including greenshoe) priced at $14.00, or raising $289.8 million of gross proceeds. Around $184 million of the IPO proceeds was used to reduce debt (redeemed $145 million of high yield senior notes) and leverage reduced from 4.1x to 3.2x.
ClubCorp's core assets are strategically concentrated in sunbelt markets and other major metropolitan areas. Many of the clubs are among the top private golf clubs within their respective markets based on the quality of facilities, breadth of amenities and number of relevant programs and events. These clubs are anchored by golf courses, of which approximately one third are designed by some of the world's best-known golf course architects, including Jack Nicklaus, Tom Fazio, Pete Dye, Arthur Hills and Robert Trent Jones.
The 160 facilities are located in 25 states, the District of Columbia and two foreign countries.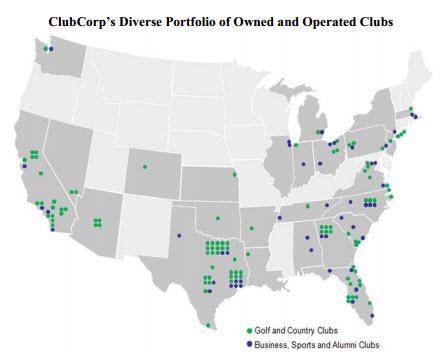 ClubCorp has essentially two revenue models: (1) golf and country clubs designed to appeal to the entire family, fostering member loyalty which we believe allows us to capture a greater share of our member households' discretionary leisure spending. (2) business, sports and alumni clubs are designed to provide members with a "home away from home" where they can work, network and socialize in private upscale locations.
These revenue platforms offer members privileges throughout the collection of clubs, and these diverse facilities, recreational offerings and social programming enhance ClubCorp's ability to attract and retain members across a number of demographic groups. ClubCorp also has alliances with other clubs, resorts and facilities located worldwide through which members can enjoy additional access, discounts, special offerings and privileges outside of owned and operated clubs.
Here's a breakdown of ClubCorp based on revenue by segment: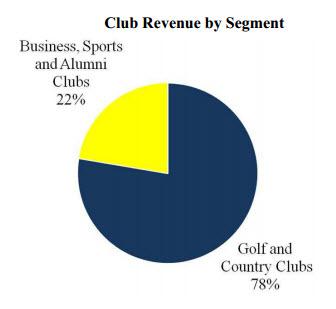 The majority of revenue generation for ClubCorp are dues (46%), followed by Food & Beverage (29%), Golf (18%), and other (7%).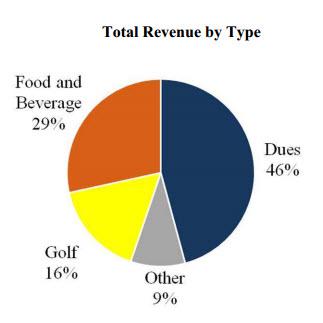 ClubCorp®: Golf & Country Clubs
As illustrated above, golf & country club (or GCC) revenue is the dominant driver for ClubCorp's earnings (77%) and as shown below, the GCC revenue has grown steadily: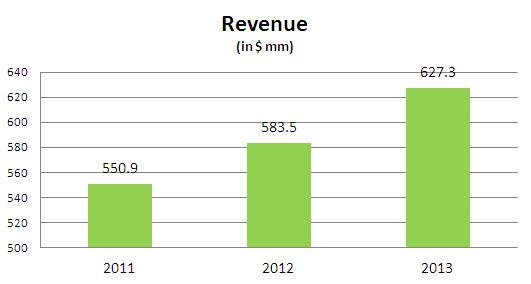 Here's a snapshot of EBITDA growth: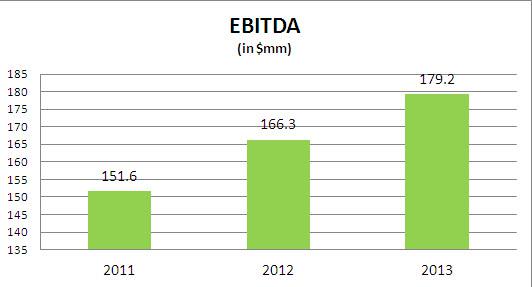 GCC memberships have also grown steadily:

At the end of 2013, ClubCorp had over 85,000 GCC memberships where patrons could enjoy playing on over 18,000 acres and 2,475 holes of golf (as of Q4-13).
ClubCorp®: Business, Sports and Alumni Clubs
As illustrated above, business, sports, and alumni clubs (or BSA) revenue generates around 23% of total revenue. Here's a snapshot of revenue growth: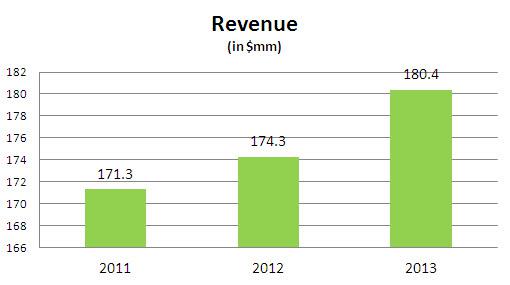 Here's a snapshot of EBITDA growth: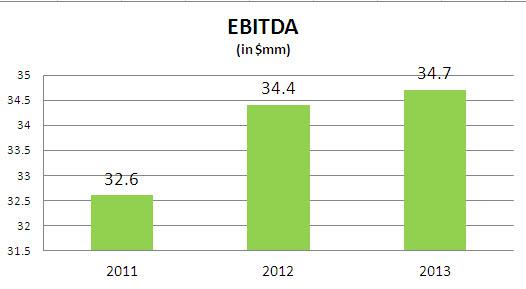 Although memberships have decreased, ClubCorp has been able to grow retention from 76.5% in 2011 to 77.2% (as of Q4-2013):

ClubCorp®: The Sum of the Parts
As of year-end 2013 ClubCorp® generated $815.1 million in annual revenue and $177.4 million of EBITDA. With over 146,000 memberships (as of Q4-13) ClubCorp is considered a world leader in private club memberships. As a result of the company's size and geographic diversity, the operating revenues and cash flows are not reliant on any one club or geographic region. ClubCorp's 10 largest clubs by revenue accounted for 22.8% of all club revenues for the fiscal year ended December 31, 2013, as shown in the following chart:

Click to enlarge
Accordingly, ClubCorp has strategic concentrations of golf and country clubs in Texas, California and Florida, representing 31%, 20% and 6%, respectively, of total club revenue (for year ended December 31, 2013). Obviously, there is greater presence in these states where climates are typically conducive to year-round play - where the broad geographic distribution of portfolio of clubs helps mitigate the impact of adverse regional weather patterns and fluctuations in regional economic conditions.
Here's a snapshot of consolidated total revenue ($ in mm):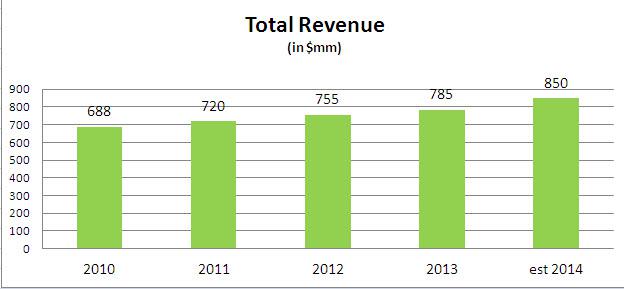 Here's a snapshot of consolidated Adjusted EBITDA ($ in mm):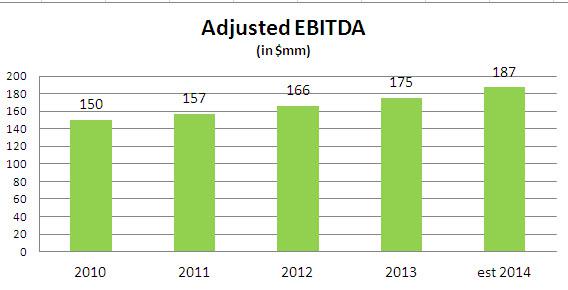 Here's a snapshot of unlevered Free Cash Flow ($ in mm):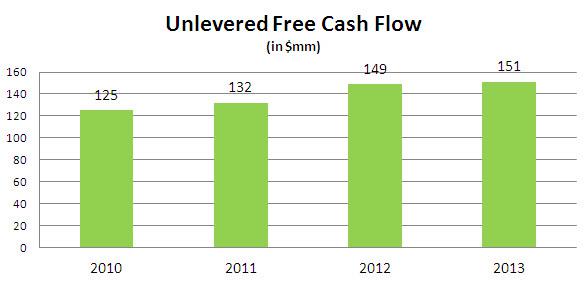 In the latest (second) quarter ClubCorp® reported consolidated revenue of $211.4 million, an increase of $15.8 million, up 8.1%. Same-store club revenue increased $7.9 million or 4.1% due to increases from all three major revenue streams; dues, food and beverage and golf operations.
Additionally, revenue from newly acquired clubs was $8.3 million. Adjusted EBITDA was $49.9 million, up $4 million or 8.7% with $1 million of the increase attributable to newly acquired clubs.
Total membership as of Q2-14, were 151,758, an increase of 4,371, up 3% of memberships at June 11, 2013. Same-store golf and country club memberships increased 1.1%, while total golf and country club memberships including newly acquired clubs increased 5.2%. Same store business, sports and alumni club memberships decreased 0.1%.
At the end of the second quarter, ClubCorp® had $78.9 million in cash and cash equivalents, and total liquidity of $190.2 million. Cash flow from operations was $21.4 million and the company paid $7.7 million in dividends. Additionally, free cash flow over the last four quarters was $87.6 million, up from $72.4 million a year ago.
ClubCorp®: A Few New Clubs in the Bag
ClubCorp® recently announced the proposed acquisition of Sequoia Golf, a portfolio of 33 owned or leased golf and country clubs and 17 management properties. With industry-leading clubs, the Sequoia deal will strengthen ClubCorp's brand and increase the number of properties from 159 to 209.
In addition the acquisition will expand ClubCorp's geographic cluster model to four key markets, solidifying market penetration in Atlanta, GA and Houston, TX, and providing immediate expansion into Denver, CO and Chicago, IL markets.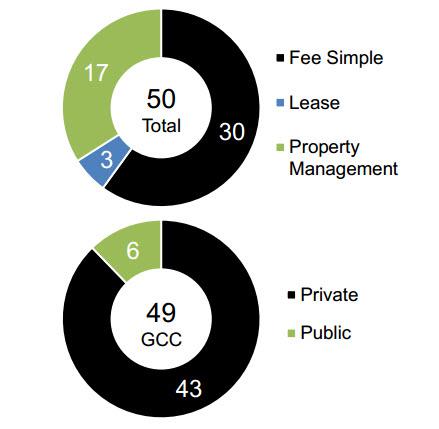 The purchase price for the Sequoia Golf portfolio is $265 million and the transaction is expected to close sometime in the fourth quarter. The deal is being funded via all-cash consideration to be financed through existing liquidity and proceeds from add-on term loan facility; anticipate increasing leverage to ~4.5x.
The transaction does not require the issuance of new equity and the transformational purchase will preserve the integrity of the strong balance sheet - no near term debt maturities and post-transaction liquidity of >$150 million in cash and revolver.
The new assets generate LTM Adjusted EBITDA of $24.4 million and pro forma annual Adjusted EBITDA of approximately $29 million to $30 million due to anticipated cost synergies. The implied acquisition multiple is ~9x based on pro forma annual Adjusted EBITDA.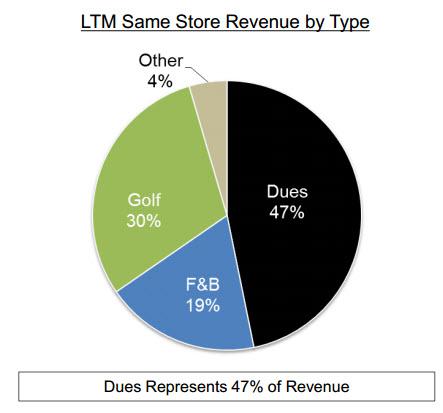 Here's a snapshot of the expanded ClubCorp portfolio of private clubs (209 properties), nearly 5x the next largest competitor: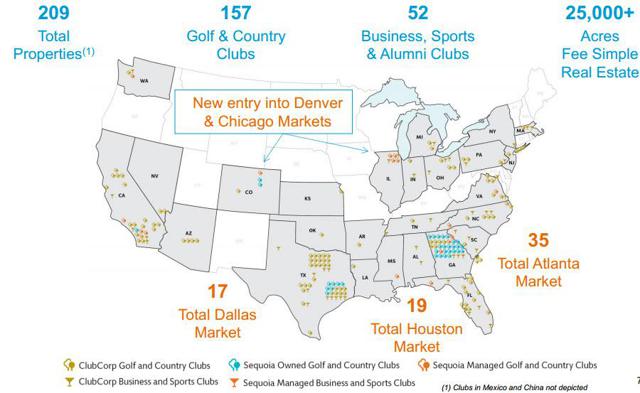 Click to enlarge
By clustering in key gateway markets ClubCorp® will drive club utilization and increases member options. Also, clustering will increase operational efficiencies in these affluent, dense metropolitan areas, like Atlanta: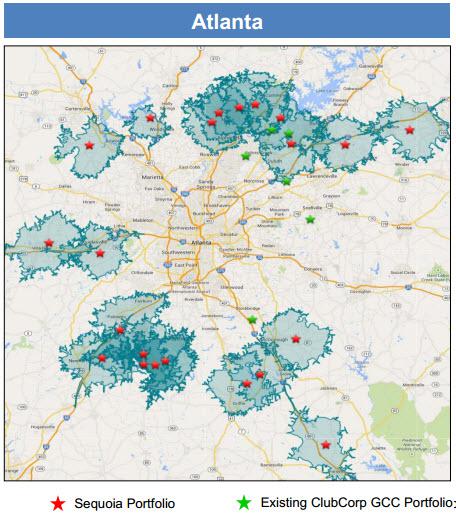 …and Houston: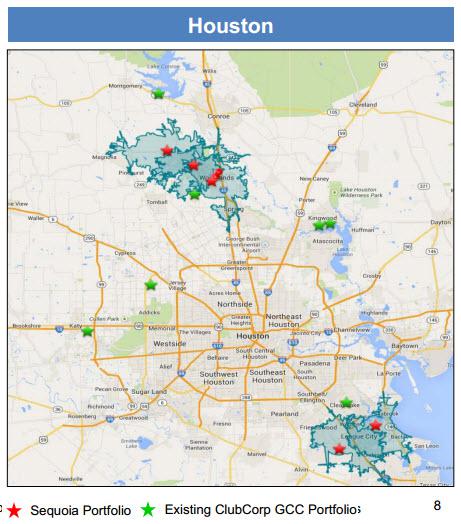 One other important differentiator for ClubCorp® is its O.N.E. product club membership benefits: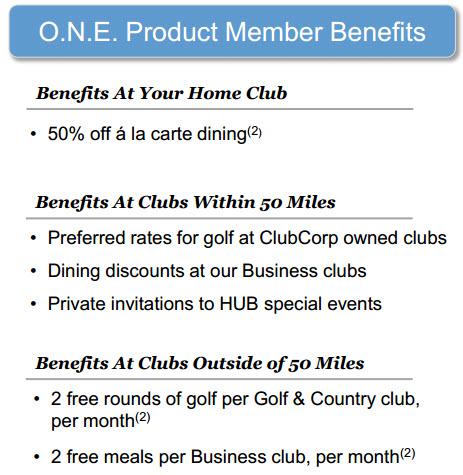 The addition of Sequoia Golf properties will meaningfully enhance value of O.N.E. offering benefits: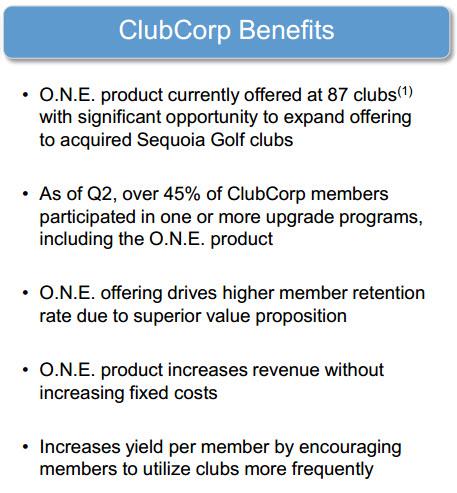 As a proven golf club consolidator, ClubCorp will drive cash flow by reducing corporate overhead expenses through economies of scale and master purchase agreements. In addition, the new portfolio should drive substantial upside revenue potential from reinvention, enhanced network offering, membership growth, and increased ancillary spend. Clearly, the Sequoia Golf deal is a "game changer" and should add meaningful value in the months and years ahead.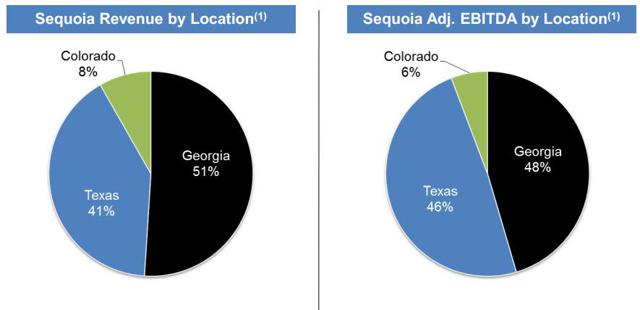 Click to enlarge
Isn't Golf Declining?
Ask any major sporting goods retailer like Dick's or Sports Authority and the answer is yes; however, remember that retail is a very small component for ClubCorp and it continues to grow slightly each quarter. In addition, ClubCorp is not in the daily fee golf business - the members do not quit their clubs due to a few days or weekend of increment weather.
ClubCorp has over 150,000 memberships that serve over 370,000 members. These memberships represent not just individual members but also families. Accordingly, ClubCorp is a membership-based leisure business closely tied to consumer discretionary spending. The company competes for these discretionary consumer dollars against such businesses as amusement parks, spectator sports, ski and mountain resorts, fitness and recreational sports centers, gaming and casinos, hotels and restaurants.
The value proposition for this company is that its core business will benefit from the recovery taking place in the leisure industry as evidenced by recent trends in gross domestic product growth within the industry. According to the Bureau of Economic Analysis (source: MYCC Annual Report), from 2011 to 2012, leisure and hospitality industry's GDP growth increased by 3.5%, outperforming overall U.S. GDP growth of 2.2% during the same period.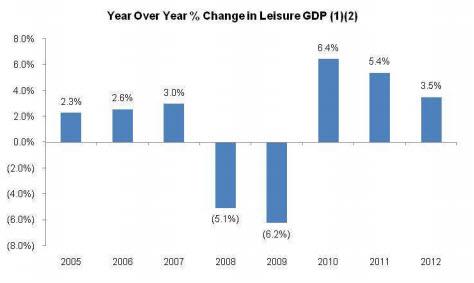 Golf industry trends are favorable to the private club membership model. The golf industry is characterized by varied ownership structures, including properties owned by corporations, member equity holders, developers, municipalities and others. Reports prepared by the National Golf Foundation (source: MYCC Annual Report) show that during the 1990's and early 2000's, the industry suffered an overbuilding of public golf facilities. Over 3,160 public golf facilities opened from 1990 through 2000, increasing the supply of public golf by 39%.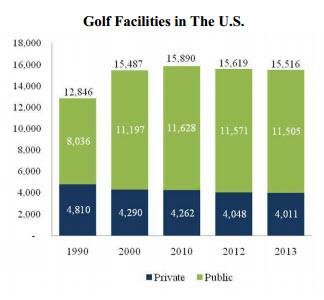 Golfer growth could not keep pace with the new supply generated during this time period. NGF also reports that 2013 represented the eighth consecutive year in which total facility closures outnumbered openings, with a net reduction of 144 18-hole equivalent courses in 2013. Based on a count by NGF, 2013 year-end U.S. golf supply totaled 15,516 facilities comprised of 11,505 public facilities and 4,011 private golf clubs.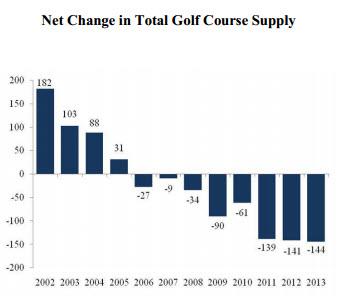 According to NGF estimates (source: MYCC Annual Report), core and avid golfers represent more than 50% of total golfers and represented approximately 94.0% of the $26.3 billion spent on golf in 2012. Consequently, core and avid golfers are the most likely golfers to become private club members and according to private club trends last reported by NGF, private golf clubs have an average golfer spend of approximately $2,000 per year versus public courses that have an average golfer spend of approximately $650 per year.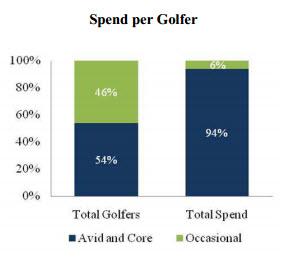 Further, NGF reports that the typical private club member is 55 years old with an annual household income of approximately $125,000 whereas the typical public golfer is 47 years old with an annual household income of approximately $95,000. According to publications by NGF, the private golf club industry captures a more affluent segment of baby boomers than the industry as a whole, and baby boomers will play a significant role in the future of the golf industry.
These are all strong arguments that the golf industry is alive and well. Of course, the primary reason to invest in a golf course is for the underlying real estate. When I asked Donald Trump why he invested in golf clubs, he said "I invest in irreplaceable land."

Click to enlarge
ClubCorp®: Not a REIT (yet) and Should I Buy?
Currently ClubCorp® has not filed with the SEC to become a REIT. Previously there were a few publicly-traded and non-traded golf REITs that existed; however, they crashed with the hard-hitting economic times. Many club owners overpaid for the golf courses and of course, the residential housing component forced many developers to fire sale inventory.
Perhaps the market is ready for a golf REIT? Especially a vehicle like ClubCorp that's focused on selling memberships, not so much for selling house lots. I would be very interested to see a REIT that is not focused on the daily fee model, but instead focused on high-quality golf clubs. Eric Affeldt, president and CEO, fielded an analyst question on the recent earnings call:
…it's going to be a broken record here. The board and management continue to look at our options surrounding REIT alternatives. As we've discussed previously, there is fairly complicated structural issues relative to a particular type of REIT we could look at. So at this point we really have nothing definitive to report and certainly we'll keep you and the rest of the investment community apprised if that changes.
Another analyst asked again (about a REIT vehicle) and Affeldt replied:
I don't want to speak for my board. I would say that I personally would anticipate that by year-end, we'll have better definition about what structure if any we're leaning toward, but again that my board drives that.
Regardless of the REIT structure, ClubCorp has demonstrated sound consistency in quality, revenue and earnings. Accordingly, the company said it expects to generate revenue in the range of $845 million to $860 million, and adjusted EBITDA in the range of $184 million to $190 million (in 2014). Currently shares are trading at $18.56 per share, up around 28% from the IPO last year,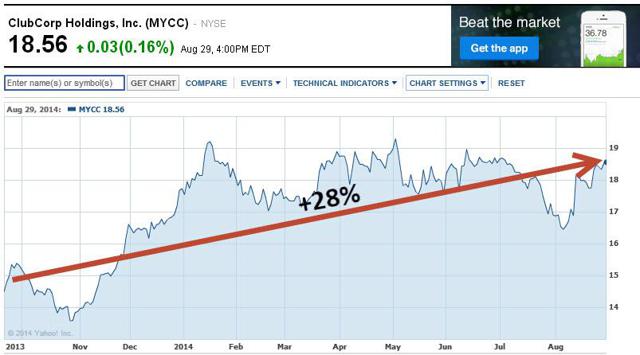 Click to enlarge
Since ClubCorp isn't a REIT, it doesn't have to pay out 90% of taxable income so the dividend yield of 2.8% is a little bit light. However, I believe there's powerful upside that exists as the shares look cheap when considering the 9x EBITDA estimate. The free cash flow is strong (if only the company was a REIT) with around $24 million expected this year (not counting the new acquisition).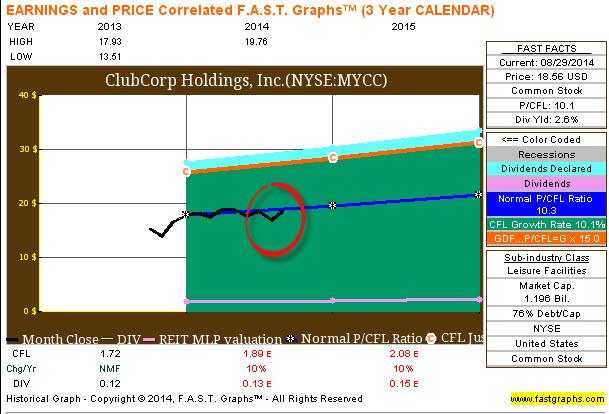 In summary, I like ClubCorp®, REIT or not. I plan to initiate a position in the next few days. The growth strategy is sound and I believe the prudent capitalization ($596 million in debt) structure will produce solid cash flow that will drive share value (and dividend growth). The FAST Graph (above) illustrates free cash flow (not FFO since this is not a REIT) and I believe the inexpensive shares could be a nice sand wedge for your investment portfolio. Remember, always keep your head down and your eye on the ball!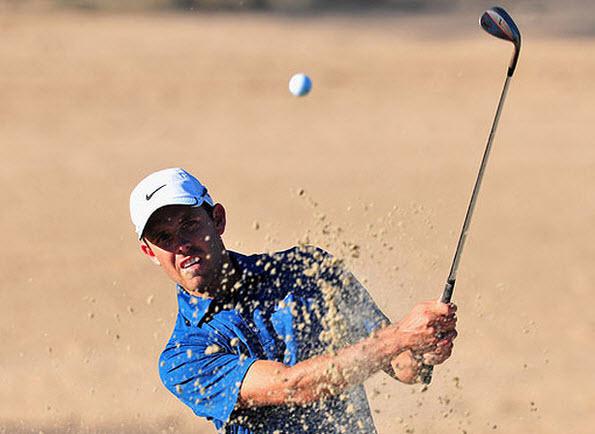 Disclosure: I'm not a scratch golfer and I'm not as wealthy as Donald Trump.
My REIT Newsletter: You can subscribe HERE.
Sources: MYCC 2013 Annual Report, MYCC Investor Presentation dated August 13, 2014, and MYCC Investor Presentation Fact Sheet.
Disclaimer: This article is intended to provide information to interested parties. As I have no knowledge of individual investor circumstances, goals, and/or portfolio concentration or diversification, readers are expected to complete their own due diligence before purchasing any stocks mentioned or recommended.
Disclosure: The author is long O, DLR, VTR, HTA, STAG, UMH, CSG, GPT, ARCP, ROIC, HCN, OHI, LXP, KIM, WPC, DOC, UDF, EXR.
The author wrote this article themselves, and it expresses their own opinions. The author is not receiving compensation for it (other than from Seeking Alpha). The author has no business relationship with any company whose stock is mentioned in this article.