Overview
With earnings (NYSE:TTM) of $8.4 billion and a market capitalization of $183 billion, The Coca-Cola company (NYSE:KO) is one of the biggest consumer staples in the world. Its most famous product is Coca-Cola, invented in 1886, but the company offers more than 500 different brands in more than 200 countries. Due to its dividend aristocrat status, Buffett's huge holding of the company and Coca-Cola's outstanding past performance, the company is a popular investment for institutional and private investors alike.
Fundamentals
KO Return on Equity (TTM) data by YCharts
Coca-Cola offers high capital returns, with an outstanding ROCE of almost 20%, compared to its competitors PepsiCo (NYSE:PEP) (17%) and Nestle (OTCPK:NSRGY) (15%). Coca-Cola also has a great ROE of 25%, again above Nestle but slightly below PepsiCo, due to PepsiCo's higher leverage. The high capital returns show that Coca-Cola's management invests money wisely and in a way that rewards shareholders.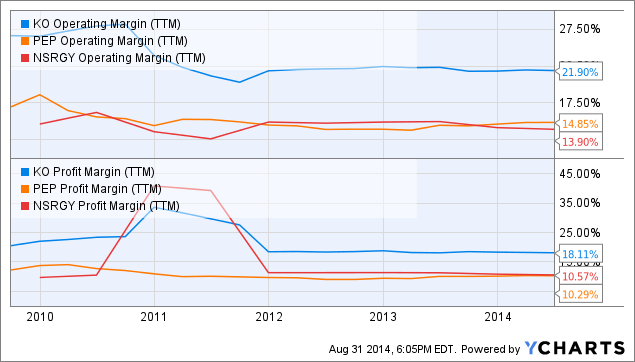 KO Operating Margin (TTM) data by YCharts
Coca-Cola also offers leading Operating (22%) and Profit (18%) margins, this is a signal for Coca-Cola's outstanding brands which justify higher prices.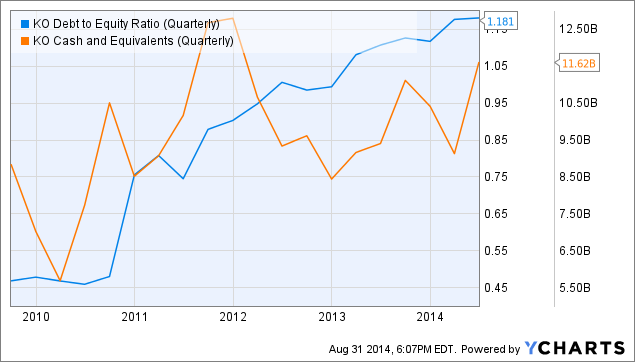 KO Debt to Equity Ratio (Quarterly) data by YCharts
The company's debt levels have been increasing, but they are not at a dangerous level. Since Coca-Cola also has a cash position of almost $12 billion, shareholders have no reason to worry. At current interest rates it is not necessarily a bad idea to borrow cash for investments in the company's business or for share buybacks, but investors should keep an eye on the company's leverage.
Dividend
Coca-Cola has raised its dividend every year since 1963, those 51 years of consecutive increases make the company one of few dividend aristocrats.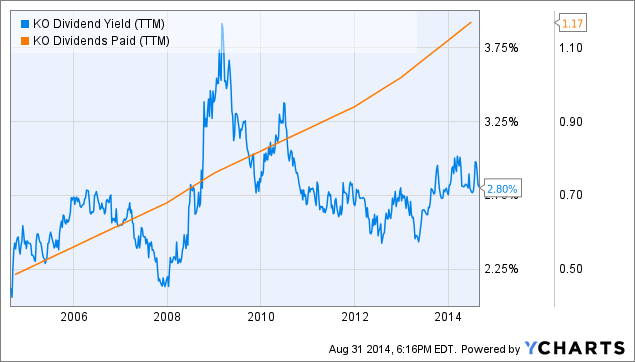 KO Dividend Yield (TTM) data by YCharts
The company has paid $1.17 per share in the last twelve months and currently offers a dividend yield of 2.8% (on an annualized dividend of $1.22 per share).
Over the last ten years, the company has increased its dividend at a CAGR of slightly more than 9%.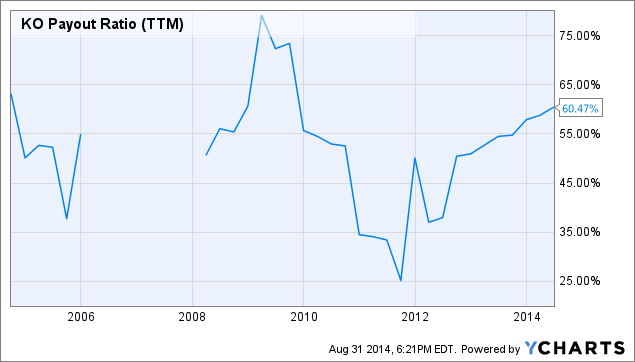 KO Payout Ratio (TTM) data by YCharts
The payout ratio has been rising in the last two years but isn't very high compared to the last ten years.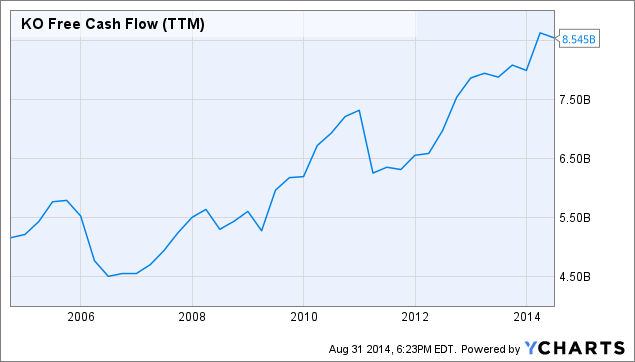 KO Free Cash Flow (TTM) data by YCharts
The company's free cash flow has been rising steadily over the last ten years. This fact, along with the payout ratio of 60%, should allow the company to raise dividends for a long time, a fact that makes Coca Cola both sufficient and popular for Dividend Growth Investors.
Another way of returning cash to shareholders is via share buybacks, something Coca-Cola does as well: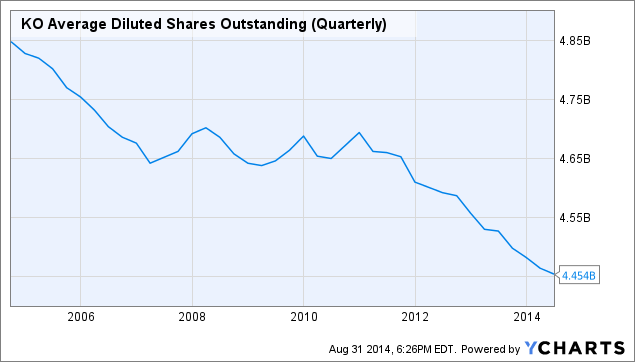 KO Average Diluted Shares Outstanding (Quarterly) data by YCharts
This reduction in the number of outstanding shares increases per share metrics like EPS, cash flow per share etc. and thus make each share more valuable. The first priority for the company is dividend increases, that's why share repurchases are less constant.
Future growth
Coca-Cola couldn't report a lot of growth in recent years, mainly due to a growing trend towards a healthier way of living and thus a reduction in the number of soda drinks consumed. Especially in the U.S. the company had to face volume declines (in 2013 the whole carbonated drink market declined 3% in the U.S.).
Coca-Cola has taken steps to tackle these problems: The company launched a new brand named Coca-Cola Life, which uses stevia as a natural, healthier sweetener and contains less calories than regular Coke. Coca-Cola Life is currently selling in some South American markets and will be released in the U.S. in September.
Another catalyst for future growth is Coca-Cola's cooperation with Monster Energy (NASDAQ:MNST). Recently Coca Cola acquired a stake in the company, part of the deal was that Coca Cola gives Monster its energy drink business and in return receives Monster's non - energy drink business. This strengthens the portfolios of both companies and gives Monster access to Coca-Cola's distribution network. As a shareholder of Monster, Coca-Cola will directly benefit from future growth of its partner (and may take over the company as a whole someday as some speculate).
Bottom line
Coc-Cola offers great fundamentals, a good dividend yield with the prospect of ongoing growth and will likely experience growth in revenues and earnings from both new products and its cooperation with Monster.
For investors who demand a high, secure dividend that will very likely grow for a very long time, and for those who want to secure their money, the company with a very low beta of just 0.52 is a good investment, but for those who desire enormous growth the company is not the best investment.
Disclosure: The author has no positions in any stocks mentioned, and no plans to initiate any positions within the next 72 hours.
The author wrote this article themselves, and it expresses their own opinions. The author is not receiving compensation for it (other than from Seeking Alpha). The author has no business relationship with any company whose stock is mentioned in this article.
Editor's Note: This article discusses one or more securities that do not trade on a major U.S. exchange. Please be aware of the risks associated with these stocks.