A few months ago, I wrote two articles about the future of mobile payments; you can find them here and here.
Over the past few weeks, more and more "sources" have claimed that Apple (NASDAQ:AAPL) is going to introduce a mobile payment feature with its new iPhone 6 during its event on September 9th. Although we never know for certain what exactly Apple is planning to unveil, I would like to offer a logically-driven analysis about the potential impact of a mobile payment feature. The effects of such a feature on Apple's earnings would be gradual, but mobile payments would have the potential to truly be a game changer.
In my analysis, I have tried to consistently stay on the conservative side, just to make my point of how big this business could be for Apple. Of course, after Apple sheds more light on its planned ecosystem, we will be able to build a more accurate model. The goal of the following article is to draw the lines of the ballpark of what this ecosystem value might be to Apple.
Clues of an Upcoming Apple Payments System
I suggest everyone to read this short summary from fellow contributor Kyle Spencer about Apple's patents regarding payments. Apple's patents, now revealed, describe in great detail both the consumer device structure and the merchant device needed for a payment ecosystem.
A leaked iPhone 6 PCB (printed circuit board) got experts arguing that an NFC chip is designed into the coming iPhone.
More and more sources report that Apple has inked deals with Visa (NYSE:V), American Express (NYSE:AXP), and MasterCard (NYSE:MA). A Bloomberg source even went on to say that the agreement is going to be unveiled on September 9th.
Understanding the Components of an Apple-Based Payment Ecosystem
Hardware
Regarding hardware, the system can be divided into two parts.
The first is a consumer device, which will obviously be the iPhone 6 and, perhaps, an iWatch. Each of these devices needs two pieces of hardware: a secure element (dedicated memory that is inaccessible to third-party apps and a dedicated processor/micro-controller to process the payment) and a communication chip (probably NFC).
The second is a merchant device. This is a device capable of receiving the payment information transmitted via NFC. Apple could offer its own device to merchants, but that would cause some barriers for mass adoption.
The recently leaked photos of the iPhone 6 PCB had experts claiming that an NFC chip is definitely going to be in the iPhone 6.
Software
On the consumer side, the iPhone/iWatch would need to run a dedicated app; let's call it iPay.
The merchant device could run Apple software, although I believe a better strategy would be the following:
Let merchants that already have a generic NFC-enabled device to receive iPay payments.
Partner up with equipment vendors to roll out payment terminals.
Let small businesses receive payments directly to their own NFC-enabled iPhones.
The Potential Size of This Ecosystem
Again, I'll address the consumers and the merchants separately.
Consumers
There are around 800 million iTunes accounts in the world today, most of them linked to credit cards. An iTunes account would probably not be enough to make a payment; you'll also need an NFC-enabled iOS device, such as an iPhone or an iWatch.
That will make the rollout of the payment system more gradual. I estimate NFC-enabled iOS devices (iPhone + iWatch) as follows:
| | | | |
| --- | --- | --- | --- |
| Year | 2014 (only Q4) | 2015 | 2016 |
| Unit sales | 60M | 300M | 360M |
In the last quarter of 2014, I estimate around 60M iPhone sales. In 2015, I estimate 200M NFC-enabled iPhones and 100M iWatches. In 2016, I estimate 240M iPhones and 120M iWatches.
Assuming that the iPay app will work only with NFC-enabled devices by the end of 2016, there would be approximately 720M consumer devices throughout the world capable of making payments at physical point-of-sales around the globe.
Merchants
Apple will have a lot of work to do with driving the adoption of its payment system at brick-and-mortar retail locations. One option could be to subsidize the replacement of payment terminal equipment. Another option could be to share with retailers some of the advertising dollars that Apple will generate.
The cost of rolling out the infrastructure is not substantial. Take Wal-Mart (NYSE:WMT), for example: Wal-Mart has around 4,921 locations in the U.S. Assuming each location has approximately 50 points of sale and each Apple-supported terminal would cost $100, Wal-Mart would have to spend ~$25M.
This cost would be peanuts for Wal-Mart or Apple if both squeeze out the value that such an infrastructure would create. What would that value be?
Monetizing the Ecosystem
Online Shopping
I don't see any reason why Apple won't enable a "Pay with iTunes" option for e-commerce websites. With the exception of eBay (NASDAQ:EBAY), which obviously is going to defend its PayPal service, Apple could tap into the huge e-commerce market.
PayPal, with just over 152M registered accounts, generated $6.6B in revenues in 2013. This was derived from processing $180B in payments.
On average, each PayPal account created $1,184 in annual payment volume and $43.42 in PayPal revenues. Even if we cut revenues/accounts by more than half, Apple would be able to generate $20/account, which is an outstanding result.
If Apple enables purchasing goods/services online via iTunes, the 800M iTunes accounts could generate $16B in annual revenues for Apple as a result of processing a staggering amount, ~$473B, of transactions.
Advertising
This is the real kicker of monetizing the ecosystem. Research firm Crone Consulting said to Bloomberg it estimates Apple could make $300 in annual revenues/user just from drawing advertisers who wish to advertise to in-store customers in real-time.
Projecting to the end of 2016 when 720M iPay-enabled devices will be out there, how realistic is Crone's estimation of $300?
I believe that advertisers will be willing to pay a higher premium on advertising to customers currently doing their shopping in stores. I will use Facebook's (NASDAQ:FB) average cost-per-click to understand what the potential revenues from advertisers could be.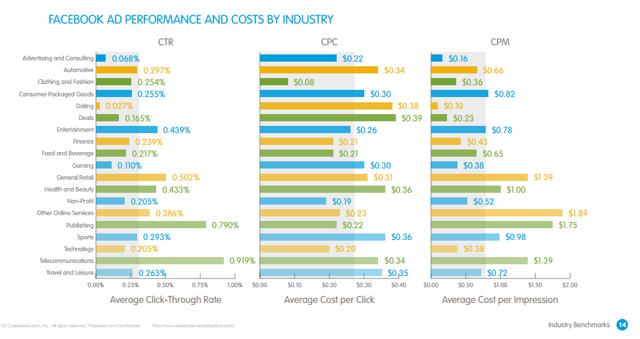 Source: Salesforce
The average cost-per-click according to Salesforce (NYSE:CRM) is $0.276. I'll assume around a 5% click-through rate (more than Facebook's average, given that consumers will be more likely to click on a deal ad when they are in a store).
Showing each of the 720M iPay device owners an average of five ads per day will cause approximately 180M "clicks" per day. Advertisers will pay just shy of $50M per day for those clicks. This will result in $18.1B of annual advertising revenues.
This estimate is much more conservative than Crone's estimate of $300/user per year (my estimate is just $25/user per year).
Even if Apple will share 30% of those revenues with retailers in order to draw them into Apple's advertising network, it will still generate $12.7B in revenues.
Putting It Together
All together, the mobile payment business could generate around $28.7B in annual net revenues for Apple by the end of 2016. These revenues will come in very high profit margins, given their very low cost of sales. I estimate that Apple could make 40% in net profits for each revenue dollar.
In this case, Apple's payment business run-rate could reach $11.5B in net profits by year's end 2016, which would translate into ~$1.90 per share. Using Apple's current PE of ~16, this business alone should be worth $30.4/share.
Remember that I used the most possible conservative assumption. Slightly more favorable terms on costs per click or monetization from e-commerce could make this business value be much higher.
That said, there is always the possibility that the team in Cupertino has thought of some other monetization plan that I have missed.
Conclusion
Clues are piling up that Apple is will announce a mobile payment ecosystem very soon. The meaning of this for Apple's future growth is huge, and shareholders need to grasp the sheer size of this opportunity.
In this article, I have tried to draw the lines according to current "clues" painting a picture of how substantial this business might be for Apple. Now, I invite all of you to join the discussion about this exciting development as we eagerly wait for what Apple's team has to say on September 9th.
This article was first published on my blog.
Disclosure: The author has no positions in any stocks mentioned, and no plans to initiate any positions within the next 72 hours.
The author wrote this article themselves, and it expresses their own opinions. The author is not receiving compensation for it. The author has no business relationship with any company whose stock is mentioned in this article.