As the market continues its ascent, it's becoming harder to find attractive investments. Most great companies seem to be overvalued at this point, or fairly valued at best. General Motors (NYSE: GM) may not classify as a "great" company, but I like shares here as they are very cheap and being depressed due to image issues and recall problems. I think the majority of GM's problems are fixable and definitely not systemic going forward, however.
Hatred, uncertainty, and a new CEO
Many people still seem to despise GM because unlike Ford (NYSE: F), it received a bailout from the Federal government. The negative image of the company only increased with its recent recall issues. As of August 26th, the program set up by GM to compensate victims of its ignition-switch recall tallied 107 deaths. This was among a total of 309 claims.
This recall issue will continue to be the proverbial thorn in the company's side for quite some time, especially since payments aren't capped. GM has set aside $400 million for compensation claims. This is the old GM coming back to haunt it. With a new CEO in Mary Barra, the company has a chance to turn its ship around. The question now is, will it?
Driving GM into the future
Barra has a chance at a fresh start, and as more consumers begin to buy new cars, she needs to fix GM's image as soon as possible. Innovation is obviously still key as well. General Motors is paying attention on this front, moving into the connected-car space early.
GM is still in the early stages of rolling-out its 4G-connected cars, and is even building its own app store. An especially significant app going forward may be its in-house designed Vehicle Health Monitor app. This app will be capable of performing a complete diagnostic check of the vehicles system, alerting the driver of possible issues.
Stressing this feature going forward seems like a good idea to me, considering its potential safety-related uses. The app will apparently even be capable of scheduling a maintenance appointment with a local dealership if it discovers a problem. Apps like this will take "infotainment" to a whole new level.
Valuations are cheap
I don't have a crystal ball as to how successful the company will be going forward under CEO Barra, but looking at the company's valuations, the market is already pricing in a lot of the bad news.
| | | | | | |
| --- | --- | --- | --- | --- | --- |
| | P/E | Forward P/E | PEG | EV/EBITDA | P/S |
| GM | 18.59 | 7.68 | 0.79 | 7.18 | 0.36 |
| F | 10.83 | 9.02 | 1.07 | 13.88 | 0.46 |
Data from Yahoo! Finance
The company looks especially cheap in relation to rival Ford, another company that is also cheap itself. This makes shares attractive from a pure-valuation perspective.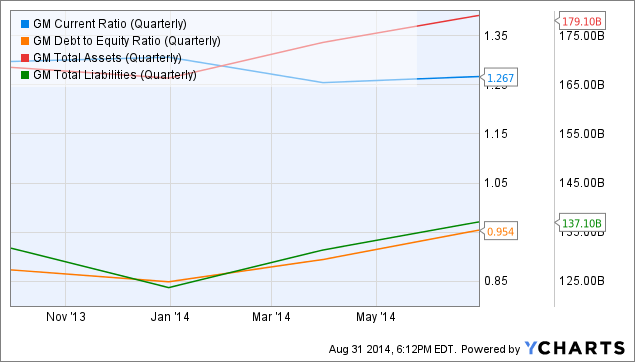 GM Current Ratio (Quarterly) data by YCharts
The company also has a relatively strong, liquid balance sheet as well.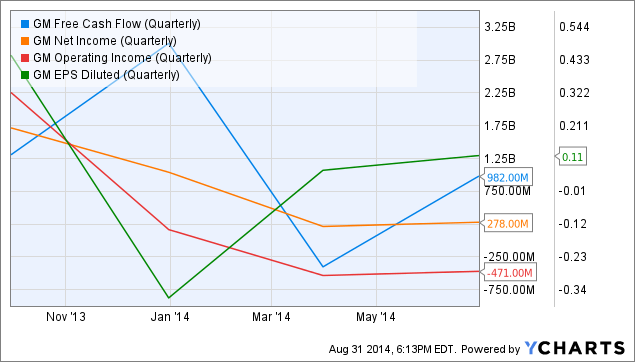 GM Free Cash Flow (Quarterly) data by YCharts
While I would like to see better earnings quality, this is something I feel the company will improve as it puts its recall-related problems further behind it. As of now, I still think shares are cheaper than they probably should be.
High-yield with a low payout ratio
Stacking it up against its main competitor, GM also has a superior dividend yield of 3.44%, as opposed to Ford's yield of 2.87%. General Motors is expected to earn $2.72 in earnings-per-share for the current year and $4.53 in EPS for 2015, which puts its payout ratio at roughly 44% and forward payout ratio at only about 26.5%.
This tells me that there is some room for continual increases barring something catastrophic significantly eroding earnings. As GM continues to alleviate the weight from its true earnings power, dividend growth for its recently-initiated dividend will likely be very rewarding.
Cheap shares, coupled with a high-yielding dividend and a low payout ratio, makes me excited for GM's total return prospects going forward.
The bottom line
While shares of GM do carry a lot of risk, they are also so cheap that it's hard for me not to consider them. Especially since they also come with a high-yielding dividend that will pay me to wait if need be, as well as add to the total return prospects of my investment. I will be monitoring the company, and am also considering adding shares to my portfolio alongside my existing position in Ford soon. A multiple of only 10 times 2015's expected $4.53 earnings makes $45.30, or roughly 30% upside not including the dividend.
Disclosure: The author is long F.
The author wrote this article themselves, and it expresses their own opinions. The author is not receiving compensation for it (other than from Seeking Alpha). The author has no business relationship with any company whose stock is mentioned in this article.
Additional disclosure: The author may initiate a long position in GM over the next 72 hours.
Disclaimer: Articles I write for Seeking Alpha represent my own personal opinion and should not be taken as professional investment advice. I am not a registered financial adviser. Due diligence and/or consultation with your investment adviser should be undertaken before making any financial decisions, as these decisions are an individual's personal responsibility.