On August 27, 2014, an article about Glori Energy Inc. (the "Company") (NASDAQ: GLRI) was posted on Seeking Alpha. While Glori believes that diversity of opinion is an essential aspect of a free and fair market that facilitates accurate price discovery, the Company also believes that, by definition, there can be no diversity with respect to the facts.
The article in question reaches a conclusion based on a series of assertions. Unfortunately, many of these assertions are factually inaccurate and directly contradict a series of public announcements and disclosures made by Glori Energy. The following is Glori's response.
By Stuart Page, CEO of Glori Energy
AEROTM IS DIFFERENT FROM TRADITIONAL MEOR
Spectacular results have been recorded by Statoil at its Norne Field in the Norwegian North Sea. Following 25 years of research and development (R&D) and deployment, the recovery factor at Norne is approaching 55%. More than 30 MMbbl of additional produced oil has been attributed to the applied microbial EOR (AMEOR) program there.
In Russia, the Winogradsky Institute of Biotechnology has done decades of work with the objective of harnessing the power of microbes to improve production. Biotopics in Argentina has had 20 years of experience in the area. And the Energy Resource Institute (TERI) in India is a derivative of the huge TATA Corp. All are energized by the aspect of recovering a significant fraction of crude oil left behind by initial production methods.
"A North American company has benefited from all this R&D by mining the above sources for the most successful techniques." - Offshore Magazine, June 2014
"The science behind the use of microbes to enhance oil recovery has advanced significantly, but it suffers from old associations." - Journal of Petroleum Technology, November 2011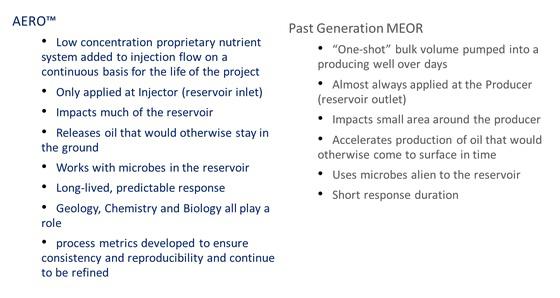 AERO technology has been recognized by the industry:
2014 Finalist: World Petroleum Council – Award for Technological Development
2013 Winner: Energy Institute – Technology Innovation
2013 Finalist: World Oil - New Horizon Idea
2013 Company to Watch: Global Cleantech 100
AERO TECHNOLOGY IS EFFECTIVE
Society of Petroleum Engineers (SPE) paper 144205 written with Statoil S.A. and Merit Energy demonstrates AERO performance. Glori's data has been reviewed under CA by multiple investors and engineers, and is recognized to have a significant impact on production. It is one of many AERO projects that have been performed by Glori. The charts below were created mathematically from raw field data; each demonstrates technology performance.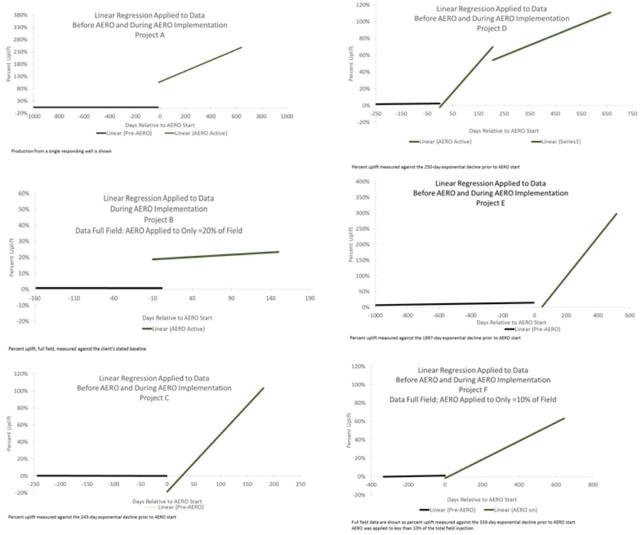 The SPE paper includes data demonstrating an increase in production rate of between 60 and 100%, and an increase in total recovery of up to 20% of the remaining oil in place. To put this in perspective, most fields recover only about one-third of the total oil trapped beneath the surface. When we assess economics of acquisitions, we model a 30% uplift only to be conservative.
IP PROTECTION FOR AERO ALLOWED SUMMER 2014
Patents protecting AERO were filed in 2011. On July 23, 2014, Glori received notice of allowance of the key patent - Systems and Methods of Microbial Enhanced Oil Recovery. US Patent 8,783,345 Microbial Enhanced Oil Recovery Delivery Systems and Methods was issued on July 22nd 2014. Glori filed two additional patents in 2013: U.S. Appl. No. 13/826827 (Ultra Low Concentration Surfactant Flooding, filed 3/14/13), and U.S. Appl. No. 13/827639 (Optimizing Enhanced Oil Recovery by the Use of Oil Tracers, filed 3/14/13). Glori owns all these patents and the inventors include personnel from both Glori and Statoil. Glori believes that its current technology, which includes more than 20 years of Statoil research plus Glori's new IP advancements, is the most advanced technology portfolio in the world in this field.
Glori and Statoil are engaged in joint R&D via a Technical Cooperation and Development Agreement and have developed new know-how and trade secrets in addition to Intellectual Property. Both companies are focused on continuing to push the boundaries of the AERO technology forward.
GLORI BUSINESS MODEL IS SUCCESSFUL:
Glori continues to develop two revenue sources:
(i) Own and operate oilfields where the efficacy of AERO is established and Glori assets benefit quickly from the deployment of the technology. The Coke Field is the first asset of significance acquired by Glori in March 2014. Glori will continue to work towards the expansion of production capacity and demonstration of AERO in this field.
(ii) Glori's technology services business enables Glori to leverage the "sweet spot" of its current technology as well as extend the range of the technology to include new types of oil wells. The service model allows Glori to gradually increase its footprint into production fields that it does not operate.
COKE FIELD ACQUISITION IS ACCRETIVE
Since acquiring the Coke Field, Glori has created sales channel efficiencies that have added approximately $2 million in annual EBITDA. In addition, Glori projects that it has added approximately $1 million in annual revenue increase through initial field improvements that are ongoing. Glori anticipates completing unitization of the Coke Field by year-end 2014 and will immediately commence AERO deployment. Even before AERO is deployed to boost returns, Glori believes the Coke Field acquisition is accretive.
On August 27, 2014, Glori completed the acquisition of three additional leases at Coke Field for $2 million, which will add 37 barrels of oil per day (net 27) to Coke production and provide additional well bores for AERO implementation.
The debt Glori has on the Coke Field acquisition should provide tremendous leverage to equity holders. Providing a leveraged projected IRR on the field of over 35%, our acquisition strategy is a direct result of our analysis of the best use of capital to bring return on equity to our shareholders over the next 12-36 months.
FOUNDING INVESTORS CONTINUE TO BACK GLORI
A "partial unlocking" mechanism (50% of stock) was triggered on July 5, 2014. Our initial backers have been able to trade since that time (average stock price over the period exceeds $9). Yet, Glori's earlier investors have only sold 15,787 shares. These investors recognize that the current value of the enterprise has significantly greater upside and a substantial number of them are actively engaged in creating and capturing more value.
Glori's board of directors has evolved beyond venture investors to include significant experience in oil and gas and technology. Glori has focused on bringing independent board members and advisors to focus on building greater and sustainable shareholder value; our board members, such as Rocky Duckworth, Mark Pucket, John Clarke and Tom Hicks, have a successful track record of building prosperous enterprises and businesses within the oil and gas space.
Glori goes to great lengths to provide and regularly update supplemental marketing materials to explain the Company's business and ongoing results of operations. In addition, the Company hosts quarterly earnings calls that are open to the public, and management makes itself available to answer questions. To learn more about Glori Energy visit: www.glorienergy.com and investor.glorienergy.com.
About Glori Energy Inc.
Glori Energy Inc. (NASDAQ: GLRI) is a Houston-based energy technology company known for its proprietary AEROTM System, a highly efficient, biotechnology process for increasing oil recovery from existing reservoirs. Only one-third of all oil discovered in a typical reservoir is recoverable using conventional technologies; the rest remains trapped. Glori's AERO technology recovers trapped oil by stimulating a reservoir's native microorganisms to sustainably increase the ultimate incremental recovery. Glori applies its technology to fields the company acquires and redevelops onshore in the U.S., and also provides its AERO System as a service to third party E&P companies.
FORWARD LOOKING STATEMENTS
Any statements contained herein which are not statements of historical fact may be deemed to be forward-looking statements, including, without limitation, statements identified by or containing words like "believes," "expects," "anticipates," "intends," "estimates," "projects," "potential," "target," "goal," "plans," "objective," "should", or similar expressions. All statements by us regarding our possible or assumed future results of our business, financial condition, liquidity, results of operations, plans and objectives and similar matters are forward-looking statements. Glori gives no assurances that the assumptions upon which such forward-looking statements are based will prove correct. Forward-looking statements are not guarantees of future performance and involve risks, uncertainties and assumptions (many of which are beyond our control), and are based on information currently available to us. Actual results may differ materially from those expressed herein due to many factors, including, without limitation: the risk that any projections, including earnings, revenues, expenses, margins, or any other financial expectations are not realized; oil production rates; oil prices; the efficacy of changes in oil fields acquired; competition and competitive factors in the markets in which Glori operates; the expected cost of recovering oil using the AERO System, demand for Glori's AERO System and expectations regarding future projects; adaptability of the AERO System and development of additional capabilities that will expand the types of oil fields to which Glori can apply its technology; plans to acquire and develop additional oil fields and the availability of debt and equity financing to fund any such acquisitions; the percentage of the world's reservoirs that are suitable for the AERO System; the advantages of the AERO System compared to other enhanced oil recovery methods; and Glori's ability to develop and maintain positive relationships with its customers and prospective customers. Although Glori believes that the expectations reflected in such forward looking statements are reasonable, it can give no assurances that such expectations will prove to be correct. These risks are more fully discussed in Glori's filings with the Securities and Exchange Commission. Glori undertakes no obligation to update any forward-looking statements contained herein to reflect events or circumstances, which arise after the date of this document except as required by law.