A few recent articles suggested that the price to earnings measurement method known as CAPE, for cyclically adjusted price to earnings, did not have any predictive power with respect to future market gains. Well nothing could be further from the truth.
As quick background, the Shiller PE ratio is inspired by the work and teachings of investing's greatest teacher, Mr. Benjamin Graham. Mr. Graham suggested that the price to earnings ratio be smoothed out over longer periods of 5, even 10 years to remove any anomalies or short term events that might influence the readings, and lead to inaccurate takeaways or projections. Of course, Mr. Shiller earned a Noble prize for his work in this area.
First off let's be clear, Mr. Shiller does not suggest that the model should be used as a measure to get in or out of the markets, or be used as a timing device. No one knows where the market is going to go, short term.
Here's a recent quote from Mr. Shiller.
Shiller says the CAPE was never intended to indicate timing on when to buy and sell, and that the market could remain at these valuations for years. But given that this is an "unusual period," investors should be asking questions.
That said, the Shiller PE Ratio can have predictive capabilities as it pertains to the long term stock market total return potential from a given PE ratio. There are many detailed studies that demonstrate the predictive powers of the Shiller PE ratio, and most demonstrate that the Shiller PE measurement does hold some predictive powers. But with everything in life, there are no guarantees as outliers occur and surprises happen.
Here is the Shiller PE plotted against the resulting 5 year returns.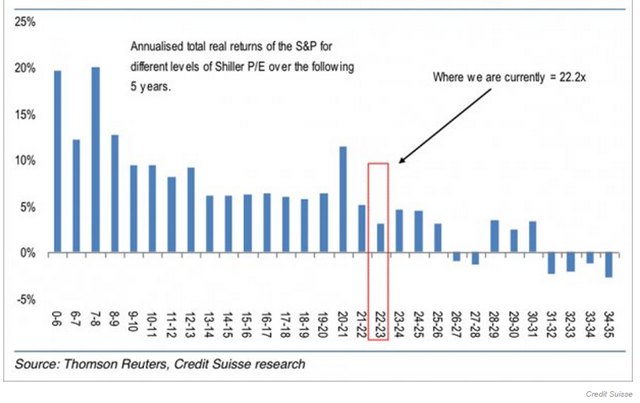 At the time of the study the market (NYSEARCA:SPY) was in the Shiller PE ratio of 22-23, and the PE ratio predicted returns in the area of 3%. Currently the Shiller PE stands at 26.4, the 5 year returns from that area are in negative territory.
Here's the historical Shiller PE chart.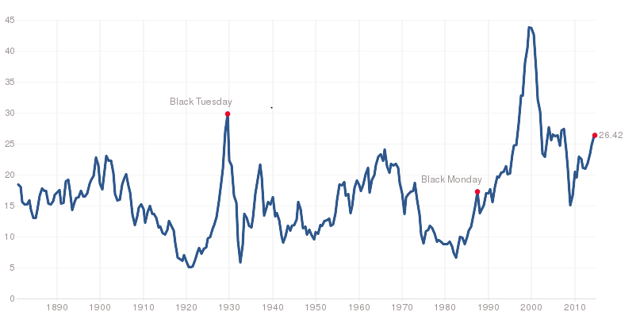 Source multpl.com
Give this a little more time and we will be heading towards the level of Black Tuesday and 1929. We won't be partying like it's 1929, that's for sure.
And here's a chart that details the 10 year returns against Shiller PE levels.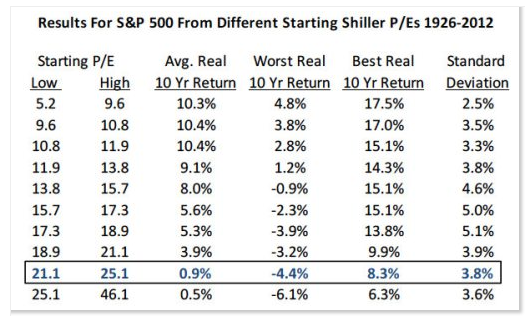 Source greenbackd.com
We can see that in today's range we are looking at 10 year returns that averaged below 0.5%. The absolute best case scenario might be returns in the area of 6%, if the markets provide another incredible outlier.
And given the high Shiller PE ratio of the day I wanted to manually break it down by year so we can see the actual annual returns in periods when the ratio is as high (or near) where it is today. I used multpl.com for the ratios and moneychimp.com for the S&P 500 annual returns.
| | | | |
| --- | --- | --- | --- |
| Year | CAPE | 10 Year Return or less | To 2012 |
| 2008 | 24.02 | 4.39% (to '13) | -0.17% |
| 2007 | 27.21 | 3.95% (to '13) | 0.08% |
| 2006 | 26.47 | 5.02% (to '13) | 1.82% |
| 2005 | 26.59 | 4.61% (to '13) | 1.76% |
| 2004 | 27.66 | 4.88% | |
| 2002 | 30.28 | 1.54% | |
| 2001 | 36.98 | -.096% | |
| 2000 | 43.77 | -3.42% | |
| 1999 | 40.57 | -3.89% | |
| 1998 | 32.86 | 3.11 | |
| 1997 | 28.33 | 5.83 | |
| The 60's … | | | |
| 1958 | 13.79 | 10.82% | |
| 1959 | 17.89 | 7.71% | |
| 1960 | 18.34 | -2.07% | |
| 1961 | 18.47 | 5.15% | |
| 1962 | 21.20 | 3.68% | |
| 1963 | 19.26 | 6.32% | |
| 1964 | 21.63 | 1.77% | |
| 1965 | 23.27 | -3.91% | |
| 1966 | 24.06 | -2.36% | |
| 1967 | 20.43 | 0.75% | |
| 1968 | 21.51 | -2.57% | |
| 1969 | 21.19 | -3.37% | |
| Depression | | | |
| 1927 | 13.18 | 10.79% | |
| 1928 | 18.79 | 2.75% | |
| 1929 | 27.06 | 0.60% | |
| 1930 | 22.30 | 1.96% | |
| 1931 | 16.70 | 2.89% | |
| 1932 | 9.31 | 5.98% | |
| 1933 | 8.73 | 6.64% | |
It becomes obvious that when the Shiller ratio has been 24 and above, real returns have mostly been meager or negative. It is the earnings power of companies that drive dividends, dividend growth and returns. It's hard for companies to offer a lot of long term value when you give them $20 to make a buck. They have to have incredible revenue and earnings growth to provide any meaningful real returns from those valuations. From there, you are counting on someone to pay you more for your company ownership, and that reduced earnings power or potential - but you may find that buyer, and that is the bet. To me, that becomes more about gambling than buying a company that will reward you with real earnings.
Many will point to the early and mid 90s as a period when the Shiller index was higher than normal or average, but the markets delivered some very nice returns. Of course, that was largely based on multiple expansion as investors were willing to pay more for companies earnings and earnings potential.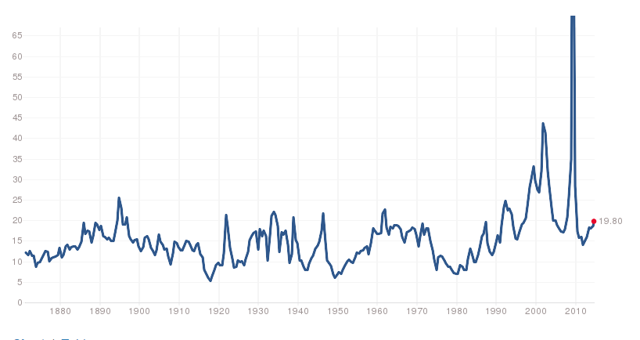 Source multpl.com
That's a gamble that paid off for many, but it would be investing not based on the suggestion from Mr. Benjamin Graham to have that margin of safety, not at all. And as for selecting individual stocks, be careful, Mr. Graham was also a proponent of efficient market theory. To find value in traditional large cap or large cap dividend growth companies might be a wild goose chase. If a company has a lower PE to the market, that's because it is priced in for earnings growth potential. It's hard for large cap companies to hide in plain sight. Mr. Graham thought you had to do something bold and extraordinary to beat the market.
I would think these are tough times for stock pickers these days. There's so much information easily and readily available and most on Seeking Alpha appear to be playing in that large cap or dividend growth area. PE ratios and growth rates are baked in. But perhaps if one slants to more reasonable valuations that may allow them to provide more of a margin of safety, and perhaps beat the market returns if they can find an out of favor company or three.
I have no idea where the markets are going over the next few months or years but PE levels and PE trends are undeniable. It is likely that there's no real return available at these levels. Real money that will be made from here will come by the way of a market correction, when investors can pay less for earnings power.
The world's most intelligent investor is sitting on over $51 billion in cash, the fund's [Berkshire Hathaway (NYSE:BRK.A) (NYSE:BRK.B)] largest cash holding ever. Mr. Buffett understands the value of cash from these levels. One may need dry powder to prosper in this environment. One may also need to manage the risk of a market downturn form these levels. For some with lower risk tolerance, they may consider taking the gift that the market has offered and move to more of a balanced portfolio with at least 25% bonds exposure (as per Mr. Benjamin Graham's suggestion). That bond exposure may also provide a rebalancing opportunity that could boost returns through a market correction.
If you are investing on a regular schedule and dollar cost averaging with meaningful monies, then you of course will be able to take advantage of lower prices in a correction; and you are also hedging to the upside in the scenario where investors are willing to pay more and more for companies earnings. And as many will write, perhaps earnings growth will be very strong over the next few years and decade. There are also many reasons to remain invested in the markets at your risk tolerance level.
Where the Shiller PE ratio may offer the most value and direction is if you are sitting on a pile of cash. From here you might not choose to invest the entire sum, but start with a modest amount and then dollar cost average from here. You might choose to introduce those monies into the market over a 2 or 3 year time horizon in the hope that you capture the next market bottom. If markets continue to move up, you will leave some money on the table, but you would have been in the fortunate position to have a portfolio that was moving higher on a regular schedule.
Final thoughts.
Remember, the Shiller PE ratio is best used for and was intended to offer probabilities of long term returns. These probabilities can offer a heads up to investors in many scenarios and help them plan in the accumulation and retirement phases.
Happy investing, be careful out there, and always know your risk tolerance level.
Disclosure: The author is long SPY, VIG, EWC, EFA, AAPL, ENB, TRP. Dale Roberts is an investment funds associate at Tangerine Investment Funds Limited. The Tangerine Investment Portfolios offer complete, low-fee index-based portfolios to Canadians. Dale's commentary does not constitute investment advice. The opinions and information should only be factored into an investor's overall opinion forming process.
The author wrote this article themselves, and it expresses their own opinions. The author is not receiving compensation for it (other than from Seeking Alpha). The author has no business relationship with any company whose stock is mentioned in this article.