By Scott Tzu
The Apple (NASDAQ:AAPL) headline a couple of weeks ago was about when and where the company was going to have its new product event. Speculation was everywhere, but once the company finally put out invitations for its September 9th event, the focus then turned on to what products were going to be released and when they're going to be available.
At this point, it's widely assumed and agreed upon that Apple is going to be releasing the iPhone 6 during this upcoming event. We can say that it is as close to a sure thing as you can get. The other rumours that began last week were that Apple was going to also be releasing a wearable device during this event.
From there, the speculation turned to when the company was actually going to ship the device after the announcement. The consensus for the iPhone release is 10 days from the event, or September 19th.
Now, let's look at the evolution of the "rumour", as handily laid out in chart form by Fortune:

We thought the iPhone 6 launch in and of itself was going to be more than enough reason to stay away from being short Apple into the holiday season, which is in and of itself another reason to not short Apple. We know a lot about the potential phone, including screen sizes and potential price targets.
With rumours out and about regarding the company's wearable, it's a reminder that we don't really know too much about Apple's coming iWatch, assuming that's the coming product, except for the fact that it's supposed to utilize the new "HealthKit" that Apple introduced at the Worldwide Developers Conference.
Nevertheless, Seeking Alpha citing Re/code posted news on Friday that seemed to note that Apple's "wearable" wouldn't ship until 2015.
Re/code's John Paczkowski: "So that new wearable device Apple is introducing on September 9? It's going to be a while before anyone is actually wearing it. Sources in position to know tell me it won't arrive at market for a few months." He doesn't have an exact ETA, but says his understanding is that "we're unlikely to see [the device] at retail until after the holiday season - think early 2015." It was only two days ago Paczkowski reported Apple would show off the device - he refrains from calling it the iWatch - at a Sep. 9 event. Apple sent out invites for the event yesterday.

The Peel's Feel:
The release date of this product isn't going to change the way we feel about Apple, which is that it's a buy at these levels.
The split-adjusted chart in and of itself shows Apple to be on a fantastic run upwards, with confidence continuing to build behind the company, supplemented by the general macroeconomic sentiment, as much as we think we're heading for a correction.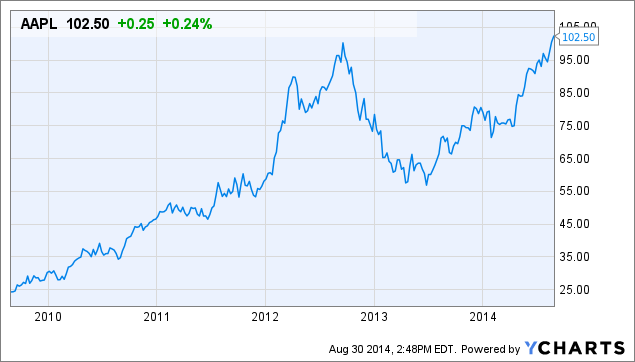 We question reports on the release date of this wearable device.
For one, we're never really sure when Apple is going to do anything, let alone release a product. If the past has shown us one thing, it's that trying to time Apple is about as easy as trying to time how and when the stock market is going to move.
Secondly, we're not sure that Apple would announce a product in September and then not make it available for holiday sales the same year. We think the company would be doing itself a huge disservice if this was to occur, unless the company is simply hoping that iPhone 6 sales will be the sole driving force behind this year's holiday sales.
In an instance where that would be the case, we'd have to think about the apps and features that are going to come with the iPhone 6 that are likely to pair with the coming wearable device. Apple could possibly be trying to hook in wearable device users when they make their way out to purchase the iPhone this holiday season.
Regardless, we don't doubt that both products will likely make fantastic additions to Apple's already powerful product line. Our only concern remains with the iPad, as we spoke about in our last article about Apple.
We maintain our price target of $120 on Apple.
Disclosure: The author has no positions in any stocks mentioned, and no plans to initiate any positions within the next 72 hours.
The author wrote this article themselves, and it expresses their own opinions. The author is not receiving compensation for it (other than from Seeking Alpha). The author has no business relationship with any company whose stock is mentioned in this article.