After profiling some riskier names in the Canadian E&P sector a few weeks ago, I decided to profile what I believe are some safer plays in this area currently. Surge Energy (OTCPK:ZPTAF) and Torc Oil & Gas (OTCPK:VREYF) both look positioned well for future growth and are currently rewarding shareholders nicely.
Surge
Surge Energy has seen phenomenal growth over the past few years, and so has the company's stock. Since May 2013 the shares have risen from a dismal $3 to currently around $8. Even with this run up I still believe there is more upside going forward because Surge is still growing at a fantastic pace.
Surge operates mostly in Alberta and Saskatchewan. The company has 3 core areas with current production averaging around 16,400 boe/d, which is a 75% increase from last year. The company expects to exit 2014 producing about 21,350 boe/d which points to another 30% rise. Overall the company has a proven record with production and should continue to do so.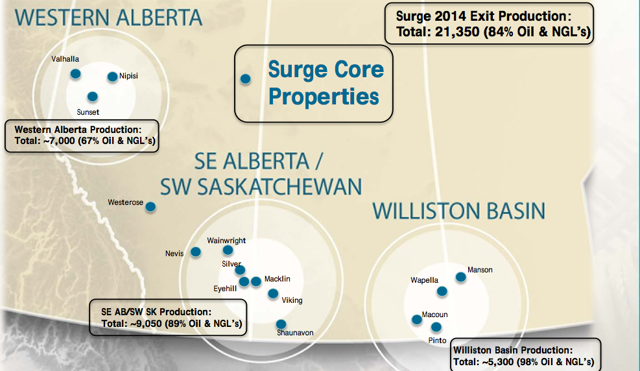 (Source: Surge presentation)
Surge has a very nice land position with huge potential. The company has 3 core areas with 15 core properties within those 3 which are mainly focused on the production of light oil. Currently the company has a little over a 1,000 potential drilling locations identified and for 2014 it expects to complete 66. The drilling of 1,000 wells is estimated to be able to keep the company busy for 10 years, and looking at the future, the company also has a RLI of over 15 years. Surge continues to add to its holdings which has paid off in its rapid expansion. On June 5th it completed its acquisition of Longview Oil which added very nicely to its holdings and operations. Some of the highlights from the acquisition included 37.6 MMboe 2P reserves, 143,000 acres, and infrastructure in that area that includes batteries and pipelines. Along with the announcement of the completion of the deal, Surge also raised its dividend 11% to $.54 annually ($.045 monthly).
When looking at these E&P's and how much risk is involved, it is always important to note their risk management position. Surge has a good position currently with about 45% of oil production hedged at $92 for the remainder of 2014.
So, while Surge's share price has ran up a lot over the past year, going forward the company still has lots of potential. As an added bonus the company pays a handsome dividend and should be a relatively safe play.
Torc
Torc Oil & Gas also mainly operates in Alberta and Saskatchewan, and is also mainly focused on the production of light oil. As can be seen in the map below Torc has 4 core areas, which are in a very similar position when compared to Surge's land.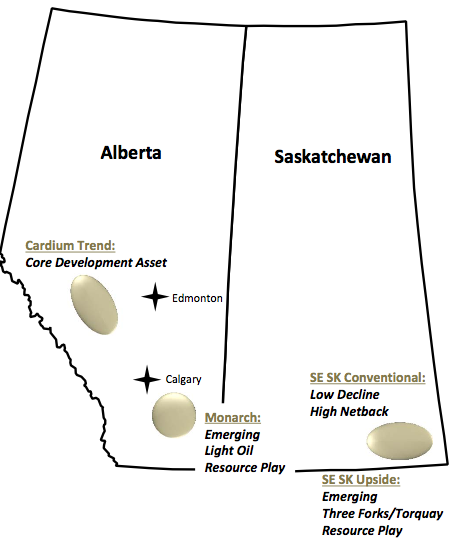 (Source: Torc Presentation)
For the second quarter production averaged 11,116 boe/d up 5.5% from the first quarter and up 158% from last year Q2. The company has seen great organic growth and continue to maintain the goal to grow 5-7% for FY 14. The company has over 500 identified potential drilling locations, with plans to drill 60 in total for 2014. Another great thing about Torc is its reserves. 2P reserves currently stand at about 51 MMboe with 94% of it coming from its more developed Cardium and SE Sask Conventional plays. As further development of the Three Forks and Monarch area progresses I would expect reserves to increase significantly over the next few years.
About a year ago the company began paying a dividend which is currently $.48 annually ($.04 monthly). This has increased by 8% since a year ago and I would not rule out it being increased again in the future.
Financially the company is in a solid position, with relatively little debt and good cash flow. Revenue is expected to come in at $315 million CAD for FY 14 which would be a 92% increase from FY 13.
Lots of analysts are also in agreement that Torc looks attractive right now. 5 have buy ratings, 11 have outperform ratings, and 1 has a hold rating currently. The average price target for the Canadian listing is $16.50 CAD which points to nice upside from the current $14.60 CAD.
In the past year Torc's shares are up about 70%, but I do believe with great organic growth and a pretty land position the company still has upside left, and at the same time shareholders are also being rewarded nicely.
Conclusion
In conclusion, both Surge and Torc are solid plays. Although both have seen big gains in the past year, it should continue with growth. Both companies have attractive yields with a history of being raised, and a similar land position which will offer lots of future growth. Both companies are clearly worth consideration and it may be a good time to initiate a position in either.
Disclosure: The author has no positions in any stocks mentioned, and no plans to initiate any positions within the next 72 hours.
The author wrote this article themselves, and it expresses their own opinions. The author is not receiving compensation for it (other than from Seeking Alpha). The author has no business relationship with any company whose stock is mentioned in this article.
Editor's Note: This article discusses one or more securities that do not trade on a major U.S. exchange. Please be aware of the risks associated with these stocks.