Background
National Oilwell Varco (NYSE:NOV) provides equipment for upstream oil and gas companies worldwide. They have a market cap of 37.19B. Their three main segments have been rig technology, petroleum services & supplies, and distribution & transmission. Rig technology designs, manufactures, sells and services oil and gas drilling systems. Demand is driven in two ways: first from drilling by contractors, oilfield service companies, and oil and gas companies, and second; by the overall level of drilling activity as the company services and repairs existing rigs. The petroleum services & supplies segment rents and sells drilling equipment such as drill pipe, transfer pumps, valves, etc. These are sold to oil and gas companies, drilling contractors, pipe distributors, and pipeline operators. The distribution & transmission segment assists drill sites by providing pipe, maintenance, repair, and spare parts for upstream operations. The revenues by segment for the past 3 years are shown below.
| | | | |
| --- | --- | --- | --- |
| Revenue (millions): | 2013 | 2012 | 2011 |
| Rig Technology | $11,716 | $10,107 | $7,788 |
| Petrol Ser. & Suppl. | $7,184 | $6,967 | $5,654 |
| Distrib. & Transm. | $5,117 | $3,927 | $1,873 |
| Eliminations | $1,148 | $960 | $657 |
| Total Revenue: | $22,869 | $20,041 | $14,658 |
CAGR 2011-->2013: 56.02%
The Rig Technology segment is by far the most profitable, contributing towards 63% of operating profits compared to 30% and 6% for Petroleum Service & Supplies and D&T, respectively.
As of June 2014, the distribution business was spun-off and now trades under the ticker DNOW. Since the less profitable D&T segment has been spun-off, we can anticipate that more capital will be dedicated to and focused on the two other highly profitable segments, and overall margins will grow even wider than they already are.
Other Growth Drivers
Future revenue will be driven primarily by the rig technology segment as it has been over past years. The company is dominant in market share of these technologies, and should benefit greatly from the increase in domestic drilling and the shale boom. Estimated market share of rig equipment packages is 60-70%. Shale drilling is expected to increase 23% by 2017, meaning new rigs will need to be built and existing rigs repaired and serviced, and companies such as Transocean (NYSE:RIG) and Seadrill (NYSE:SDRL) will come to NOV for any of their needs. A short term concern is government regulation and a subsequent decline in domestic drilling, however this is unlikely, and even if government legislation passed, NOV will still benefit as it has. The world is no doubt moving towards cleaner energy alternatives, but for the foreseeable future, oil and gas will be the world's primary demands, and NOV is well positioned to continue benefiting. 2013 saw stagnant growth in US drilling, but ultimately rising gas prices both domestic and worldwide will drive growth for NOV through more drilling both nationally and internationally. Alternatively, falling oil prices will negatively affect NOV. The trend has been moving towards more deep-water and horizontal drilling an area in which NOV will benefit from more complex rigs.
Financials & Valuation
Despite 4 years of revenue and steady EBITDA growth, EPS began to waver in 2013 & 2014. This can be accredited to the purchase of the D&T segment, Wilson Supply & CE Franklin. Since being spun off into DistributionNOW (NYSE:DNOW), we can expect margins to grow, and in turn EPS growth to continue in a similar fashion to what we saw back in 2009-2012. (EPS/EBITDA chart below shows 2009-->2013).

Click to enlarge

Click to enlarge
Since 2010, NOV has paid out quarterly dividends and increasing yield. Today, it rests at 2.2%. I expect management to continue to increase dividends over the coming years, which will provide additional value for shareholders. Debt to equity lies low at 0.15. Price to free cash flow is at 13.93, and the company has $3.9B cash on hand. NOV currently trades at a trailing twelve month P/E ratio of 14.88 and a forward P/E of 12.82, both of which show the stock is inexpensively priced relative to both the market and its industry P/E of 24.50.
Technicals
The chart below shows the past 4 years of trading. NOV has been testing resistance for the past few years, and now we can clearly see the breakout above the ascending triangle pattern, offering investors a time to buy in.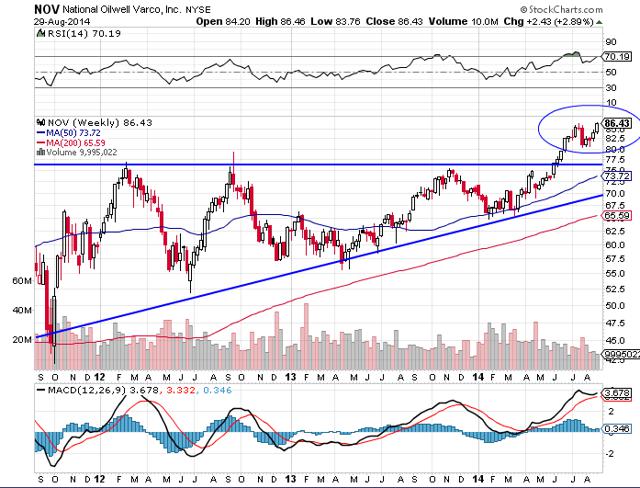 Click to enlarge
(All data and charts via Google Finance, FinViz, MarketWatch, Y! Finance, company 10K's & 10Q's)
Disclosure: The author has no positions in any stocks mentioned, and no plans to initiate any positions within the next 72 hours.
The author wrote this article themselves, and it expresses their own opinions. The author is not receiving compensation for it (other than from Seeking Alpha). The author has no business relationship with any company whose stock is mentioned in this article.