I don't want to spend too much time on the idea that the market is being manipulated in a very obvious way. That subject has been hammered home tirelessly for anyone who reads anything about the markets. Instead I plan to use this article to provide some quick visual proof and then get to the heart of the matter: what an investor needs to do to plan for the eventual payback period we will experience from the manipulation.

First, it was reported in October by ZeroHedge.com that the market, minus the increased Federal Reserve actions on POMO days (Permanent Open Market Operations), would be a lot lower than it is today. Take a look at the chart: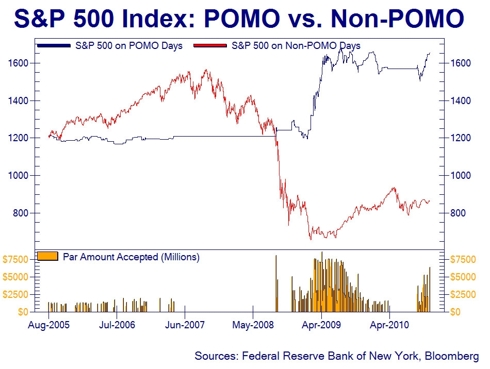 (Click to enlarge)
As one can see, the value of the S&P when POMO days are taken out would be a lot lower than it is today. Near the lows of Fed intervention in 2008, you can see the explosion in activity from the Fed. This quickly stopped the decline in stock prices. As the market rallied, the POMO activity begin to dwindle and then nearly stopped in April 2010. The market then began to show its true colors again during this time and a substantial correction began. Fearful, the Fed commenced with more POMO activity, propping the market up again.

QEII was the start of new manipulation that is happening now almost daily. Those who don't think this is lifting stock prices must be ignoring the Fed's own disclosure that they intend to increase all of our wealth by "keeping asset prices higher than they otherwise would be."

How have they done? Well - if you have watched the market the past few months you would be hard pressed to claim they have failed at all. It has been weeks since we have experienced a pull back that has lasted longer than a few hours. SentimenTrader.com today provided a very disturbing statistic for all lovers of free markets and showed that for the first time EVER, stocks have gone 30 straight days without closing below the 10 period moving average: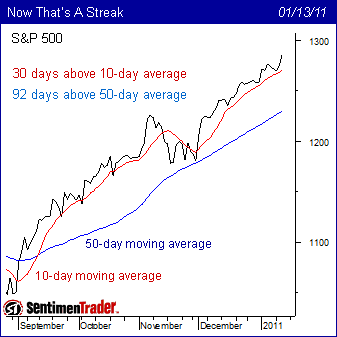 Welcome to a central-planning market, folks! Enjoy it while you can. The crazy thing is, POMO happens almost daily for a few more months. It will be interesting to see the market's true colors in the summer when Fed intervention starts to wind down.

As scary as a constantly rising market can be to those who are trying to do the right thing and mitigate risk, there are still pockets of the market that will allow an investor to join in the constant upward movement while sleeping well at night knowing they own a business that is making a lot of money. More importantly, these businesses continue to do well in a market whether it's during a correction or a crash. The reason is that these companies continue to sell products people have to buy no matter what the economy does, making a lot of money in the process. While doing this, they pay a healthy and growing dividend.

An example of this type of company is Hillenbrand, Inc. (NYSE:HI). Through its subsidiary, Batesville Casket Company, it manufactures, distributes and sells funeral service products. The company's products include burial caskets, cremation caskets, containers and urns, a selection of funeral home display room fixtures and related products and services, including hosting and creating funeral home websites.
Funeral services and products are needed in both boom and bust times. That means demand for Hillenbrands products are not dependent on the economy. So far, management has done a terrific job. With a $1.35 billion market cap, the company produced $102 million in free cash flow in the most recent fiscal year. That means if you had $1.35 billion to buy the entire company today, you would be able to take home $102 million per year assuming no growth going forward. That is a pretty decent 7.5% return on a business that is more sure than taxes. With a dividend payment of 3.5% currently, the company has more than enough cash flow to keep you happy through good times and bad.

Disclosure: I am long HI.

Additional disclosure: We are long HI in client accounts at Napa Wealth Management