Last month the CEO of Pristine Advisors, Patricia Baronowski, brought to my attention one of her clients, Prospect Capital Corporation (NASDAQ PSEC). She mentioned PSEC to me because it has a high yield and thought I may be interested in researching it. I took a glance at the company's website and its annual report and I had questions about some of the things I saw. She set me up for an interview with the President of PSEC, Grier Eliasek, who was happy to answer them.
Payout ratio:
PSEC is only required to distribute 90% of its earnings to maintain its tax status. According to the dividend section on its website the payout ratio is 125%. That seems high. I wouldn't believe anything over 100% would be sustainable over the long run. It would have to borrow the difference or cut the dividend. I asked Mr. Eliasek about this. He said "that it must be a mistake as its payout ratio is less than one." I gathered the payout information from its annuals reports and put it in the table below. The payout has been averaging 86%. There were two years that the ratio was over 100% percent. Mr. Eliasek said "if there are times that net interest income wouldn't be enough to cover the dividend PSEC can tap into its undistributed net investment income from previous years". From 2013 to 2014 undistributed net investment income dropped from 82 million to 42 million suggesting that this is what it did to cover the dividend in 2014.
| | | | | | | | |
| --- | --- | --- | --- | --- | --- | --- | --- |
| | 2014 | 2013 | 2012 | 2011 | 2010 | 2009 | 2008 |
| Net interest income | 357 | 324 | 186 | 92.1 | 67.1 | 59.1 | 45.1 |
| dividends paid | 377 | 242 | 127 | 91.24 | 82.9 | 43.2 | 24.19 |
| Payout ratio | 105.60% | 74.69% | 68.28% | 99.07% | 123.55% | 73.10% | 53.64% |
Cash Flow statement:
I also had a question about the cash flow statement. Cash flows from operating activities shown in the table below have been negative 4 of the past 5 years. This is usually a bad sign for companies who create goods or services. I had the same concern for PSEC but wasn't sure if it should be looked at the same way. If it is financing operation costs then it would have to finance the dividend as well, right? Mr. Eliasek said that "to determine the stability of PSEC the cash flow statement is kind of meaningless. It's the nature of its business to borrow and then use the money to loan or buy other businesses. It would be normal to see large outflows of cash." He also goes on to say that "the better metric is to look at its operations statement." What PSEC receives in income better be higher than its expenses and also should be enough to cover the dividends. If it's not then PSEC isn't managing its investments properly. We see from its annual report that it has been profitable the past three years. The largest outflow from operating activities is always payments for purchasing of investments. PSEC is buying large amounts of assets to grow its business. We see this growth carry over to the other two statements. Its net assets this past year increased by 36% and its total interest income increased by 40%. It's a positive sign to see that interest income is increasing by more than its assets are. It would be interesting to see if cash outflows from purchasing investments ever go down. I would think that once PSEC was a large enough company all the income or capital gains that hadn't been distributed would get rolled back into the company and PSEC could grow internally.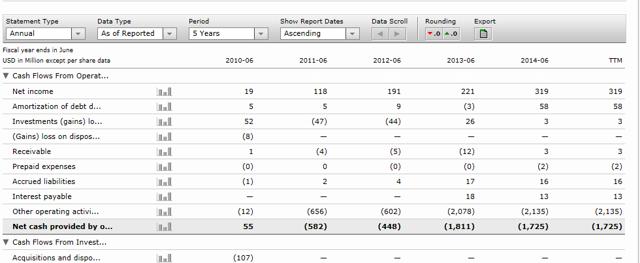 Yield:
When SPEC first became public, it took 2 years for it to start paying a regular dividend. In 2006 it paid $1.405/share. The second and third year it went to $1.60. The last few years it has paid out $1.32/share. The below chart was from Ycharts. It shows the dividend yield for the past 4 years. In 2010 it was about 17% and then down to 7.5% in 2011. Since then it has been around 12%. It also changed the payout from a quarterly dividend to a monthly payout. Its annual report doesn't specify a specific target distribution amount or percent. Mr. Eliasek said "that they don't have a target yield but the payout is based on a return of equity. He said the investors are happier with a monthly dividend too." He didn't really give any more specifics than that. The table below the chart is of PSEC's NAV and dividend payout information per share. If you take the dividend per share into the NAV per share it comes out to be around 10-12%. This has been stable over the past 5 years. It looks like this is PSEC's target payout. Mr. Eliasek also stated that "he hopes PSEC will be able to increase its yield as it is in the process of a senior loan initiative. PSEC is in the works to sell off its lowest yielding assets so that it can make better use of its money into higher yielding assets."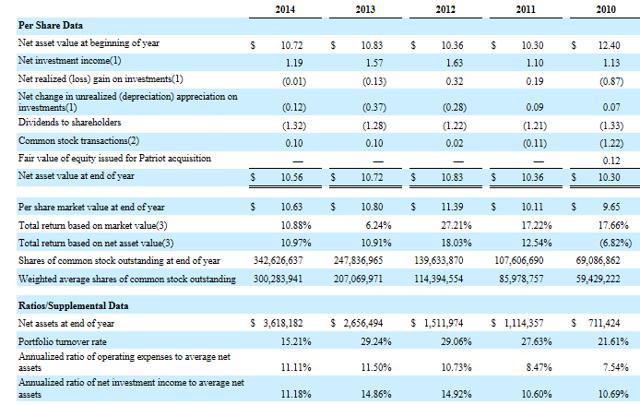 Leverage margin:
PSEC's debt to equity margin from its website says it's 77%. That seems kind of high. Its peers' average is 64% Mr. Eliasek said "this is on the high side and it's typically lower than this. He said that PSEC has been taking advantage of a favorable market. Interest rates are low. PSEC's debt is investment grade. It is able to get financing that other companies aren't able to obtain." He also goes on to say that PSEC is "comfortable with this debt margin because unlike its peers it does more complex translations than just normal borrowing and lending. PSEC does more buyouts than its peers. This requires more resources." He goes on to say" buyouts have a higher reward as PSEC was able to buy and sell Air mall for 17x IRR." Moody's has rated its debt at A3. The debt it does take on is a little less risky. 20% of its debt is 1st secured lien and 80% of its loans are secured.
Interest margin:
Interest rates right now at are historic lows. Lower rates usually mean a higher net interest margin. At this point in time PSEC should be getting its highest net margin. Rates can only go up and when they do margins should shrink and the dividend may be in jeopardy of being cut. However, changes in interest rates don't appear to affect the net interest margin much. The treasury yield curve graph below shows that in 2007 the yields were much higher in 2012. The table below the graph shows interest income, expense, and interest margin that were taken from its annual reports. The interest margin stays around 8% no matter what the interest environment is. The annual report says that 2014 may be an outlier. "The weighted average interest rate earned decreased due to lower origination fees and a decrease in market-whole fees from Energy Solutions. Debt interest increased due to additional notes issued which incurred incremental fees." I brought this up to Mr. Eliasek. He said PSEC has a "different borrowing and lending structure than its peers. Since PSEC has a great credit rating it can get a fixed rate on its debt and then lend at a floating rate." In the table below in 2008 PSEC was lending at a 17% rate and in 2014 it was lending at a 12% rate. This is a 5% difference. In the same two years it was borrowing at 8.37% and 6.23%. This is only a 2% difference. This is a great advantage for PSEC.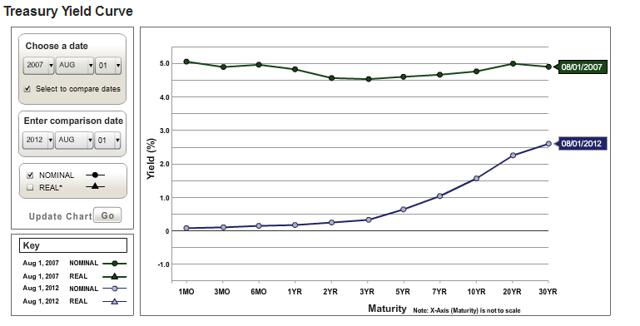 | | | | | | | | | |
| --- | --- | --- | --- | --- | --- | --- | --- | --- |
| | 2014 | 2013 | 2012 | 2011 | 2010 | 2009 | 2008 | 2007 |
| Weighted interest income | 12.56% | 15.13% | 14.97% | 13.70% | 14.10% | 12.00% | 14.80% | 17.1% |
| Weighted interest expense | 6.23% | 6.65% | 7.14% | 5.59% | 5.78% | 3.84% | 5.67% | 8.37% |
| Interest Margin | 6.33% | 8.48% | 7.83% | 8.11% | 8.32% | 8.16% | 9.13% | 8.67% |
Diversified business:
The last thing we went into discussion about is PSEC's diverse business. That's another reason why Mr. Eliasek thinks PSEC is better than its peers. "They are invested in 144 different companies. PSEC isn't invested in any given industry by more than 10%." By being diverse in all segments of the economy gives it the advantage to take advantage of all the opportunities out there.
So that was my interview. Take the information at hand and decide for yourself if it is worth the investment. I believe my questions and concerns were answered from the interview and from the annual report.
Disclosure: The author has no positions in any stocks mentioned, and no plans to initiate any positions within the next 72 hours.
The author wrote this article themselves, and it expresses their own opinions. The author is not receiving compensation for it (other than from Seeking Alpha). The author has no business relationship with any company whose stock is mentioned in this article.