Gilead Sciences (NASDAQ:GILD), the Foster City, California-based biopharmaceutical company known for its flagship drugs like Sovaldi, Atripla and Zydelig, is a forerunner in the treatment of HIV, liver diseases and oncology & respiratory diseases. The company has been on a continuous uptrend over the last four quarters, and seems set to continue on this trend.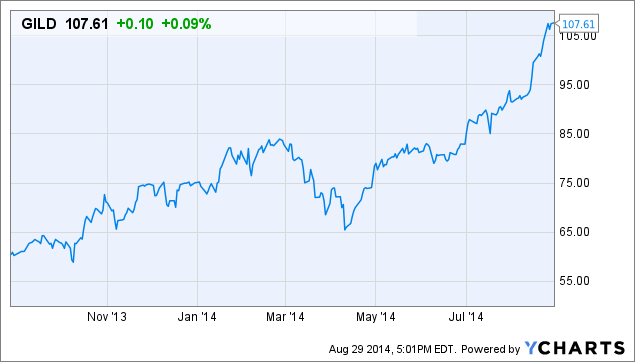 Gilead is up 64% last four months, 43% YTD, 77% last twelve months, and yet it seems particularly realistic to say that it's not done running. The company has been one of the outstanding mega-cap performers over the last few quarters as investors continue to bet on its promising product pipeline. However, there are those that are already becoming cautious over how long the company can carry on with the current rally.
Another thing that has been driving the stock is its earnings over the last four quarters. The company has blown analyst estimates for each of the last four quarters at incredible rates, resulting in a bullish sentiment among the investment community.
Investors can bet on Gilead blowing Q3 analyst estimates, after beating consensus estimates for the last four consecutive quarters.
| | | | |
| --- | --- | --- | --- |
|   | Analyst Estimate | Actual | Beat rate |
| EPS Q3, 2013 | $0.48 | $0.52 | 8.33% |
| EPS Q4, 2013 | $0.50 | $0.55 | 10.00% |
| EPS Q1, 2014 | $0.91 | $1.48 | 62.63% |
| EPS Q2, 2014 | $1.79 | $2.36 | 31.84% |
| EPS Q3, 2014 | $1.89 | EPS > $1.89 (est.) | > 0% (est.) |
(Data Source: Reuters)
Looking at the EPS estimate of $1.89 per share for Q3, 2014 compared to the company's recent quarterly performances, it would have to decline sequentially in order to miss the analyst estimate. The company posted a diluted EPS of $2.20 per share in the most recent quarter, while non-GAAP EPS stood at $2.36. Both figures well above the consensus estimate of $1.89 for analysts polled by Thomson Reuters.
Another thing worth noting is that the company has posted sequential increments in EPS for each of the last four quarters, and hence, a decline this time around would spell an obvious plunge for the stock, but for now, that seems highly unlikely.
The King of Hepatitis C treatment?
The company's blockbuster drug for hepatitis C, Sovaldi, which it acquired from Pharmasset in late 2012, seems to bringing the goods as investors continue to bet on it. The drug alone generated $4.2 billion of operating cash in Q2 2014. Of the total revenue of $6.5 billion in Q2 2014, Sovaldi, which was granted approval in US and Europe by January 2014, contributed $3.5 billion.
The HIV treatment drug, Atripla, brought in $800 revenue in the second quarter. Gilead still has one of the leading market shares in hepatitis C and HIV treatment, though the sales of Atripla are showing a declining trend.
The company is still expected to retain the leadership position in hepatitis C treatment. Its pipeline also has SOF drug, a daily dose for hepatitis C lined up, which will slowly replace Sovaldi, and is a one-time cure drug.
The product pipeline of Gilead Sciences appears very promising, with SOF/LDV fixed-dose combination for hepatitis C scheduled for priority review by the US FDA in October 2014. On the other hand, HIV drug Tybost has received EU approval and is awaiting US FDA approval in FY14, while Zydelig, the cancer treatment drug, has received US FDA approval and is awaiting EU approval in FY14.
Recent results a massive boost for investor sentiment
Total revenues for the second quarter of 2014 increased to $6.53 billion compared to $2.77 billion for the second quarter of 2013. This was primarily due to blockbuster sales of Sovaldi. Net income for the second quarter of 2014 was $3.66 billion, or $2.20 per diluted share compared to $772.6 million or $0.46 per diluted share for the second quarter of 2013.
The R&D expenses also remained close to $1 billion, showing its investment in new drugs. The net profit was $5.8 billion in H1 2014 from $1.5 billion last year. The EPS for the six-month period was $3.53 per share, and at this run rate, the company seems set to post an annual EPS of more than $7.00.
The net debt position increased from $3.9 billion in December 2013 to $7.9 billion in June 2014 due to financing requirements for new drugs. However, with estimated EBITDA of at least $10 billion for FY14, the debt-to-EBITDA ratio is likely to remain below 1.00x.
A bright outlook as the company seeks to expand drug sales to other markets
The outlook for the full year still displays an outstanding potential for growth, with continued leadership position of Sovaldi with an estimated 80,000 patients in the US alone. Sales agreement are being signed to expand sales to EU countries too, as well as in the emerging markets, all be it at subsidized pricing.
A slide in sales of Sovaldi could emerge in H1 2015 onwards due to competitor drugs and a lesser patient base. However, the SOF fixed dose drug can fill the gap left by Sovaldi once it is launched. The combination of drugs for HIV - Atripla, Tybost and Truvada - also have double-digit market shares and are expected to contribute close to $3 billion to FY14 revenues.
Conclusion
Gilead is one of the hottest biotech mega-cap stocks in the market right now, but some investors would still be coy to buy at current levels. The stock is trading at trailing 12 months' P/E of 24x, and the EPS is expected to increase to at least $7 for FY14, which gives a forward P/E of only 15x.
Note that the industry average for the trailing 12-month P/E is pegged at 32x, while the sector average stands at 33x. Therefore, this means that despite the company's recent rally, it realistically appears cheaper when compared to the overall industry. This means that the company could trade at a forward P/E of 20-24 times and still appear realistically valued. This would mean that Gilead could trade at a price of $140 to $168 by the end of 2014.
Therefore, this suggests that there is a possibility that Gilead is not done running and perhaps there is an upside potential of roughly 50% going forward. Any pullback will provide an even better buying opportunity for bullish investors. In addition, a first-time dividend announcement by the company could further propel the price upward.
Disclosure: The author has no positions in any stocks mentioned, and no plans to initiate any positions within the next 72 hours.
The author wrote this article themselves, and it expresses their own opinions. The author is not receiving compensation for it (other than from Seeking Alpha). The author has no business relationship with any company whose stock is mentioned in this article.