The bidding war for Family Dollar (NYSE:FDO) just got interesting after Dollar General (NYSE:DG) announced a revised bid which pushes its offer up to $80/share from the previous $78.50/share, while also doubling the number of stores it is willing to divest for antitrust purposes and adding a $500 million reverse break-up fee if regulators throw up road blocks. While Family Dollar has already endorsed the Dollar Tree (NASDAQ:DLTR) offer, the company did announce that they received the revised offer from Dollar General and will review it.
As we have stated during other bidding wars, this is exactly what investors want to see during a bull market. Bull markets grow stronger when investors and management are optimistic and all of this bidding for Family Dollar highlights the optimism in the retail sector; an area which has been quite weak for some time now.
Chart of the Day:
For the next week or two, we are less interested in the S&P 500 going higher than the index building support around the 2,000 point level. In fact, we would much rather prefer sideways movement to continued upward movement as it is important to consolidate gains and build support around key levels for potential future pullbacks.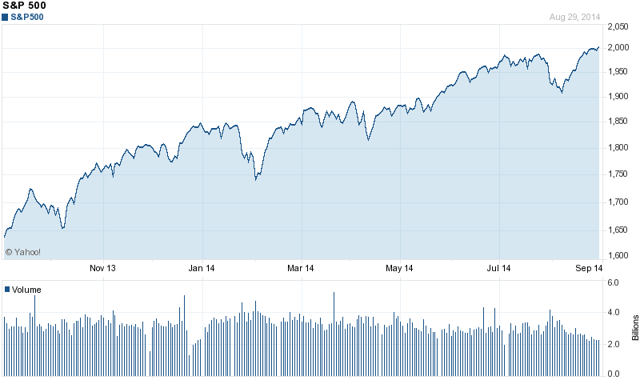 Source: Yahoo Finance
We have economic news today, and it is as follows:
ISM Index (10:00 a.m. EST): Est.: 57.0 Act.: 59.0
Construction Spending (10:00 a.m. EST): Est.: 1.0% Act.: 1.8%
The Asian markets are higher today:
All Ordinaries - up 0.51%
Shanghai Composite - up 1.37%
Nikkei 225 - up 1.24%
NZSE 50 - up 0.12%
Seoul Composite - down 0.79%
In Europe, the markets are higher this morning:
CAC 40 - up 0.16%
DAX - up 0.40%
FTSE 100 - down 0.01%
OSE - UNCH
Cruise Deal
Apollo Global Management, LLC has decided to go cruising, as two companies it owns large stakes in are set to merge. Announced this morning, Norwegian Cruise Lines (NASDAQ:NCLH) will buy Prestige Cruises International in a deal valued at just over $3 billion. The deal will bring the premium cruise lines Oceana Cruises and Regent Seven Seas Cruises under the same roof as Norwegian. Investors should see an immediate savings of $25 million from the merger and be accretive to earnings immediately.
The cruise industry has seen rougher times for investors since the Carnival (NYSE:CCL) cruises had issues and many began to question the maintenance programs large operators were using at the time for their ships. Investors are rewarding Norwegian shares after the announcement as this gives a nice bump in earnings to the acquirer and could lead to further, more dramatic, cost savings in the years ahead.
Norwegian Cruise Lines had marginally outpaced Carnival over the past year, but with today's deal the outperformance increases dramatically.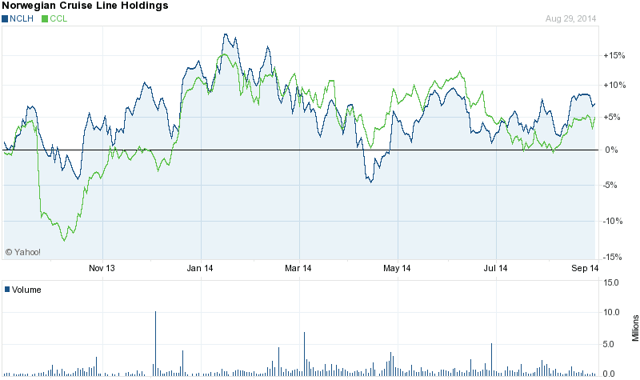 Source: Yahoo Finance
Cloud Breach
The big news story this weekend was that up to 100 celebrities had their personal nude photos stolen from cloud services. While many stories pointed to Apple's (NASDAQ:AAPL) "Find My iPhone" app, it appears that the hack took place via the iCloud service with the hackers having already had the user name and cracked the password.
This is a high profile hack, with the stolen goods now floating around the internet and creating a media feeding frenzy that should last a week or two, especially if further photos begin to surface. This is the last thing that companies such as Amazon.com (NASDAQ:AMZN), Apple and Microsoft (NASDAQ:MSFT) wanted, as it causes consumers to think twice about putting their data in the cloud; as many leading tech companies have been advocating the last few years. It appears that the fallout from the hack is going to have little effect upon the shares of companies with large consumer cloud operations, so unless these photos were a part of a much larger hack which gathered other sensitive data, then there should be no reason for investors to panic at this point.
This does call into question plans to turn cell phones into mobile payment devices, as a single password is simply not enough to keep hackers from stealing data. We would not be surprised to see further security measures added to mobile devices soon, with more companies using biometric "passwords" as encryption keys, as more consumers transition to wireless devices and the mobile economy.
Disclosure: The author has no positions in any stocks mentioned, and no plans to initiate any positions within the next 72 hours.
The author wrote this article themselves, and it expresses their own opinions. The author is not receiving compensation for it (other than from Seeking Alpha). The author has no business relationship with any company whose stock is mentioned in this article.