Neptune Shares Trading At Deep Discount To Fair Value
Shares of Neptune (NTB.TO) (NASDAQ:NEPT) are trading at a deep discount to fair value, which we estimate at $250M-$400M, or $3.95 to $5.97 per share2. Our estimate is based on 20x calendar 2015 EBITDA, which we believe will be in the range of $12.5M-20M. We anticipate 5-year growth at no less than 25%, which implies a PEG ratio1 of 0.8. Excluding a one-time impairment following the explosion of Neptune's manufacturing plant, the Company has consistently grown revenues at a ~30% clip year-over-year, in line with growth of their industry.
Our valuation also includes ~$50M in value attributed to Neptune's 49% interest in Acasti Pharma (NASDAQ:ACST) which is valued at $100M in the marketplace. Acasti, itself, is valued at a discount to peers, and a revision to the mean could create significant optionality for holders of Neptune's shares.
Acasti is expected to report results of a pivotal Phase 2 study by the end of September.
Q2 2015 Earnings Report Mid-October Should Reverse Sentiment, Spark Rally
In mid-October, Neptune will report fiscal second quarter 2015 results3. For the same period one year ago, Neptune reported sales of $5.43M, which fell well below the prior year's $8.01M (fiscal Q2 2013). Sales for the past two years were distorted by a manufacturing plant explosion that occurred in November 2012. Since that time, and prior to the re-opening of a newly constructed facility in June 2014, Neptune has relied on a 3rd party manufacturer for their krill oil. The manufacturer's krill oil is generic or "low grade" and consequently low margin. Invariably, Neptune reported a gross margin of 13% for fiscal 2014, well below 45% median reported historically.
| | | | |
| --- | --- | --- | --- |
| Year (ended Feb 28) | Revenue (CAD, in millions) | Gross Margin | Growth in sales (year-over-year) |
| 2014 | $19.5 | 13% | -25% |
| 2013 | $26 | 40% | 36% |
| 2012 | $19.1 | 53% | 16% |
| 2011 | $16.5 | 44% | 30% |
| 2010 | $12.67 | 12% | N/A |
Source: Annual Reports
In June, Neptune opened the doors on their new $49M manufacturing plant, where they would ramp annual production from 50,000 kg to 150,000 kg in capacity over 3 months. In a recent press release, the Company confirmed that the ramp was underway as planned, which suggests growing demand from their customers. Neptune supplies krill oil to large chain retailers such Wal-Mart, Walgreens, and GNC (company ppt).
Prior to the plant incident in November of 2012, Neptune made an interesting disclosure in their 2012 Annual Report:
"The Corporation continued to expand its customer base worldwide and is expecting revenue growth driven by repeat demand from existing customers and incoming demand from new customers from North America, Europe and Asia. Following the rising demand, the Corporation managed to increase its original plant expansion from a maximum of 100,000 kilograms per year to a maximum of 130,000 kilograms per year, simply by optimizing the use of actual manufacturing equipment. Neptune's additional industrial plant project discussions are on schedule, with the target for the realization of a new industrial plant to take place during the course of fiscal 2012"
What we can infer from this disclosure is that a) demand for their product was ramping and b) the Company had reached manufacturing capacity sometime in fiscal 2012, perhaps with spill over into fiscal 2013. Using this information, we can compute Neptune's krill oil selling price by dividing their sales by output in kilos:
FY 2012 Sales of $19.1 Million/100,000 kilos = $191/kilo
FY 2013 Sales of $26 Million/130,000 kilos = $200/kilo
Operating under the assumption that Neptune sells at $195/kilo, current ramp would enable sales to peak at ~$30M over the next 12 months. Assuming sales are even over 4 quarters, Q2 2015 sales would come in at $7.5M, 38% above Q2 2014 results. Further, with the US Dollar appreciating significantly over the Canadian Dollar, these results would further be buoyed by a favourable exchange rate (currently $1 US = $1.1 CND), pushing sales to ~$8.25M, or 52% above prior year results (Neptune derives a majority of their business in US currency with the balance in euros but reports results in Canadian dollars). Moreover, it's expected that Neptune high-grade krill oil would return to gross margins of ~45%, in line with historical averages, versus 13% in fiscal Q2 2014. This would likely push the Company towards break-even or even perhaps slight profitability (we assume one-time costs would push EBITDA to roughly 12% of sales ($1M/$8.25M):
| | | |
| --- | --- | --- |
| | Q2 2014 | Q2 2015 (exp.) |
| Sales (millions) | $5.43 | $8.25 |
| Gross Profit (%) | 13% | 45% |
| EBITDA (millions) | ($6.03) | $0-1 |
Source: Quarterly report, internal estimates
We anticipate two outcomes following Q2 2015 fiscal results:
Neptune surprises the street with high-than-expected sales, gross margins and possibility of positive EBITDA causing investors to revise their valuation of Neptune upwards and;
Neptune guiding for growth for the first time in 2 years, causing analysts to revise their valuations upwards re-engaging investors who have been sidelined the last few years.
Both outcomes cause a sharp reversion in the sentiment surrounding the company, which, in our view, has been overly negative. This should spark a rally in the price of shares of Neptune, in turn.
Krill Oil Versus Fish Oil and Why We Smell Less Fishy
Fish oil-based omega-3s see sales in the $3B range and growing. Krill oil was previously estimated at roughly $100M worldwide, according to disclosures by Neptune as recent as 2013. However, sales of krill are actually burgeoning, and one report from late 2013 shows sales in the U.S. alone may have peaked at $130-140M (refer to graph, below).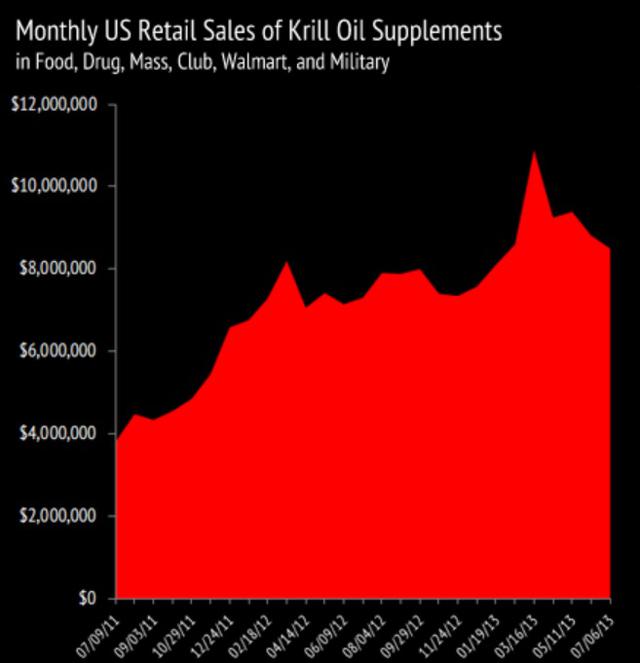 Source: BASF Report
This is in line with estimates by Frost & Sullivan, who predict krill oil will grow at a CAGR of 26%: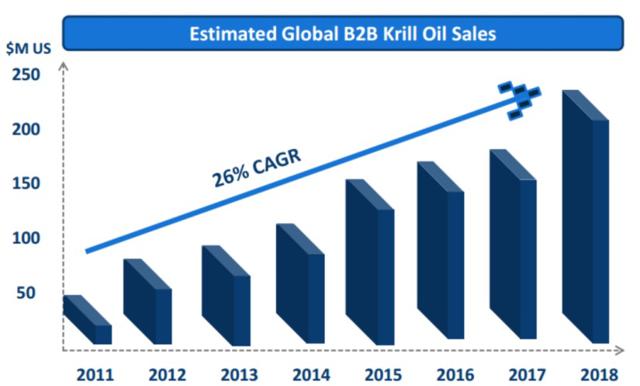 Source: Frost & Sullivan, taken from Neptune Corporate PPT
Growth is supported by ongoing research that shows krill is superior in lowering triglycerides, raising HDL (good cholesterol), and lowering LDL (bad cholesterol) versus fish oil, as a source of omega-3s.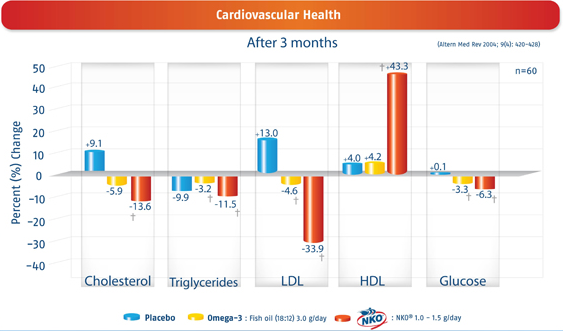 Source: Neptune
This explains why conglomerate Reckitt Benckiser, which acquired krill-oil maker Schiff for $1.4B in 2012, is planning on spending $8.4M marketing their MegaRed krill-oil in the United Kingdom, where, "currently fish oils and omega-3 products dominate". The report goes on to explain that omega-3 derived from krill is more bioavailable than fish oil:
"Not only is krill oil a natural source of the omega-3 fatty acids - eicosapentaenoic acid (EPA) and docosahexaenoic acid (DHA) - plus the antioxidant astaxanthin, it is unique in that the majority of the fatty acids are provided in phospholipid form," he said. "This means there is increased tissue accumulation of omega-3 fatty acids and improved blood lipid profiles".
This trend of increasing awareness of the benefits of krill-based omega-3 versus fish oil should benefit Neptune's sales and support continued growth.
Beneficiary of Increasing Investment in Astaxanthin
Krill oil also contains astaxanthin, which fish oil does not. Astaxanthin is a carotenoid (pigment) which has demonstrated in recent studies to be a powerful anti-inflammatory and anti-oxidant with numerous health benefits and potential disease-fighting activity (cancer, cognitive disorders, cardiovascular disease, etc.). While the market for human astaxanthin is estimated at roughly USD $40M in 2014, it's predicted to grow to USD $300M by 2020. Increasingly, investors are backing pure-play astaxanthin manufacturers like Cyanotech (NASDAQ:CYAN) and Cardax (OTCQB:CDXI), which themselves are addressing a rapidly-emerging market opportunity. Cyanotech harvests microalgae and then extracts astaxanthin; Cardax produces "nature identical" synthetic astaxanthin at competitive prices and has attracted BASF as a marketing partner. Evidence of growth is seen across the world with Algaetech, based in Malaysia, investing USD $9M to build a plant that will manufacture astaxanthin. The emerging trend in astaxanthin bodes well for Neptune, whose krill oil contains the ingredient naturally.
Understated Upside in Calendar 2015
Neptune has previously stated (2014 Annual Report) that it would require, "US$6 million to fund the expansion of its […] annual production capacity to 500,000 kilograms of krill oil". Expanding capacity to 500,000 kg would expand sales capacity to ~$100M. The assumption underlying our calendar 2015 model is that Neptune will indeed invest capital to expand capacity beyond the initial 150,000 kg. Working under this assumption, we assume demand for Neptune's krill oil comes in at 250,000 kg or ~$50M in top-line run rate for the calendar year 2015 or fiscal year-end 2016 (remember that Neptune's fiscal year differs from the calendar year).
Neptune's competitors, Aker Biomarin and Enzymotec (NASDAQ:ENZY) appear to have EBITDA margins in the ~25-30% neighborhood, per Q2 results.
Aker BioMarine Financials

Source: Aker Q2 Presentation
Our assumption is that Neptune will see a ~15-20% EBITDA margin on sales of $50M in fiscal 2016, or $7.5-$10M in EBITDA.
We then add $5-10M in estimated royalty revenue, which we believe to be virtually all profit. Our estimate of the royalty revenue is based on aggregate competitor sales of $100M, from which Neptune receives a high-single digit royalty. The actual royalty rate has not been disclosed. However, we can assume the royalty will likely occupy the high single-digit column given the high margin krill oil sales (i.e. 30% EBITDA margins for Aker). Further, if we run with Frost & Sullivan's assumption that krill oil sales continue to grow at an annual clip of 26%, we quickly create a huge margin of safety in the event that our royalty rate is off.
Altogether, we see EBITDA of 7.5+5 = $12.5M on the low end and 10+10 = $20M on the high end as for fiscal 2016, or calendar 2015.
Applying a 20x multiple, Neptune is worth at least $12.5M*20 = $250M or $3.95 per share, which implies at least 60% upside from current prices.
At the top-end, $20M*20 = $400M or $5.97 per share, implying upside of 188% from current prices.
We justify our use of a 20x multiple based on anticipated growth among competitors (for instance, see financial results from Aker, above), grow anticipated in the krill oil industry (per independent research firms and competitor disclosures), and historical growth from the Company itself. By use of a 25% growth rate, our 20x EBITDA multiple still suggests we are undervaluing Neptune's operating business. Price to earnings to growth, or PEG, supports this. Under these assumptions we end up with a PEG ratio of 0.8.
Earlier this year, Neptune settled litigation with all of its major competitors across the world, namely Aker and Enzymotec. Consequently, even if Neptune's sales lag, it will directly benefit from the expanding krill oil market through its royalty revenues. This, as mentioned, assumes that royalty revenue to be all-margin (or near 100% margin).
Our valuation attributes value to Acasti, which is expected to report results of a pivotal Phase 2 study by the end of September 2014. Acasti is valued in the market at ~$100M, half of which should be accreted to Neptune (Neptune is a 49% owner of Acasti Pharma). Amarin (NASDAQ:AMRN), the maker of fish-oil pill Vascepa, sports a $300M+ valuation. At its peak it was several billion. GlaxoSmithKline's (NYSE:GSK) Lovaza saw peak sales >$1B and will soon see patent expiration from their fish-oil pill. The upside for Acasti creates optionality for holders of Neptune's shares - if Acasti's CaPre drug-candidate for high triglycerides materializes, Neptune shareholders could see robust upside. On the other hand, if Acasti is unsuccessful, the fallout for Neptune shareholders should be minimal, given that the Company's valuation is largely supported by its operating business (which we suspect will see a return to rapid growth), strong liquidity of $52M in cash and short-term investments, IP (which has secured a royalty stream from leading krill oil makers) and tangible assets (manufacturing plant worth $49M and other assets).
Incidentally, at a ~$155M market cap, stripping out the cash of ~$52M and adding ~$10M in debt leaves us with a ~$113M enterprise value. If we accrete $50M in value from Acasti (which means 1x its valuation in the market), we're left with just $63M in market value. Strip out the manufacturing plant and we're left with the market assigning virtually no value to Neptune's operating business. Consequently, we see this as a play with limited downside (and a large margin of safety due to hard assets, royalty stream, ownership in biopharma subsidiary) with significant upside leading up to Q2 2015 results anticipated by mid-October and particularly fiscal 2016.
Other Catalysts
Activism Paying Off With New CEO. George Haywood, Neptune's largest shareholder (9.74% as of June 19th, 2014) and an activist investor has come in and has shaken up management. Pierre Fitzgibbon, an ex-banker with extensive experience in the nutraceutical industry (as CEO selling Atrium for USD $1.1 billion), has been appointed Chairman of the Board. Neptune has an interim President/CEO, Andrei Godin (formerly CFO), and we assume that the company is looking for a strong candidate that can further lead Neptune down the path of deserved growth.
China Expansion. In 2011, Neptune signed a MOU with Shanghai KaiChuang Deep Sea Fisheries Co. Ltd., which is owned by the Government of China, to form a 50/50 joint venture (named Neptune‐SKFC Biotechnology), which would manufacture and commercialize Neptune's krill products in Asia. Neptune has received approval to sell krill oil products in China. Obviously, China is a huge untapped market for nutraceuticals and there is potential for Neptune to expand sales to this market.
Risks
Most of Neptune's sales are in USD and Euros which are then converted and reported in Canadian dollars. There is a currency risk involved if the Canadian dollar appreciates in value, resulting in smaller revenues and earnings. Although industry data shows krill oil is growing in demand, this may change due to consumer preferences. The most significant risk we see is Neptune not living up to its expected ramp up of its annual production of up to 150,000 kg of krill oil. Neptune faces tough competition from a number of large and well established companies that may cut prices and/or try to flood the market with cheaper krill oil.
1. We used PEG to establish an appropriate growth rate and a 20x multiple. EBITDA closely resembles and approximates earnings in Neptune's case: Neptune has tax credits from Research and Development, Neptune has carry forward tax losses (company won't have much tax to pay) and Neptune's debt that's accountable in EV has a low annual 7% service cost starting at the end of 2015
2. Neptune reports financial results in Canadian Dollars. Our computations are therefore in consistent currency. For United States Dollar equivalent, refer to exchange rate.
3. Neptune's fiscal year end is February 28, which creates a divergence from the calendar year, i.e. calendar year end is December 31. For consistency, "fiscal" refers to Neptune's fiscal year and "calendar" refers to the calendar year.
Disclosure: The author is long NEPT.
The author wrote this article themselves, and it expresses their own opinions. The author is not receiving compensation for it. The author has no business relationship with any company whose stock is mentioned in this article.