Biotech giant Amgen Inc. (NASDAQ:AMGN), who bills itself as the one of the first biotechnology firms, hit a 52-week high share price of $137.99 on Wednesday. This came after the company received a priority review from the Food and Drug Administration for one of its new drugs, ivabradine, for chronic heart failure "HF" treatment.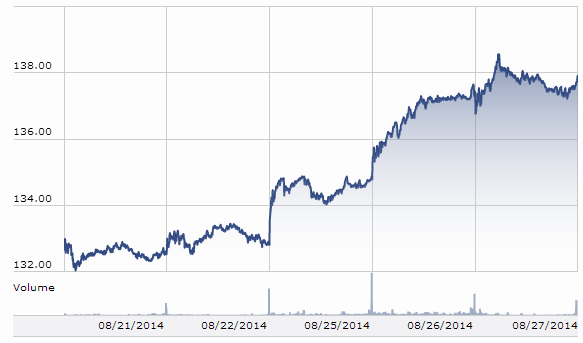 Source: Morning Star
FDA grants priority review designation to drugs targeted to treating severe patients and that result in a significant improvement in the diagnosis and treatment of the disease compared to currently available therapies. Heart failure is the leading cause of hospitalization of those over age 55, and over 50% of the people diagnosed die within five years. It is projected that by 2030, the prevalence of heart failure will increase by almost 25%. Priority review given for such a drug will bring breakthrough results for the company, if it succeeds.
Recent Performance
A few weeks earlier, Amgen reported its second-quarter 2014 financial results that beat EPS expectations by 14.50%. The company's revenues increased by 11%, and the company also enjoyed 8% total product sale growth compared to the figures reported in the second quarter of 2013. The increase in company sales is attributed to its blockbuster drugs Enbrel, Kyprolis and XGEVA. Adjusted EPS grew by 25%, and the company generated $2.1 billion in free cash flow compared to $1.4 billion generated in the same quarter of the previous year.
Combined with better-than-expected revenue and EPS performance, the company is also considering restructuring to invest in a new pipeline and improving its cost structure. Amgen is considering cutting 2400-2900 jobs starting later this year. The company will also close its facilities in Washington and Colorado, and will expand its presence in South San Francisco, California and Cambridge. This restructuring plan will cost the company $775-$995 million in 2014 and 2015, and will reduce operating expenses by $700 million in 2016 compared to 2013.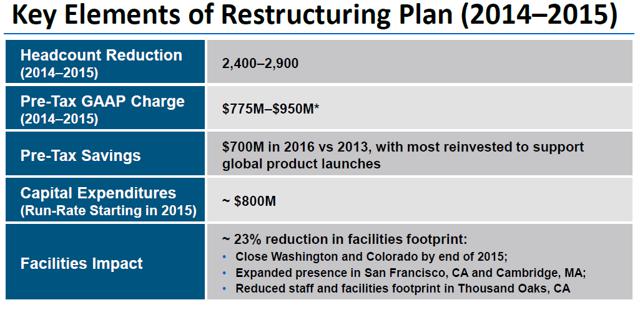 Source: Company's Q2 Earnings conference call presentation
The outstanding second-quarter results have helped the company to raise its full-year outlook.

Source: Company's Q2 Earnings conference call presentation
Progression with Pipeline
The only bonanza available to Amgen's future growth prospect is the late-stage data on its new compounds. These late-stage binary events will serve as catalysts to fuel Amgen's future growth.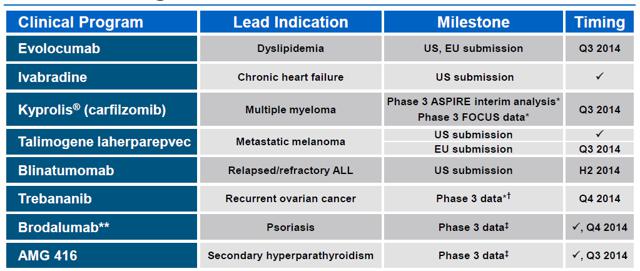 Source: Company's Q2 Earnings conference call presentation
Let's have a look at the progression of these drugs. Earlier this month, Amgen announced positive encouraging data from its Phase 3 ASPIRE study on multiple myeloma, Kyprolis. Kyprolis achieved the primary end point of the study. In combination with Revlimid and a low-dose dexamethasone, Kyprolis provided a significant progression-free survival benefit of 8.7 months. Amgen plans to apply for regulatory approval on the basis of the ASPIRE data in the first half of 2015. The company has also filed for regulatory approval of Evolocumab, a drug for cholesterol management, in Europe today.
More positive news for investors is the fact that AMG 416 has met both the primary and secondary end points in its second Phase 3 registration study. This study evaluates patients for the treatment of secondary hyperparathyroidism with chronic kidney disease receiving hemodialysis. In the study, 74 percent of patients received a 30% reduction from the baseline in PTH, and this is a statistically significant result. Amgen's executive vice president of research and development said, "Results from this study helps to confirm that AMG 416 could become a new treatment option for dialysis patients".
The Dividends and Financial Health of the Company
Amgen is currently trading at a dividend yield of 1.67%. The company also has a share buyback program, and had $1.6 billion available under this program by the end of the second quarter of 2014. Despite the strong cash flow position, the company is unable to reward its shareholders. This is because due to the recent acquisition of Onyx, the company's debt-to-equity ratio has become highly inflated. Therefore, profits will not be distributed to shareholders through buybacks for some time. With a growing top line and the payment of debt through growing cash flows, the company's financial position will become stronger in the future.
Valuation
Amgen's valuation metrics are fairly decent compared to the industry average, making the stock relatively undervalued. The company's forward P/E ratio is pretty low at 15.5, making the stock an attractive opportunity.

Source: Morning Star
Conclusion
Amgen has a top-quality pipeline that should sustain its long-term growth. The company is also undergoing restructuring that would allow it to save a significant amount of money and focus on key growth areas. Another positive thing is the progression of the company's late-stage pipeline. The company is generating significant cash flows, and is trading at a very low price-to-earnings multiple compared to the industry. This analysis allows me to conclude that Amgen has a lot of room available to grow.
Disclosure: The author has no positions in any stocks mentioned, and no plans to initiate any positions within the next 72 hours.
The author wrote this article themselves, and it expresses their own opinions. The author is not receiving compensation for it (other than from Seeking Alpha). The author has no business relationship with any company whose stock is mentioned in this article.