Once again Apple (NASDAQ:AAPL) is getting ready to open the bubbly; this time unveiling what is probably the most exciting product offering in many years.
In just a few days from now, on September 9th, Apple is expected to unveil its 4.7" and 5.5" inch new iPhone 6 devices. Will these devices sell? Yep, they will, and I think Apple will hit a home run with them.
While these devices are most likely to come with a host of new and improved features, such as better battery life, a more powerful processor, expansion of Apple's fingerprint technology, near-field communication capabilities and finally a better camera, the main reason to buy an iPhone 6 will have nothing to do with these "new and improved features".
The most important feature of the iPhone 6 lineup is the size. Until now, if you wanted an iPhone you had to settle for a small screen. There was no 5 inch iPhone no matter how much money you were willing to pay (ask Donald Trump for example). As a result, Apple has given up significant market share to Samsung (OTC:SSNLF) and other smartphone manufacturers.
While Apple has been the lead technology company for many years, it has been behind the curve in giving the customer a plethora of size choices. Samsung for examples makes devices for every imaginable taste and budget. But then again, if Apple gave the consumer the plethora of choices Samsung gives, it would not be as profitable as it is.
Let me tell you why Apple will benefit from the 4.7" and 5.5" inch Apple iPhone 6 devices.
1) A very big percent of those users who have a 5" high-end Google (NASDAQ:GOOG) (NASDAQ:GOOGL) Android device, is because of the size. These users could very well have bought an Apple iPhone, but the size was a deterrent. Expect many of these users to switch over to Apple over the next 12 months.
2) Apple's market share in the U.S. has not only held steady over the past year, but according to comscore, Apple has actually gained 0.7% in the U.S.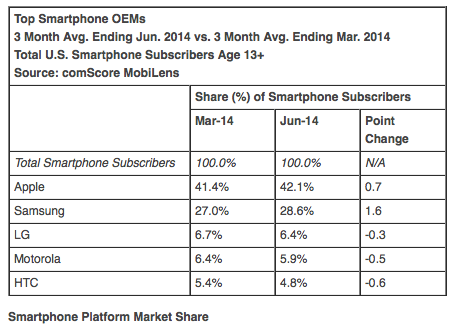 Source: comScore
So if Apple did not lose market share due to the size issue, do not expect Apple to lose market share with the introduction of these new devices. I expect Apple to gain market share in the U.S., mainly at the expense of Samsung.
3) In many emerging markets, people do not have the luxury of buying both a tablet and a smartphone. For the most part they will simply buy a 5" smartphone. Even if they could afford an iPhone, they prefer to buy an Android device (Chinese or otherwise), because the bigger screen permits for more social engagement. Yes you could surf the Facebook app with an iPhone, but it is very hard to spend much time on it before your eyes start hurting you.
I think the size issue is a deterrent in many markets like China, where many people could afford an iPhone but have preferred a Samsung device instead.
In a recent survey by Jana, in just about every emerging market around the world, over 50% of smartphone users said their next smart device will be 5 inches or higher.
As such, I expect Apple to gain worldwide market share over the next 12 month period also, perhaps as much as 1.5%.
Size is great, but will the stock benefit?
This is not an easy question. On the one hand, with a trailing P/E of 17 Apple's stock is already fully valued and on the other, it has been climbing for a while now and flirts with record highs on a daily basis.
So there's a possibility that we might get some sort of "sell the news" type sell-off after September 9.
Also, if we look at what analysts think, the forward 12 month target price for Apple's stock is only $106.29 (data from yahoo), which is about 4% from current levels. So if analysts have it right, I think I would wait for some kind of a pullback before deciding to buy at the current time.
Bottom line
Apple's new iPhone 6 devices are a very big leap for Apple (overdue in fact), but I do not anticipate much action for the stock in the short term.
Disclosure: The author has no positions in any stocks mentioned, and no plans to initiate any positions within the next 72 hours.
The author wrote this article themselves, and it expresses their own opinions. The author is not receiving compensation for it (other than from Seeking Alpha). The author has no business relationship with any company whose stock is mentioned in this article.
Editor's Note: This article discusses one or more securities that do not trade on a major U.S. exchange. Please be aware of the risks associated with these stocks.