3D Systems (NYSE:DDD) shareholders have had a rough 2014. Shares of the 3D printer have been beaten down over 42% and short interest has piled in at all-time highs. Even after dropping 42% this year, and while considered a growth stock, the company still trades at outrageous multiples and still looks to be a solid short - especially as the hype has started to fade in the 3D printing segment. Before we get to the analysis, take a look at the five-year price chart below. 3D Systems went on a real rocket ride trading at around $10 per share at the beginning of 2012 to over $90 per share at the beginning of 2014. Shares appear to have leveled off in the low $50s.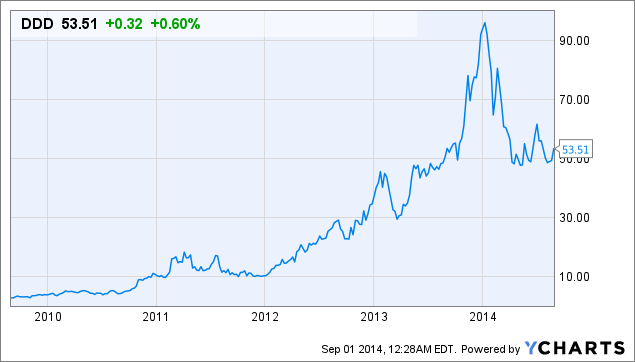 Current Valuation and Fair Value
3D Systems currently trades at a trailing twelve month P/E of 152.89 compared to the technology sector average P/E of 20.0 and the S&P 500 average P/E of 19.86. 3D Systems' P/S ratio is at a lofty 9.97 while the S&P 500 average P/S is 1.78. To be fair, 3D Systems does not look overvalued when compared to competitors however that is little consolation as the entire 3D printing segment appears significantly overpriced:
| | | | | |
| --- | --- | --- | --- | --- |
| | DDD | ExOne (NASDAQ:XONE) | Stratasys (NASDAQ:SSYS) | Voxjet (NYSE:VJET) |
| P/E (TTM) | 152.89 | N/A | N/A | N/A |
| P/S | 9.97 | 10.36 | 9.72 | 21.29 |
| P/B (mrq) | 4.43 | 3.07 | 2.35 | 4.35 |
Even after the 42% drop this year 3D Systems' current valuation is priced for perfection. It could sustain these levels based on the hype surrounding 3D printers but if the overall market corrects the first stocks to get destroyed will be the high flyers. The risk/reward ratio at these valuations in addition to a frothy/toppy market favor the short sellers.
Discounted Cash flow Valuation - The DCF method is a popular method for determining fair value and uses future free cash flow projections, then discounts them to come up with a present value. In using the DCF valuation we have to make some assumptions for the discount rate (our expected annual rate of return on our capital) and projected growth after year 5.
Using this online DCF calculator and inputting a discount rate of 10% and a 5% growth rate for year 6 to eternity we get a fair value of $14.92. Using a DCF valuation 3D Systems shares appear significantly overvalued.
Dilution
According to the graph below the number of 3D Systems outstanding shares have doubled since the beginning of 2011. The company's most recent secondary offerings were in May of 2013 and May of 2014. This dilution has been mainly to fund the more than 50 acquisitions over the last three years as part of 3D Systems' growth strategy. Growth through acquisition can grow top line revenues quickly but also is fraught with risk as integrating companies can prove very challenging, especially making the acquisitions maximally accretive to earnings.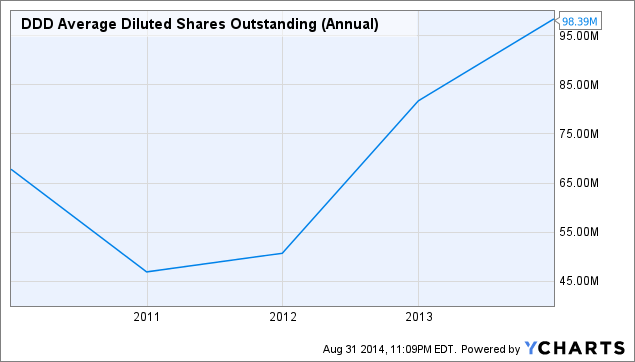 In addition to the dilution we see the quarter gross profit margin and the quarter EPS in a downward trend, supporting the notion that acquisitions fueled by dilution can have a negative impact on margins and earnings. For investors with longer investment horizons the idea is these acquisitions will eventually fuel bottomline growth in addition to the topline growth. The shorts say the shares are already priced for significant earnings growth, with no margin of safety so the company must execute perfectly to justify the current price and the overall market must cooperate.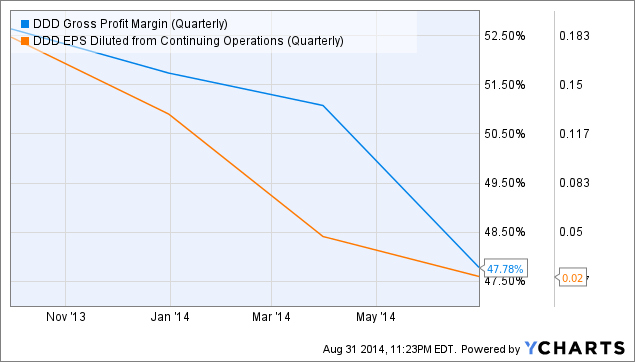 Lastly, the graph below should be no surprise and shows the outstanding shares short at an all-time high with over 32% of the float sold short.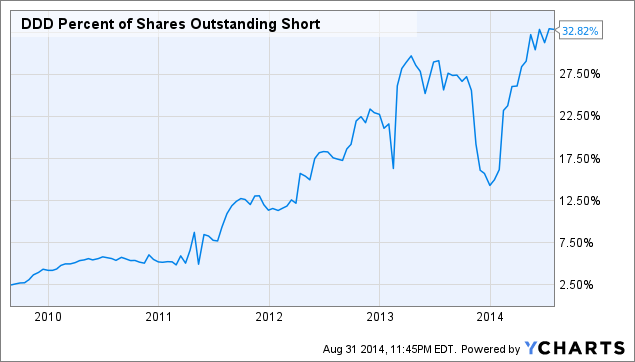 Conclusion
3D Systems is a risky gamble at these elevated prices. It would be easy to think a 42% drop in the shares would present some kind of bargain but the shares still appear significantly overvalued based on current multiples and a DCF fair value calculation. To grow into the current valuation the company would have to execute nearly perfectly and would need cooperation of the overall market. The shorts appear to have this one called correctly - I expect 3D Systems shares to continue sliding toward fair value as the shine wears off the 3D printing segment and investors flock to safety as the market tops.
Disclosure: The author has no positions in any stocks mentioned, and no plans to initiate any positions within the next 72 hours.
The author wrote this article themselves, and it expresses their own opinions. The author is not receiving compensation for it (other than from Seeking Alpha). The author has no business relationship with any company whose stock is mentioned in this article.
Additional disclosure: This article is informational and intended to spur thought and discussion. This article is not a substitute for your own extensive due diligence and does not qualify as investment advice. Do not buy or sell stocks based on this article.