Goodrich Petroleum' (GDP) Denkmann 33-28H-2 well in the TMS came in with a strong IP rate. The well has achieved a peak 24-hour rate to date of 1,200 barrels of oil and 300 Mcf of gas on a 16/64 inch choke from an ~6,000 foot lateral with 22 frac stages (1,250 boe/d on a two-stream basis). The well is located in Amite County, Mississippi (the map below).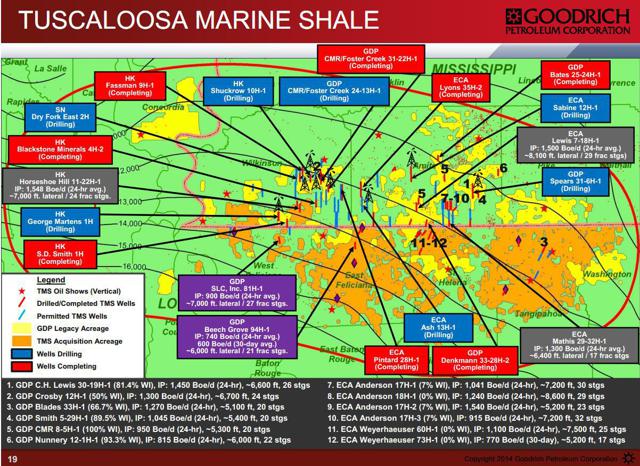 (Source: Goodrich Petroleum, September 2014)
On a per lateral foot basis, the result is essentially in line with the current cutting edge IP rate in the play (graph below). The announcement adds confidence that the leading operators in the play - Goodrich, Encana (NYSE:ECA) and Halcon Resources (NYSE:HK) -- are on track to demonstrate consistent execution, achieve more predictable production performance and, ultimately, substantially reduce well costs.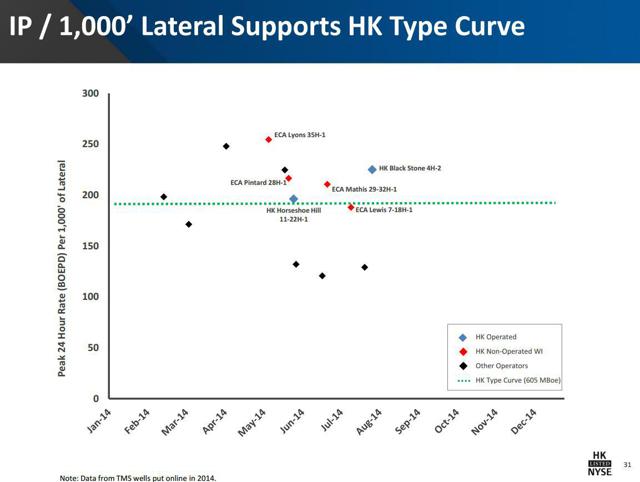 (Source: Halcon Resources, August 2014)
Goodrich's press release also indicates that stimulation operations on the company's next well, the Bates 25-24H-1 (98% WI), were completed successfully. The well is also located in Amite County and has an ~5,000 foot lateral with 19 frac stages. Given that successful drilling and completion execution is "half of the battle" in the TMS, the Bates well can be added to the play's success list.
While the Denkman result is a strong positive data point, it may already be discounted in the stock price. Goodrich's stock improved by almost 20% in the past two weeks. New wells in the TMS are closely monitored by the investor community and information often becomes visible to the market prior to the announcement.
Wells To Watch
The third quarter reporting season promises to be rich with new operating data points from the TMS. Goodrich's updated activity map shows that seven wells are currently in different stages of completion in the play and six additional wells are drilling.
The seven completing wells include three development wells by Goodrich:
CMR/Foster Creek 31-22H-1 (90% WI) in Wilkinson County (6,700 foot lateral with 24 planned frac stages);
CMR/Foster Creek 24-13H-1 (97% WI) in Wilkinson County (6,600 foot lateral);
Spears 31-6H-1 (77% WI) in Amite County, Mississippi, which has an approximate 7,600 foot lateral.
Encana has two wells currently in the completion stage: Pintard 28H-1 in Wilkinson County and Lyons 35H-2 in Amite County.
Halcon is also currently completing two wells, Fassman 9H-1 and S.D. Smith 1H.
Of note, Goodrich has initiated drilling operations on Verberne 5H-1 (66% WI) and Williams 46H-1 (61% WI) wells offsetting the company's highly successful Blades 33H-1 (67% WI) well located on the play's eastern flank in Tangipahoa Parish, Louisiana.
Execution Is Improving
The next two months may become an important step towards the TMS play achieving commerciality. The vast majority of the wells that are currently being completed or drilled are concentrated within or around the already identified sweet spots. The probability is relatively high that the well results will not disappoint. If, in addition, operators demonstrate consistent execution and, therefore, overcome the issue of unpredictable well cost, in two months the market may perceive the play's commercial success essentially as a fait accompli.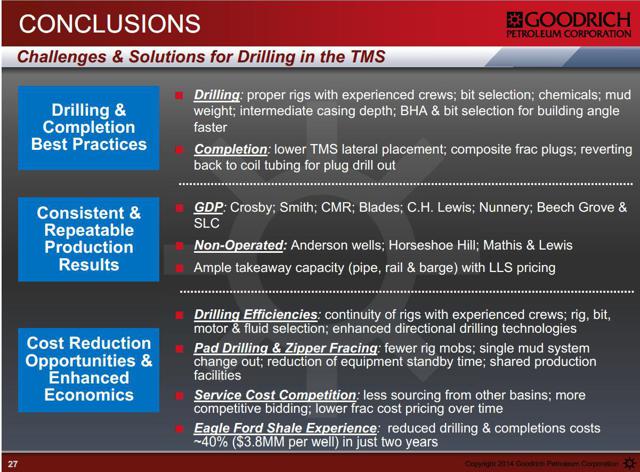 (Source: Goodrich Petroleum, September 2014)
Disclaimer: Opinions expressed herein by the author are not an investment recommendation and are not meant to be relied upon in investment decisions. The author is not acting in an investment advisor capacity. This is not an investment research report. The author's opinions expressed herein address only select aspects of potential investment in securities of the companies mentioned and cannot be a substitute for comprehensive investment analysis. Any analysis presented herein is illustrative in nature, limited in scope, based on an incomplete set of information, and has limitations to its accuracy. The author recommends that potential and existing investors conduct thorough investment research of their own, including detailed review of the companies' SEC filings, and consult a qualified investment advisor. The information upon which this material is based was obtained from sources believed to be reliable, but has not been independently verified. Therefore, the author cannot guarantee its accuracy. Any opinions or estimates constitute the author's best judgment as of the date of publication, and are subject to change without notice.
Disclosure: The author has no positions in any stocks mentioned, and no plans to initiate any positions within the next 72 hours.
The author wrote this article themselves, and it expresses their own opinions. The author is not receiving compensation for it (other than from Seeking Alpha). The author has no business relationship with any company whose stock is mentioned in this article.