Tesla Motors (NASDAQ:TSLA) remains on the top of the world. This is the prevailing view of bullish investors who have hyped the company to an over-the-top, dotcom bubble-like valuation of nearly 14x sales. That's right. 14 times sales, not 14 times earnings.
If you looked at Tesla's share chart, you'd easily see that the electric car manufacturer has become an increasingly crowded trade and shares are certainly attracting the speculative elements in the stock market. And well Tesla's stock did so far: It returned a whopping 80% since the beginning of the year and almost 48% since the most recent sell-off in May came to an end.
Tesla shares now quote close to their 52-week High of $272 indicating that speculators remain convinced that the company could (and should) expand its almost comical valuation.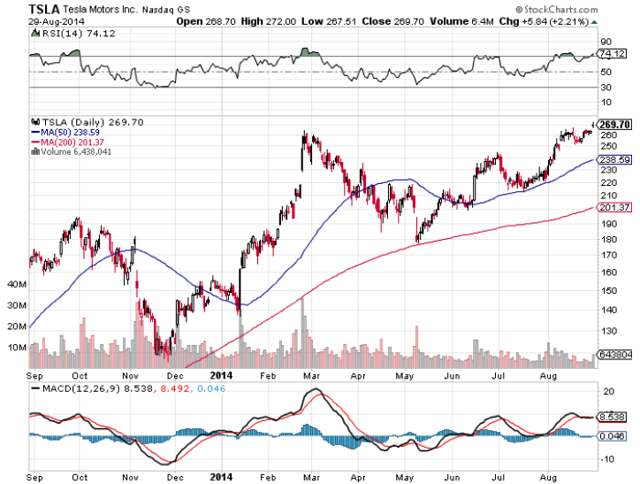 Click to enlarge
(Source: StockCharts.com)
Short interest
In a previous bearish article about Tesla I have pointed out that Tesla's valuation is detached from the underlying financials, especially with respect to their negative free cash flows.
I still stand with that assertion and consider Tesla to be a highly-promising short candidate. This is particularly true if the market corrects and speculators are inclined to take profits in which case I expect Tesla's stock price to exhibit above-average downside volatility.
I think my short thesis laid out before is well supported by the disconnect between Tesla's low sales volume and its outrageous equity valuation. However, to add another angle to the discussion I want to point toward the short interest in Tesla and the value of such as a contrarian indicator.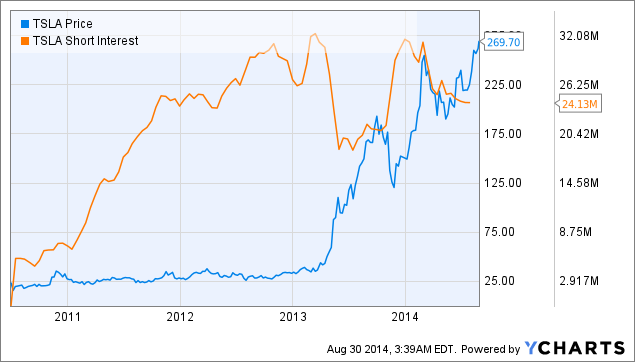 There was an article recently from another contributor that pointed out, that Tesla's short interest hit a new low in 2014. As you can see in the chart above, Tesla's short interest dropped quite a bit since the beginning of the year as Tesla's share price experienced some momentum and shorts began to cover.
Short interest always has been working well as a contrarian indicator for me and I have used the opportunity time after time to suggest to investors to never, ever, follow the herd. In fact, I have watched the short interest of a variety of companies very closely for a while and I find it highly interesting as well as entertaining, that short interest often peaks when a company is in distress. Similarly, falling short interest could similarly be understood as a contrarian indicator: Too much harmony and unquestioned consensus is never a good thing in the stock market.
Just look at the following charts of the three companies below and their corresponding short interest levels (all companies operate in the retail sector, but that shouldn't make a difference here for purposes of discussion):
BlackBerry: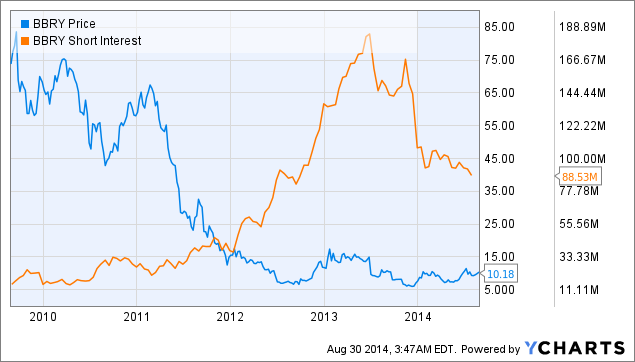 BlackBerry's short interest peaked just about when the stock bottomed out at the end of last year.
RadioShack: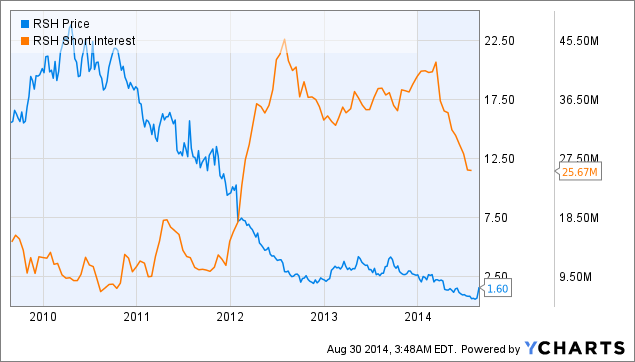 RadioShack's short interest exploded after the company was rumored to be heading for bankruptcy.
Best Buy: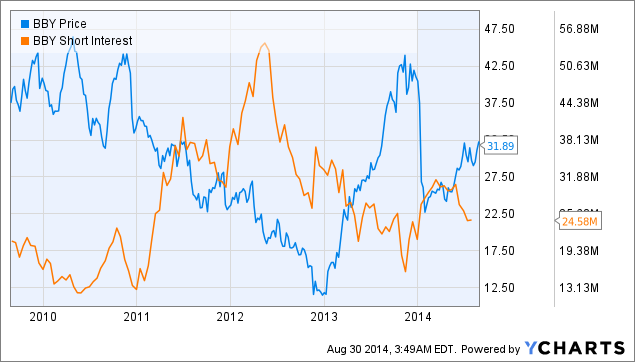 Similar to the other two companies, Best Buy's short interest exploded as the retailer initiated a restructuring program 2012 and its share price collapsed.
What does short interest tell you?
The three examples (BlackBerry, RadioShack and Best Buy) show you, that short interest can be a very powerful indicator of herding behavior. If short interest is high, the market's consensus is that the stock price should fall, which curiously makes it more likely that the stock price will rise. If short interest is decreasing, investors agree about the rosy prospects of a company, which could lead to dangerous asset price inflation. The crowd is almost always wrong.
I think that short interest says a lot about how the market as a whole judges both the earnings prospects as well as the expected price action in shares of a company. In my opinion, increasing short interest suggests positive share price momentum and falling short interest implies negative share price momentum.
Conclusion
I reaffirm my previous opinion on Tesla and can only reiterate my short stance on the company. Tesla is so mindlessly loved and adored, and its valuation so detached from its fundamentals, that I don't think this story is going to end well.
Short interest indicates where the herd is trekking to. Falling short interest leads investors and speculators to believe that the sky is the limit -- this is a particularly dangerous assumption considering the valuation levels Tesla is trading at.
In fact, countless examples during the dotcom years have shown that large parts of the retail investor crowd are going to be seriously disappointed once the speculative bubble deflates. Hope dies last. Short.
Disclosure: The author has no positions in any stocks mentioned, and no plans to initiate any positions within the next 72 hours.
The author wrote this article themselves, and it expresses their own opinions. The author is not receiving compensation for it (other than from Seeking Alpha). The author has no business relationship with any company whose stock is mentioned in this article.