Willdan Group (NASDAQ:WLDN) is a company with the funny-sounding name founded by two guys named "Will" and "Dan" 50 years ago. The earnings lately, however, have been anything but funny.
For most of the years, the company did primarily most of the outsourced engineering work for various cities (around 400) in the state of California. Engineering services used to be around 99% of its revenue. In 2013, the company's engineering services was diversified down to 41%, while energy efficiency was 42%, financial services were 12%, and homeland security was 5%. The energy service segment is growing the fastest, and this diversification is paying off big time.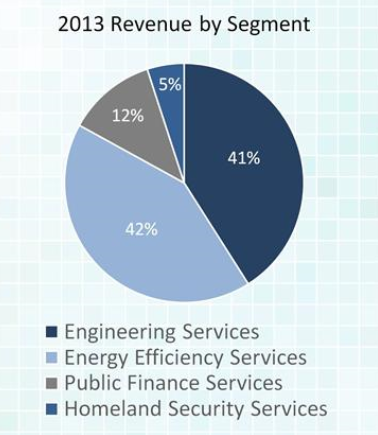 Source: Company presentation
According to a company presentation, cities across the country are turning more toward Willdan Group's engineering services due to underfunded pension liabilities and reduced in-house staff on the city level making outsourcing a better choice. For energy efficiency, Willdan Group shows businesses how to permanently save on their electric bill with a payback cost of Willdan's services of less than a year to pay for itself. It in the state of California, the tab is picked up for the business, so it's a risk-free zero-cost option that sells rather easily.
CEO Thomas Brisbin stated, "We're going to be a growth stock, and we're just getting started." Last quarter, Willdan Group reported revenue increase of 31.6% to $27.0 million, along with net income growth of 175% to $1.9 million, or $0.25 per diluted share. It was the 8th consecutive quarter in a row of profitability and revenue growth from each of its four business segments. Willdan expects "continued profitable growth" from an improved economy, further geographic reach, and more services offered from both current clients and new clients.
Adjusted EBITDA was about $2.0 million (close to net income) on the $26.7 million in sales, or 7.5% net EBITDA margin. Going forward, the company expects the adjusted EBITDA to stay within the 5% and 10% (with a target of 8% to 9%) range, along with annual revenue growth of "up to 15%" over the next three years. This suggests the great earnings report of last quarter is of a sustainable magnitude and not a one-quarter wonder.
The one analyst estimate is calling for an 8% growth in revenue for 2015. It seems like this may be prove to be too conservative. The company has beaten the earnings estimate by a wide margin the last two quarters, so I wouldn't be surprised if that trend continues. Energy efficiency revenue alone grew 86.9% to $13.7 million, now representing over half of the company's revenue.
Willdan is focused on multi-year contract generation to help shield against recession risk. During the conference call, Brisbin seemed to hint at one announcement or more forthcoming. He stated:
"Our strong performance has resulted in expansions of existing contracts in New York, California and the Mid West [and has] also led to new energy efficiency engagements. [We] recently signed some smaller strategic contracts and we're working on others that with hope to announce soon. These strategic contracts are very interesting and you'll find them in our next press release."
He further stated that he expects the second half of the year to be similar to the first half, with the third quarter being the seasonally strongest. During the Q&A, he mentioned he's hoping to have three to four announced contracts this quarter that are pending, with values ranging anywhere from $1 million to $5 million each. Brisbin expects profit margins to only go up as the year progresses. He's only signing contracts that will bring up the company's margin. Part of the reason for this is the company has done less and less subcontracting out and more and more self-performed work.
Brisbin further pointed out that the company has no debt, $12.1 million in cash, an untapped $10 million credit line, and is ready to return value for shareholders. Priority number one is if Willdan can find any acquisitions that are immediately accretive to the bottom line. Priority number two is further stock buybacks. Lastly is a dividend, but only once the company is doing less growing "down the road."
There were plenty of hints throughout the call that the third quarter will be even better than the second. With the analyst EPS estimate at $0.18, and $0.25 in the third quarter, I think the results come November will blow the estimate away. The earnings report and conference call came halfway through the quarter and the presentation was two-thirds through, so the company certainly should have a good handle on how the quarter is going. Between now and the next earnings report, or much sooner with pending contract wins that could be announced literally any day, I believe is a short window of opportunity to consider Willdan Group ahead of the possible next leg up.
Disclosure: The author is long WLDN.
The author wrote this article themselves, and it expresses their own opinions. The author is not receiving compensation for it (other than from Seeking Alpha). The author has no business relationship with any company whose stock is mentioned in this article.
Editor's Note: This article covers one or more stocks trading at less than $1 per share and/or with less than a $100 million market cap. Please be aware of the risks associated with these stocks.