Whole Foods Market (NASDAQ:WFM) is a high-end organic grocer. The company enjoys an overwhelming share of the market--its fiscal 2013 sales of $13.6 billion is more than three times the combined share of Sprouts Farmers Market (NASDAQ:SFM), The Fresh Market (NASDAQ:TFM) and Natural Grocers by Vitamin Cottage (NYSE:NGVC), with $2.44 billion, $1.5 billion, and $430.7 million, respectively.
Whole Foods' shares are down roughly 40% from their October high, following a series of less-than-ringing results by the company.
Slowing growth
Whole Foods reported flat second-quarter earnings of $0.38, thus missing the consensus estimate by $0.03. Revenue grew 9.7% compared to the last-year's comparable quarter to $3.32 billion, but was came in short of expectations of $3.34 billion. Same-store growth clocked in at 4.5%, considerably lower than last year's second-quarter 7.1% same-store growth. Gross margin declined by 51 basis points to 35.9%, which the company attributed to an increase in the cost of goods sold as a percentage of sales.
But perhaps what spooked investors the most concerning Whole Foods was its slowing same-store growth. Same-store growth clocked in at 4.5%, considerably lower than last year's second-quarter 7.1% same-store growth.
In the third-quarter, Whole Foods' revenue grew 10%, while net income improved by 6.3%. Same store growth, however, clocked in at just 3.9%. Gross margin fell 31 basis points to 36.3%.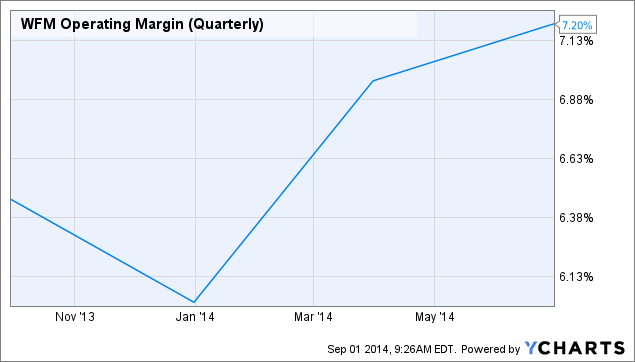 WFM Operating Margin (Quarterly) data by YCharts
Investors are not happy about the company's falling margins, which can be attributed to competitive pressure from rapidly upcoming organic grocers such as Sprouts. Whole Foods enjoyed something close to a monopoly for about two decades. But, the grocer is now facing growing competitive pressure from rapidly upcoming organic grocers, as well as the entry of giant retailer Wal-Mart (NYSE: WMT) into the organic foods space.
The Market could be overreacting
Certain market and industry trends can threaten the very existence of companies in any sector. Nearly every retail investor is aware of how the secular trend of online shopping has made Amazon (NASDAQ:AMZN) the giant it is today, at the expense of traditional brick and mortar retailers such as Best Buy (NYSE:BBY) and Sears (NASDAQ:SHLD). That is perhaps an irreversible trend that will remain this way, and there is nothing much companies such as Sears can do about it, other than try to adapt.
But, Whole Foods' is a different case altogether. There is no clear evidence yet that customers are no longer eating organic foods or buying them. It was inevitable that other companies would notice Whole Foods' success, and try and copy its model. That's nothing unusual. The company is experiencing slowing growth due to its large size and increasing competition. This is quite normal and happens to the best of companies, including Amazon itself (Amazon growth has been slowing down in the recent quarters). Despite the slower growth, Whole Foods is still growing at a healthy pace. And, Wal-Mart does not necessarily pose a big threat to Whole Foods as many investors presume.
It's worth noting that while Whole Foods lowered its sales outlook from an expected sales growth range of 11%-12% to a lower guidance of 10.5%-11%, it still expects same-store growth in the 5%-5.5% range, which is still impressive. This means that that is the minimum revenue growth that investors should expect from its existing stores, without accounting for sales from new stores.
Although Whole Foods' gross margin has been falling due to pricing pressure, it's still around 10 percentage points better than the industry average.
The biggest reason Whole Foods shares have fallen so badly is not because the company's prospects are that bad, but rather because they were priced for perfection. Before the sell-off, they were trading at a forward PE ratio around 40, compared to 23 currently. This means that a lot of growth had been priced into the shares.
The Wal-Mart threat is overhyped
The fact that Wal-Mart is a fierce price competitor is perhaps the biggest reason why Whole Foods investors dread its entry into the space, since it can potentially cut prices to the bone, and further increase margin pressure on Whole Foods.
Many health foods businesses charge high prices for their merchandise simply because they in turn face higher supply costs, and tend to be quite picky on what they stock. Wal-Mart says that more people would buy organic foods if they were cheaper. A survey by the company showed that more than 90% of shoppers would consider buying low-priced organic foods.
Wal-Mart's entry can have a positive impact on overall prices of organic foods. Low supply issues have been partly to blame for the high prices. The entry of Wal-Mart with its high volume purchasing ability and its extensive marketing muscle is likely to convince more farmers to grow organic foods to meet the giant retailer's needs. The end result is that supply prices could end up falling, as more suppliers compete with each other.
Whole Foods planned to acquire Wild Oats back in 2007, but the deal was scuttled by the Federal Communications Commission and the Department of Justice on grounds of antitrust concerns. The entry of Wal-Mart will reduce such concerns, making it easier for Whole Foods to grow inorganically in the future through acquisitions.
Conclusion
Whole Foods shares are still expensive even after the huge sell-off compared to its industry peers. The company, however, still enjoys a huge first-mover advantage that makes it the first choice for most organic foods shoppers. The industry-wide moat enjoyed by Whole Foods is likely to remain intact for a long time to come, which makes it a good long-term investment.
Disclosure: The author has no positions in any stocks mentioned, and no plans to initiate any positions within the next 72 hours.
The author wrote this article themselves, and it expresses their own opinions. The author is not receiving compensation for it (other than from Seeking Alpha). The author has no business relationship with any company whose stock is mentioned in this article.